Figuree Studio [Icep Anwar Fadhil]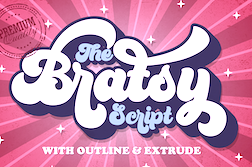 Ciamis, Indonesia-based designer, b. 1989, of The Refano (2018), the bold sans Boldé (2018), Bolde Rough (2018), Aesthetic (2018), Hello Mozza (2018), Black Freeday (2018), Thankies (2018: a free cartoon font), the heavy cartoon typeface Meowza (2018), the techno typeface Raven MX (2018), the rough brush typeface Diavolo (2018), the futuristic font Xylene (2018), and the monoline sans typeface Gennaro (2018).
Typefaces from 2019: Play Kidz, The Barethos (signage script), Monstorm (a vampire font), Mister Pumpkins Aged, Bratsy Script (a great fat signage script), Azkanio Script (calligraphic), Baby Boo, Ruckshack, Augustha, Nightfall Script, Rushing Nightshade (signage script), Rockidz, Unicorn Pop (a fat market signage font), The Gunslinger Waterdrop (a dripping paint font), Hello Spring, Rabbito (beatnik), Fontastique, Fontastique Carved, Kids Zone (cartoon font), John Austiney (a compact script), Viktoria Serif, Funkie Bunny, Alifia (monoline script), Forever Together (Script, Sans), Under The Snow (a monoline marker pen font).
Typefaces from 2020: Moonliona, Morning Sunshine, Black Magnet (hairy), Robo Briant (octagonal), Pluton (sci-fi), Summer Sunshine, Komix Eighties, Midnight Workers, Cocobels (curly), High Beasty, Metro Beardy, Magic Dreams, The Rughton Script, Khaleiyfa, Kiddie Land, Perfect Love Carved, Ignazio (a bold all caps sans), Anarchy Brothers, Qubiko (squarish, yet playful), Gabrietha, Death Markers (a dripping blood font), Glitter Lovers, Headlight, Brotherside Signature.
Typefaces from 2021: Midnight Workers (a potent display sans), Winter Dreams (a scrapbook script), Bombardies (a graffiti font), Eatboy (bold rounded supermarket font), Greatboyz (graffiti), Metro Beardy (a bold script), Realistic Theory (a brush script), Astroph (a vintage antiqued rounded slab serif), Rabbito (a children's book or cartoon typeface), Bigroads Script, Hardlighten (a signage script), The Baghtone Script (for signage), High Beasty (a powerful signage script), Ignazio (a bold all caps sans), Death Markers (a sign painting font), The Brother Hoops (a dry brush script), Run Child (a fat finger font).
Typefaces from 2022: Magic Dreams (an all caps comic book font). Creative Fabrica link.
EXTERNAL LINKS
Figuree Studio


[Buy fonts]


[Designer info]
Crella link
Fontbundles link [Buy fonts]
Dafont page
Creative Market page
MyFonts search
Monotype search
Fontspring search
Google search

INTERNAL LINKS
Sites with only a few free fonts ⦿ Type design in Indonesia ⦿ Brush script typefaces ⦿ Type designers ⦿ Type designers ⦿ Futurism ⦿ Monoline script fonts ⦿ Beatnik types ⦿ Signage typefaces ⦿ Calligraphic typefaces ⦿ Horror fonts ⦿ Children's handwriting fonts ⦿ Signature/logo fonts ⦿ Sci-Fi fonts ⦿ Octagonal typefaces ⦿ Dry brush script typefaces ⦿ Signage typefaces ⦿ Comic/cartoon fonts ⦿