Abo Daniel Studio (or: Abodnyl Studio) [Panggah Laksono]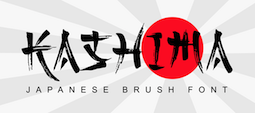 Cilacap, Indonesia-based designer, b. 1992. In 2018, he published the crayon font Crayone, the script fonts Shafeer, Shafeer Descript and Zhafire, the display typeface Alienatore, and the signature font Sundiary Script.
In 2019, he released Cuties Magenta, Marlita, Lemons Bright, La Storia (a monoline script), Fruitz (a cartoon font and accompanying doodles), Little Clusters (a layered marker pen font for comic books or children's texts), Brushlie (a dry brush font), Fathir Script, Mrs. Santhi, Kashima Brush (a great oriental brush typeface), Blackcode, Onelove and the wonderful calligraphic script Romantically.
Typefaces from 2020: Sketchy in snow, Sweet doughnut, Winter Pen (a signature script), Curious Monkey (a quirky inline font), Humble Boys, Lovely Purple, Under Summer (a wild script), Cuteness Persimmon, Adventuros (an all caps dry brush font), Greatest Holiday (a crayon font), Sadio (an extended signature script), Chester Network (a cartoon font), Joyce Kitchen, Milky Rainbow (a fat finger font), Doodlez Forever, Bravo Charlie, Caristha, Curious Monkey, Doodlez Forever, Joyce Kitchen, Krusty Craft, Cupcake Pastry, Dienilla, Sweet Garlic (a heavy monoline script), Muthiara (script), Sibertha (script), Modern Leave (a beatnik font), Pictagram, My Status, Sibertha Serif, Chelistine Script (dry brush), Vintage Matches, Romantic Stories, Antariksa (a wild script), Shintaku, Letterink, Hey Milenia (brush script).