Muntab Art [Satriyo Hutomo]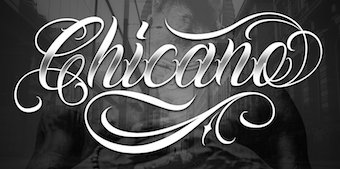 Malang, Indonesia-based designer of the serif typeface Lorena (2019: for fashion mags featuring skinny models), Orlando Sign (2019), Banana Caroline (2019: font duo), Salvages Bold (2019), Davinci (2019), the loud typeface Dogtown (2019), the blackletter typeface Tribal (2019), the black metal blackletter font Southside (2019), the brush script fonts Selfakia (2019) and Destroit (2019), the multi-font Good Vibes (2019), the monoline scripts Freeflow (2019) and Lemonade (2019), the curly tattoo script typeface Chicano (2019), the tattoo font Brigade (2019), the sans font Walker (2019), the spurred tattoo script Dayles Script (2019) and the script font Hanselle (2019).
Typefaces from 2020: Esteban (Tuscan), Aquatone, Oakle, Familia (a tattoo font), Gangsta (a blackletter typeface with decorative spurs), Martyr, Santiago (decorative), Mayhem, Westcoast (spurred), Mexicanos (a tattoo or cigar box font), Florida (a wavy font), Aveden (an all caps avant garde typeface), Skyload, Black Sails (brush), Hardcore (dry brush), Mood, Caithlyn (a great inky calligraphic script), Lestly (a curly text typeface).
Typefaces listed by early 2021: Aeromono (a futuristic semi-stencil), Akasara (a decorative serif), Amerald, Anomaly, Aquatone, Armora, Aveden, Balmonte, Baltre, Banana Carolline, Becko (futuristic, sci-fi), Befaro, Berlin (a sci-fi stencil typeface), Black Sails, Brigade, Caithlyn, Carl Brown (a decorative serif), Chicano Font, Chicano Vol. 02, Davinci, Dogtown, Dayles Script, Defrozo, Destroit, Eastside, Esteban, Evalter, Exposure, Familia Tattoo Lettering Font, Farware, Fenomeno (futuristic), Florida, Freeflow Monoline Script, Good Vibes, Gangsta Typeface, Glenca, Hardcore, Havox, Herlik, Herofin, Lemonade Signature Font, Leoni, Lestly Fonts, Lorena, Magna (a decorative serif), Maldito Font, Mandora, Martyr, Maverick, Mayhem, Metrolic, Mexicanos, Mijuo, Minerva, Monica, Monreal, Mood Font, Nordik (a sci-fi stencil typeface), Nova, Oakle, Orlando Sign, Phoenix, Quadron, Quincy, Rebelion, Reforma, Reviews, Roman, SALVAGES BOLD, SOUTHSIDE, Santiago, Selfakia, Skyload, Tribal Font, Valkrye, Velta, Westcoast, Wilyam, Zemora.
Typefaces added in 2021: Anabele (decorative serif), Arizona (a stylish all caps typeface), Avander (a stylish serif), Babylon (an all caps blackletter), Badgiek (decorative serif), Bandito Script (for tattoos), Bestie, Boston (retro baseball script), Bravado (decorative serif), Brescia (decorative caps), Brown Sugar (an all caps decorative serif), Calya (decorative serif), Carl Brown (a decorative serif), Carola (an art deco mini-serif), Caterina (an all caps display typeface), Cigero (a decorative all caps serif), Dectro (decorative caps), Dream Avenue (a decorative serif), Elmo (a decorative serif), Elva, Felicio (an art gallery serif), Gamero (a monolinear paperclip font), Ghania, Hexagon, Katrine (a decorative condensed serif), Le Monte (a high contrast jewelry store typeface), Lemonia (a reverse stress serif), Love Story Self Made, Lower Coast, Macron (a spurred Victorian tattoo font; why it is named after the French president beats me), Margate (a sword-serifed display typeface), Matrix (a bullet hole font), Molten (a display caps typeface), Monstar (an all caps typeface for fashion mags), Musa, Pleasure (blackletter), Qaigero (a display serif), Qureka (a glamour font), Ragesta (decorative with wavy junctions), Reno (cyberpunk), Rhapsody (a swashy penmanship script), Rioky (a lovely wedge serif display typeface with a vaguely tribal vibe), Romance (display caps), Rosalia (a fashion mag typeface), Stachy, (elephant-footed caps) Tropico Salte (art nouveau genre caps).
EXTERNAL LINKS
Muntab Art
Behance page
Creative Market page
MyFonts search
Monotype search
Fontspring search
Google search

INTERNAL LINKS
Type design in Indonesia ⦿ Tattoo fonts ⦿ Brush script typefaces ⦿ Blackletter fonts ⦿ Monoline script fonts ⦿ Signature/logo fonts ⦿ Type designers ⦿ Type designers ⦿ Curly typefaces ⦿ Fashion mag typefaces ⦿ Wild calligraphy in type design ⦿ Tuscan fonts ⦿ Western fonts ⦿ Stencil fonts ⦿ Sci-Fi fonts ⦿ Signage typefaces ⦿ Hexagonal typefaces ⦿ Paperclip faces ⦿ Calligraphic typefaces ⦿ Penmanship ⦿ Art Nouveau typefaces ⦿ Tattoo fonts ⦿ Victorian typefaces ⦿ Art deco typefaces ⦿