Inspira Type (or: Collabro Studio, or: Inspira Sign) [IlhamSyah Vutra]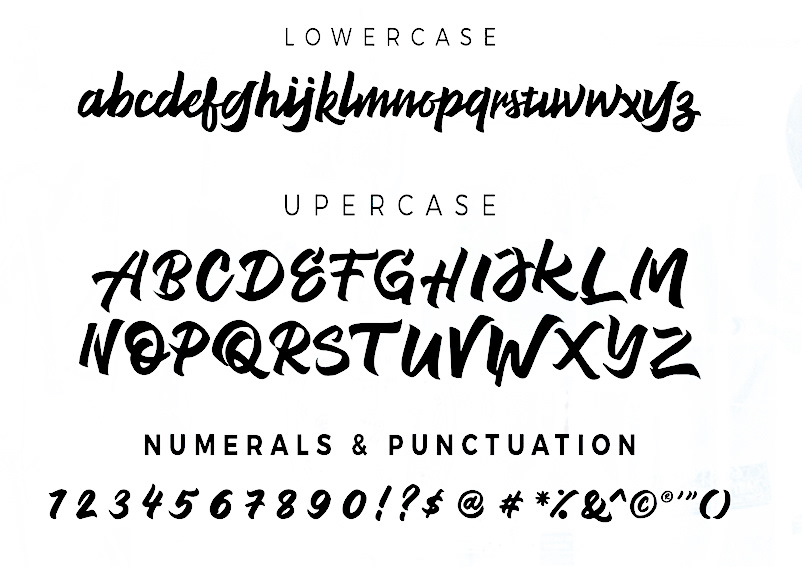 We find the names Septian Fauzi and IlhamSyah Vutra associated with Inspira Type. Jakarta, Indonesia-based designer of script and brush script typefaces, who also runs Aktab Studio. Fonts from 2019: Greenland, Jaeggers, Vancouver (2019: script), Freya (a free script), Beneth (brush script), Gisella (script), Fearless, Anggada (a vintage script), Delia (a text typeface), Baratyuda, Stanford (or Standford: a vintage label font), Itikaf (a religious serif), Maldins, Riverside (signage script), Stucker, Rottordam, Cartoon, Cartoon Fancy, Magna, Hollaboi (a brush font), Bratarini, Nanda Script, Qiba Serif, Gula (a cartoon font), Qiba, Alvaro (a fat monoline script), Fresh Berries Script, Eastchaft, Fillia Script, Alistair Signature, Abhyaksa, Etherion (wedge serif), Adhe Sans, Herey (dry brush), Backhill (signage script), Cecillia (inky script), Never Ending (dry brush), Abhinaya (Victorian), Debtos Script, Dohong (vintage style), Dohong Kaliba, Bessita Handwriting, Cendolita Script, Dingbod Script (monoline), Aussiente, Pure Tintri.
Fonts from 2020: Malbourne, Eighties, Hantari, Townsquare, Balkous, Volare, Goldstep, Dethars, Belly, Wildeoo, sagittaria, Intuitive, Daniza Claretta, Oblady, Nagista, Raimond, Sintya, Rebellion, Panorama, Our Story Begins, Lutuna, Mayasi, Kuffie, Abimo, Cerita Senja, Confinental, Abimo, Cerita Senja, Candle, Fialiga (an octagonal sports font), Throne (a wide all caps sans), Bustracks, Gnaw, Shockwave (brush script), Borude (sketched), Khanaya (calligraphic), Itikaf.
EXTERNAL LINKS
Inspira Type (or: Collabro Studio, or: Inspira Sign)


[Designer info]
Dafont page
Behance page
Creative Market page
MyFonts search
Monotype search
Fontspring search
Google search

INTERNAL LINKS
Type design in Indonesia ⦿ Brush script typefaces ⦿ Dry brush script typefaces ⦿ Victorian typefaces ⦿ Signage typefaces ⦿ Sites with only a few free fonts ⦿ Type designers ⦿ Type designers ⦿ Monoline script fonts ⦿ Signature/logo fonts ⦿ Comic/cartoon fonts ⦿ Calligraphic typefaces ⦿ Sketched typefaces ⦿ Octagonal typefaces ⦿