I have now concluded my research about the apparent breach of contract by Letraset concerning my hand-drawn typeface design, Lindsay.
In conclusion, both Letraset and URW acted with impunity between 1980 and 1982. Both Chris Escritt of Letraset, and Peter Karow or URW, as signatories of a servicing deal, willingly engaged in the transformation by automation of my formerly hand-drawn typeface design using Karow's Ikarus software system. They did this with the clear understanding, and ambition, that automated variants or versions could be created from the original design. This was done without my knowledge or consent.
In summary: I licensed my hand-drawn typeface design, Lindsay, to Letraset in 1980. It was my understanding that the face would be used in the dry transfer market. My Agreement was signed by Colin Brignall, then Type Director at Letraset.
In September of 1980, Letraset bought a service contract from URW. This deal was signed by Chris Escritt, on behalf of Letraset, and Dr. Peter Karow, principal of URW. A new business entity was formed to take advantage of this union, TSI Typeface Systems International, a subsidiary of Letraset.
During the time frame from 1.9.1980 to 31.12.1982, Lindsay was used as a test font by TSI. This was done without my knowledge or consent. A very recognizable and somewhat difficult face, (class c in URW literature), it was ideal to demonstrate and modify both the strengths and weaknesses of the evolving Ikarus system. Once this face had been integrated into the storage data, variants and/or modifications could easily be manipulated.
Veronika Elsner writes in a letter to me of 15.9.1997, I graduated from design college in 1977 and was taught to draw letters with a pencil too. By accident, I was introduced to the ARISTO (product of plotters) who started to digitize letterform and plot it automatically. This is how I came into the business. Later I visited Letraset in England as a freelance. I learned how they produce their dry transfer alphabets. Letraset started to digitize letters in 1979. They digitized a light and a bold version and produced the intermediate weights with the computer and the plotter. They earned a lot of money with dry transfer.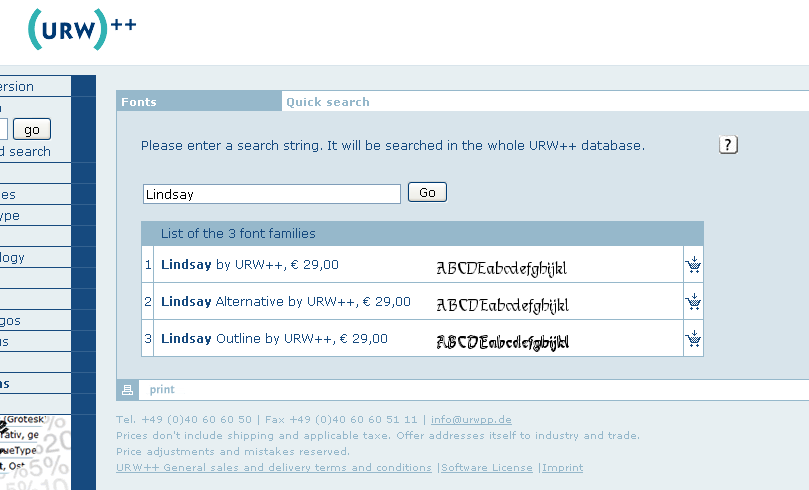 What has become clear is that the now automated data of the Lindsay typeface travelled in two directions. It returned to URW's typeface division, under the then management of Veronika Elsner & Gunther Flake, and it also remained at Letraset. Both companies utilized the data in different ways.
By 1983, URW was marketing Lindsay under its SIGNUS system, product code of L-L004000-C. A brochure from this time period claimed that Lindsay was under ownership of Letraset. Whether they actually paid any kind of licensing fee to Letraset seems a somewhat mute point.
Equally, a careful review of Letraset product catalogues between 1982-1985 reveal slight modifications of the Lindsay typeface design. Clearly Letraset was now developing its own modified version of the Ikarus software to further automate its own typographical data. [Note: Lindsay was offered for sale under the Letraset Fontek banner, but via URW++, as late as March, 2007 when it was removed from the ITC website…]
Colin Brignall wrote in March, 2002: Once everything went digital the same studio staff were trained in the production of the Postscript/TrueType masters which were marketed under the Fontek banner from 1991/1992 until the disbandment of the studio in 1995/1996. ITC continued to market these fonts until 1999.
My royalty payments abruptly stopped coming in from Letraset in 1991. When I asked why, I was told that the dry transfer market was dead. I never knew, or received royalty fees, from Letraset for use of the Lindsay data. Nor did I receive any 10% royalty as I should have as per our initial Agreement as a result of those third party deals that began in 1980. I did not know any even existed until 1995.
Lindsay was never formally launched as a digital face by Letraset, even though the hand-drawn outlines had by this point become in-house computerized data. Colin Brignall's letter of 1992 confirms this, as he wrote: We are busy converting all our faces into digital forms for use on computers---Lindsay will feature in the Spring of 93, and his follow-up of March, 1993, Lindsay is not available as a digital font. Letraset would not market its own digital font version of the Lindsay typeface, because, by this point, E&F and URW were well out of the gate with Lindsay.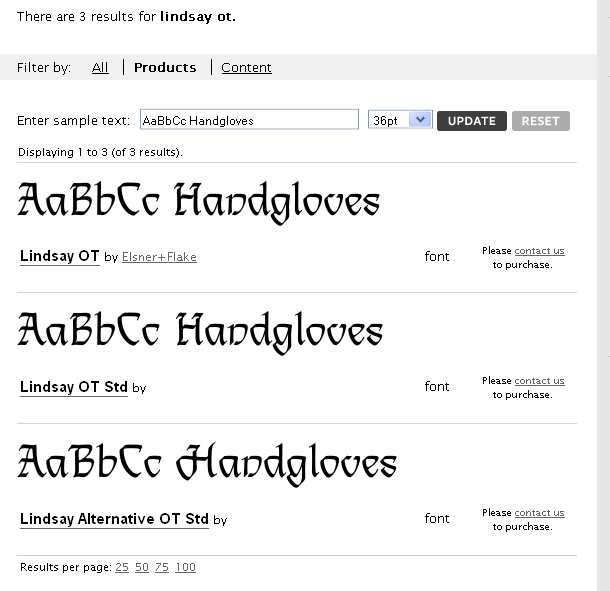 My subsequent discovery of Lindsay as a digital font in a Fontshop product brochure of 1995, prompted my first investigation. Fontshop had licensed the face from Elsner & Flake in 1992. The Lindsay data was used by Elsner/Flake when they left the employ of URW. URW and E&F used the same data bank, according to Albert Jan Pool, in correspondence of June, 2007.
In the meantime, Esselte Letraset re-structured its licensing procedures and handed over the job to the newly acquired sister company, the International Typeface Corporation of New York. Mark Batty, then President of ITC, claimed this was done in 1996. Yet, according to Veronika Elsner of E&F, she, and others, were paying licensing fees for Lindsay since 1990. One wonders to whom?
URW meanwhile began marketing several additional versions of Lindsay as early as 1993. Called variants, 5 versions of Lindsay were available through URW's TypeWorks2 collection. By 1994, Lindsay D and Lindsay Alternative were also included in the URW DeSign Collection, again claiming license from Letraset in 1980. My name was also included in the registered ISBN sales brochure. (ISBN-3-926515-17-1). I never even knew URW existed. There were no third party deals listed at 10% in my new Esselte Letraset/ITC royalty reports of that time.
When URW went bankruptcy in 1994 Peter Karow reportedly had tears in his eyes when the receiver closed it down. When URW++ resurrected in 1995 with Peter Rosenberg at the helm, Lindsay and versions continued to be marketed and sold by URW++ as stand-alone fonts. Today, URW++ claims it has always paid a licensing fee to Letraset/ITC. Neither Alan Haley at ITC or Martin Gibbs at Letraset say they have any kind of Lindsay licensing agreement with URW++. This contradicts what the licensing accountant reported at ITC in 1997, URW licensed the Letraset 368 font package including Lindsay in 1990. Today, Alan Haley at ITC says there is no blanket agreement that includes Lindsay on file. There is an accounting gray-zone regarding Lindsay between 1980-1990. And, to repeat, no URW Lindsay versions or variants have ever been authorized by me. The Ikarus software had been designed from the get-go to create variants.
I dissolved my relationship with Esselte's ITC/Letraset for failure to disclose third party revenue. By 1997/1998 I was basically forced into new contractual Agreements with E&F and URW. (They already had the Lindsay data, what did they need me for?) A very loose, and now manifestly inappropriate, Agreement was signed with URW++ . As of March of this year, 2007, I have asked URW++ to compensate me for its years of infringement, and known knock-off versions. I requested $1000 US and an amendment to our existing Agreement. Peter Rosenfeld, as principal, has refused on both accounts, claiming URW has always paid a licensing fee to Letraset/ITC. He is very cavalier about our dealings and always have been. By what Right did Letraset give URW the permission to create variants and versions of the Lindsay Typeface in the first place? Not mine. Rosenfeld is clearly not bothered at all by the knock-offs.
Closing remarks: It is clear that Lindsay was used during the union of URW/Letraset, under the operational banner of TSI, to test and modify the evolving Ikarus software. Lindsay slid from Letraset when the data traveled to URW, and was subsequently re-worked, using the data supplied, by URW, and then URW++, to create the known stand-alone font versions of Lindsay Outline, Lindsay Regular, Lindsay D, and Lindsay Alternative. This was done off the original TSI Lindsay database.
There is seeming little I can do about any of this now. TSI dissolved 1982, and URW went bankrupt by 1995. And yet, the fact remains, my face was used and integrated into the subsequent business entities of both Letraset/ITC and URW++ of Germany. ITC continued to collect revenue from third party licenses which I knew nothing about up until 1997, and URW++ did whatever the heck it wanted with the Lindsay data.
In conclusion, both Letraset and URW acted with impunity between 1980 and 1982. Both Escritt and Karow as signatories of the deal willingly engaged in the transformation by automation of my formerly hand-drawn typeface design using the Ikarus software system. They did this with the explicit understanding that automated variants or versions could be easily culled and created from the original design. This was done without my knowledge or consent. My initial Agreement with Letraset allowed them to reproduce. Not alter, modify or knock off. Nothing in subsequent royalty statements from Letraset, ITC or URW++ acknowledge or compensate for this basic, brutal and rather bold design infringment.
Martin Gibbs, current President, of Letraset England and Peter Rosenfeld of URW++ have not answered any additional queries since May, 2007.
It is now time to correct this situation.
URW are guilty of knock-offs. Known variant/versions currently for sale are Lindsay Alternative and Lindsay Outline.
Deliberate obfuscation, lying and cover-up by Letraset has occurred. Everyone there conveniently forgot to mention the deal with TSI of 1980. No-one mentioned either the bankrupt URW or current URW++ or the Ikarus system to me until 1997 and 2007 respectively. That is 27 years after I first signed with Letraset.
This is unconscionable.
I seek legal damages from Letraset. For pain & suffering. 27 years is long enough. My support material is extensive. A binder and a half.
And I intend, somehow, to make URW++ sign Amendments to our Agreement as stated above, with one addition: NO additional Lindsay variants can be produced, without my express permission. Any additional variant will demand an additional licensing fee to be negotiated prior to production. I would also like them to pay a small pain & suffering fee---I have asked for $1000, but think that now $10,000 would be more appropriate, all things considered. What do you think?
They may all claim the Lindsay data, but I will ever claim the original Lindsay design.
Sincerely, Margaret Lindsay Holton