¶ American typefounding started in the 18th century. In 1735, Christopher Saur established a foundry mainly for German type at Germantown, PA. His foundry was finally absorbed by Binny & Ronaldson.
¶ Dutchman Adam G. Mappa settled in New York around 1787 and cast Dutch and German faces, roman styles and oriental alphabets. Under financial stress, many of the matrices passed into the hands of Binny & Ronaldson.
¶ In 1796, typefounding started in Philadelphia when Archibald Binny and James Ronaldson, both natives of Edinburgh, Scotland, set up shop there: they created the Philadelphia Type Foundry, aka Binny & Ronaldson and the James Ronaldson Type Foundry. Binny had emigrated in 1793. James Ronaldson (b. Gorgie, Scotland, 1768, d. Philadelpoha, 1842) arrived in Philadelphia in 1794. The firm published specimen books in 1809, 1812, 1814 and 1816.
¶ In 1815, Binny left, and the company became James Ronaldson, successor of Binny & Ronaldson. The last specimen book is from 1822.
¶ In 1823, Richard Ronaldson (James' brother) took over the foundry, until 1833, when he in turn was succeeded by Lawrence Johnson Lawrence Johnson, an energetic and well-loved person (b. Hull, England, 1801, d. Philadelphia, 1860), and George F. Smith. Johnson had introduced stereotyping in Philadelphia. George Smith, who had come from England ca. 1810, was a good manager and a practical typefounder. The company was called Johnson & Smith from 1833 until 1843.
¶ The L. Johnson Type Foundry flourished under Johnson's workaholic reign. In 1843, Smith, who was in ill health, retired. The company was renamed L. Johnson & Co, and existed under that name from 1843-1860. In 1845, Johnson was associated with Thomas MacKellar (b. 1812, New York, d. 1899, Philadelphia), John F. Smith and Richard Smith (the sons of George Smith). The foundry now quickly grew in reputatioon. In 1855, the firm published the Typographic Adviser, the first printer's newspaper in the United States--it kept running and being distributed to printers until 1897 under the editorship of Thomas MacKellar (until 1885) and later William Brasher MacKellar.
¶ Johnson died in 1860, and was succeeded by his three partners who, with Peter A. Jordan, constituted the firm known as MacKellar, Smiths & Jordan. It became one of the world's main foundries. John F. Smith (b. Philadelphia, 1815, d. Philadelphia, 1889) was the financial expert. Richard Smith (b. Philadelphia, 1821, d. Paris, 1894) liked machinery, and thus, naturally, he ran the mechanical department. He was put in charge of the James Conner Type Foundry in New York. After that, he had an important position at the Figgins Type Foundry in London, and later he traveled through Europe where he studied type manufacturing methods. It was after that that he he took up the manufacturing position at the L. Johnson Type Foundry. Peter A. Jordan (b. Philadelphia, 1822, d. 1884) was a good business man. Thomas MacKellar had experience from the printing company Harpers Brothers in New York and started out at Johnson & Smith as a proofreader in 1833. He was also a poet, who was known as a generous person and a respected citizen who helped many causes. So we had tytpefounders with very different backgrounds. In 1868, the business was still called the Johnson Type Foundry.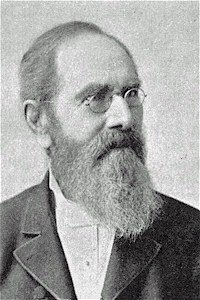 ¶ Jordan died in 1884. In 1885, William Brasher MacKellar (b. Philadelphia, 1844), G. Frederick Jordan (b. Philadelphia, 1850, son of Peter A. Jordan) and Carl Friederich Huch (b. Brunswick, Germany, 1830, an immigrant since 1850) were associated with the remaining partners and they formed The MacKellar, Smiths & Jordan Company. George Frederick Jordan introduced many mechanical improvements to typecasting.
¶ In 1892, the American Type Founders' Company was created, and MacKellar was absorbed into it, becoming its principal branch. At the formation of ATF, William Brasher MacKellar was its first Vice-President. Later he became the Manager of ATF. George Frederick Jordan became Director of the ATF Company. Carl Friederich Huch, on the other hand, retired in 1892.
¶ The source of this material was MacKellar's own book from 1896: 1796-1896 One Hundred Years MacKellar Smiths and Jordan Foundry, Philadelphia, PA. For a list of specimen books and a few pictures from them, check Maurice Annenberg's book, Type Foundries of America and their Catalogs (1975, Maran Printing Services; reprinted in 1994 by Oak Knoll Press, New Castle, DE).
¶ Links include