BluHead Studio LLC
[Steve Zafarana]


Type design studio located in Norwood, MA, est. 2005. Fonts can be bought at MyFonts.
BluHead Studio LLC was founded in 2005 by a group of type designers, including Steve Zafarana, who founded Tail Spin Studio in 1999, also in Norwood, MA.
Steve Zafarana was senior type designer at Bitstream from 2006-2012 and at Monotype from 2012 onwards.
BluHead Studio was filling out the character sets and digitizing the font designs of New Zealand designer Joseph Churchward. These include the psychedelic Ta Tiki CW (2006), Conserif CW, Design CW (2006, geometric). Creations by Tallulah Bluhead include Soylent Blu BH (2006) and Conference Call BH (2006).
Roy Preston published the Prenton RP humanist sans family in 2006 and the comic book style families Comixed RP and Roy Hand RP in 2007.
Between 2006 and 2008, several hand-printed typefaces were published. These include Barbara Script BH (2007, after the hand of Barbara Bemiss), Ciof Script BH (2008, a felt tip pen font after Susan Ciofolo Antico), Sally Script BH (2006, after Sally Muspratt), and Joanne Script BH (2007, by Joanne Paul). Sparkle Bluff BH (2007) is a ball and stick font for children. Notebook BH (2008) is a block letter face.
In 2007, BluHead started publishing fonts by Joseph Churchward: Churchward Asia, Churchward Brush, Churchward Chinatype, Churchward Heading, Churchward Lorina (2014---the original by Churchward goes back to 1996), Churchward Maori, Churchward Maricia, Churchward Ta Tiki, Churchward Conserif, Churchward Design Lines, Churchward Freedom, Churchward Isabella (2015, a sans), Churchward Marianna (bubblegum face), Churchward Montezuma (2012, based on an Aztec-inspired design), Churchward Newstype (2008), Churchward Samoa, Churchward Supascript.
FontShop link. Creative Market link. Klingspor link.
View the BluHead typeface library. [Google] [MyFonts] [More] ⦿
Churchward Type
[Joseph Churchward]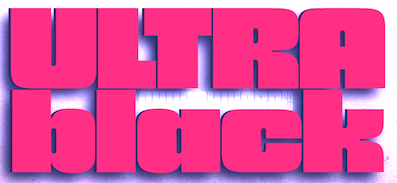 Joseph Churchward (b. Apia, Samoa, 1933) grew up in Samoa, and moved to New Zealand, where he founded a design studio in Wellington. He lived in Hataitai. He died in 2013 [Obituary by Jack Yan].
His early type designs were released as photolettering through Berthold. In 2000, in partnership with Chank, his fonts are finally being converted to the standard electronic formats. In 1984, he won a Silver Prize at the Morisawa Awards competition. In 2009, he was made a life member of The New Zealand Designers Institute DINZ.
MyFonts writes: Churchward Type started in 1962 as Joseph Churchward's freelance lettering service. Within six months he had generated enough work to move from his job as Senior Artist into setting up Churchward International Typefaces, which became one of the largest typesetting companies in New Zealand. In 1969 Joseph was asked to submit alphabet designs to Berthold Fototypes and saw immediate success. He later went on to sign distribution agreements with D.Stempel AG, Dr Böger Photosatz GmbH/Linotype, Mecanorma-Polyvroom B.V and Zipatone. He self-published a handful of original fonts in 1978 becoming the first and only company in New Zealand to publish original photo-lettering. Churchward International Typefaces was forced to close in June 1988 but Churchward Type lives on with a fresh set of independent releases. David Buck has taken on the role of digitisation. Joseph continues to draw alphabets and now has a stockpile of over 300 unique alphabets to his name.
Catalog of Joseph Churchward's typefaces:
View Joseph Churchward's typefaces. [Google] [MyFonts] [More] ⦿
Free Maori fonts could be had at this defunct Government of New Zealand web site: ArialMT-Mäori, Arial-BoldMT-Mäori, Arial-BoldItalicMT-Mäori, Arial-ItalicMT-Mäori, ArialNarrow-Mäori, ArialNarrow-Bold-Mäori, ArialNarrow-BoldItalic-Mäori, ArialNarrow-Italic-Mäori, BookAntiqua-Mäori, BookAntiqua-Bold-Mäori, BookAntiqua-BoldItalic-Mäori, BookAntiqua-Italic-Mäori, BookmanOldStyle-Mäori, BookmanOldStyle-Bold-Mäori, BookmanOldStyle-BoldItalic-Mäori, BookmanOldStyle-Italic-Mäori, CenturyGothic-Mäori, CenturyGothic-Bold-Mäori, CenturyGothic-BoldItalic-Mäori, CenturyGothic-Italic-Mäori, CenturySchoolbook-Mäori, CenturySchoolbook-Bold-Mäori, CenturySchoolbook-BoldItalic-Mäori, CenturySchoolbook-Italic-Mäori, CourierNewPSMT-Mäori, CourierNewPS-BoldMT-Mäori, CourierNewPS-BoldItalicMT-Mäori, CourierNewPS-ItalicMT-Mäori, MonotypeCorsiva-Mäori, TimesNewRomanPSMT-Mäori, TimesNewRomanPS-BoldMT-Mäori, TimesNewRomanPS-BoldItalicMT-Mäori. But no longer. [Google] [More] ⦿
Otto Maurer (was: Tattoofont)
[Otto Maurer]



Tattoo artist and graphic designer from Dinslaken (Duisburg), Germany, b. 1968, Duisburg. Klingspor link.
Otto Maurer (Tattoofont) created Ipoint (2008, a 15-style fun-filled Bauhaus-inspired family), Black and Beauty (2007, blackletter family), Big Rain (2007), Blood (2007, dripping blood type), Preussen (2007, a 4-style blackletter family), Otto Bismarck Italic (2007), an italic blackletter face, and its parent, Otto Bismarck (2007). Designer of the free curly font Corps Script (2006) and Corps Script Shadow (2006). Creator with Sabrina of the free handwriting fonts Sabsis Handwriting Version 3 (2007) and Sabsis Handwriting (2007). Home page. Dafont link. Yet another URL.
In 2007, he went partially commercial and set up shop at MyFonts. His fonts there include the artsy Sailors Tattoo (2006), SailorsTattoo-waves (2007), Sailors Tattoo Pro Xmas (2007), Sick Skull (2007, scary), Tribal Maori (2007), MauBo Flatline (2007, experimental), Tribal Dingbats (2007), Tribaltypo (2007: quite interesting), MauBo (2007, mechanical look), Hotrod (2007), Blood (2007, scary), MauBo Flatline (2007, white on black) and Corpse Fairy (2007), Mrs. Sabo (2007, calligraphic and grunge hand), Tribal King (2007), Pierced (2007), Big Rain (2007), Detective Maurice (2007, a typeface with fingerprints on the alphabet), Cutdown Maurice (2007), Digital Maurice (2007), Good Old Fifties (2007, 11 styles), Tribal Dingbats II (2008, a tattoo font), Tribal tattoos III (2010), Hot Flames (2008), Drago (2008, a blackletter and alphading family), Party Night (2009), Tattoo Girl (2008).
Typefaces from 2009: Yuma (2009, Western saloon font), Freiheit (2009, blackletter), Lycaner (2009, blackletter), Sud France (2009, script), Psychbilly (2009, fat brush), Love Mom (2009), Vampire (2009), Animal Zoo (2009), Turtle (2009), Grunge (2009, cracked marble family), Crate (2009).
Typefaces from 2010: Big Mom (2010, a family that includes a blackboard bold style), Haike (2010).
Typefaces from 2011: Tinka Babe (2011, a gangster or tattoo script), Poisoni Pro (2011, tall art nouveau style brush face, with Shadow and College sub-styles), Lanzelott (2011, a very elegant retro display family), Stencilla (2011, a heavy stencil face), Guilin (2007, brushy), Darkwood (2011), Rock n Roll Typo (2011), Loreen (2011: an elegant display family that includes a hairline and a shadow style).
In 2012, he made the pointy Psychomonster typeface.
In 2013, Otto Maurer published the gangster tattoo font Bibiana as a companion for Tinka Babe.
Typefaces from 2014: Cupcakes Winterwonder (snowy font), Soul Winterwonder, Loreen Hollywood (art deco), Soul Material Design Dingbatz, Soul Love (Valentine's Day font), AZ Cupcakes, Soul (a sans family with some flaring), Christe Wagner (a great set of curly Victorian music sheet-inspired typefaces), Spider Type, Marie Lyn, Mariedean (a Victorian titling set, including decorative caps), Peachy (+ Shadow: a slab serif).
Typefaces from 2015: Maori New Zeeland, Chika Tattoo (12-style tattoo script), Chino Tattoo, Big Yukon (Wild West font), Bonecracker, Freibeuter NR (Western Tuscan family), Sailor Marie (tattoo font family), Baby Lyns ABC (children's book alphabet).
Showcase of Otto Maurer's fonts. View the typefaces made by Otto Maurer. [Google] [MyFonts] [More] ⦿