Abneurone Typografix (or: Abneurone Trauma Types, or: Neurone Error, or: Abneurone Fluid Types, or: Cirque Traumaccord)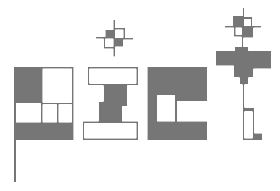 French foundry on the margins of type society, obsessed with psychotherapeutic experiments, hyper-experimental, and indeed mental, typefaces. This outfit goes under various names. At FontStruct, where most of its fonts are produced, it is known as Neurone Error. At Dafont, it is known as Abneurone Fluid Types. Its commercial branch at MyFonts is called Abneurone Typografix or Abneurone Trauma Types.
Their first commercial fonts are ATT49 Fanfare, ATT48 Thrax, ATT47 Candies, ATT46 Exlixir, ATT45 Transfix, ATT44 X-Cute, ATT43 Small Proteus, ATT42 Childhook, ATT41 Arcane, ATT40 Lysergic4a, ATT39 Liquor, ATT38 Once Upon A Damned, ATT37 Innocence, ATT36 Kidding, ATT35 Bestiaire (2011), ATT34 Lysergic 2a (2011), ATT33 Koan (2011), ATT32 Faun Call (2011), ATT31 Paraphilia (2011), ATT30 Lysergic 1b (2011), ATT29 Mad Hatter (2011), ATT28 Minimori (2011), ATT27 Tripton (2011), ATT26 Lysrergic3a (2011), ATT25 Multicoloured Rythm (2011), ATT24 Swallow (2011), ATT23 Artlien (2011), ATT22 Dopamine (2011), ATT21 ABTOY (2011), ATT20 Rankle (2011), ATT19 Ink Lust (2011), ATT18 Overabundance (2011), ATT17 Ink Circus (2011), ATT16 The Orgians (2011), ATT15 For Whom The Bell Tolls (2011), ATT10 Stereo (2011), ATT11 Heterodoxa (2011), ATT12 Psilocybine (2011), ATT13 Sync (2011), ATT14 Prehisto (2011), ATT8 Human Decay (2011), ATT9 Eroded Eclosion (2011), AT4 Parallax (2011), ATT7 Medieval Sweet Shop (2011), ATT6 Detected Future (2011), ATT5 Hard Sync (2011), ATT4 Chalice (2011), ATT3 Outer Christ (2011), ATT2 Macpanic (2011), ATT1 Nimal Nimoy (2011), AT54 Intermezzo (2011), AT26 Metamorph Candies (2011), AT29 Dystrogonyx (2011), AG2 Placenta (2011), AT17 Farandole (2011), AT27 Innocence (2011), AT3 Nuclear Project (2011), AT38 Nanogonyx (2011), AT49 Neuromicr (2011), AT16 Faun Call (2011), AG1 Neuroticons (2011), AT55 Neo Geo (2011), AT36 Mad Hatter (2011), AT51 Pharmaceutic (2011) and AT5 Childhook (2011).
The FontStruct production in 2011: 00dot 5 TRANSFIX, 00dot 15 DYSTROPHIE POLYGONALE, 00dot 20 CURSED, 00dot 13 PARALLAX, 00dot 12 NUCLEAR TARGET, 00dot_7_nimal_nimoy, 00dot 17 SYNDROME F.K., 00dot 9 NEW TO, 00dot 6 DECLINE AND CODE, 00dot 3 ROBOX, 00dot 2 MINIDECO, 0dot 26 INKSECTS, 00dot 32 STEREO, 00dot 10 SMART PLAYGROUND, 00dot 33 FUTURE NOW, 00dot 23 BLING STREET, 00dot 4 TOXINE, 00dot 31 FAUN CALL, 00dot 19 ELIXIR, 00dot 30 DWARF LOGIC, 00dot 8 THRAX, 00dot 14 A NEW FORM OF BEAUTY, 00dot 22 HETERODOXA, 00dot 27 KIDDING, 00dot 21 INNOCENCE, 00dot 34 PICTORIAL ABUSE, 00ne Stretched Empty Cow (2011, a piano key stencil face), 00ne Empty Cow (2011), 00ne Medication (2011), 00ne Pills, 00ne Minipills, 00ne Stency, 00ne Neurelm, 000tag6 LYSERGIC, 000tag4 ROBOX, 000tag NUCLEAR WARFARE, 00ne dat / dot, 00ne Bat Kidding (+Stencil, +Stencil Quadrillé), 00ne Stencirc, 00ne Neurocirc Neue Deco, 00ne Neurocirc, 00ne Neurologo, 00ne Nutech, 00ne Nutech Black, 00ne Top Pix (+Clean), 00ne Not So Atroce Pixels (+Black), 00ne Videotech, 00ne Videotech Tamagochi, 0One Bad Video, 0One Exagg Superstrong, 00ne Blockollida, 00ne Minicut, 00ne Neuromoog, 00ne Exagg, 00ne XChurch, 00ne NeuroNeoq, 00ne Imprimante Matricielle, 00ne C64 NeurOOpart2, 00ne Heterodoxa, 00neZnorg, 00ne Znorg Heads, 00ne Zwrappearing (dotted and textured), 00neVideotech, A Present for Intaglio (2011, cloned from Intaglio's Wallachia), Inicial 1 (2010, an improvement of a typeface by Infotipografia), Neo Geo (2011), NE XS, NE 4x4 Technirement, NE Religious Migraine, NE Abtechre. NE Churching, NE Strange Light Pax Pact, NE Cellphone Cutie Punched Cards, NE Cellphone Cutie, NE Obl. NE Pax Pact, NE Pictorial Abuse, NE Charlie Chaplin Cybernetic Brains, NE Chaplin Cyborg, NE Unknown Remix, NE Neurofat, NE Neurocompressor, NE Neurocompressed Pictograms, NE Alien Orders, NE Filament Techneriment, NE Strange Light Pax Pact, NE The Eye, NE Moving Parallels, NE Alien Orders, NE Reordered Alien Orders, the NE New Newbix family, Parallax (2011).
Typefaces made in 2012 at FontStruct: AFT1 Heterodoxa, AFT2 Forbidden Apple, AFT3 Kidding, AFT4 Spacelab Parallax, AFT5 Detected Future, AFT6 Lysergic 2b, AFT7 Lysergic 2a, AFT8 Transfix, AFT8 Smart Kids, AFT10 Candies, AFT12 Neo Geo, AFT13 Arcane, AFT15 Hard Sync, AFT17 Cortech Hallucination, AFT18 Lysergic1b, AFT20 Abtech, AFT21 Bling Chief Story, AFT22 Ink Lust, AFT23 Faun Call, AFT24 Toying, AFT27 Fluffy Clown, AFT30 Koan, AFT31 Innocence, AFT33 ETPheuneHeume, AFT34 Neuromicr, AFT35 Tripton, AFT36 Intermezzo, AFT37 Rankle, AFT38 Dark Rankle, AFT39 Rankle Distone, AFT40 Smart Kids, AFT41 Smart Playground, AFT42 Lysergic 4a, AFT43 Small Proteus, AFT44 Lysergic 3a, AFT45 New Forgee, AFT46 Space Connect, AFT47 Mondrian Drone, AFT48 Bark At The Code, AFT49 Stereo, AFT50 Artlien, AFT51 Liquor, AFT52 Neuromecha, AFT53 Lysergic 1a, AFT54 Dinoxyde, AFT55 Human Decay, AFT56 Eroded Eclosion, AFT57 Outer Christ, AFT58 Boing Code, AFT59 Nimal Nimoy, AFT60 X-Church, AFT61 Macpanic, AFT62 Lovely Breeze, AFT63 Mad Hatter, AFT64 The Orgians, AFT65 Chalice, AFT66 Ssaammothrax, AFT67 Panthrax, AFT68 Less Is More Neuromicr 2, AFT69 Paraphilia, AFT70 Psilocybine, AFT71 Childhook, AFT72 Once Upon A Damned, AFT73 For Whom The Bell Tolls, AFT74 Medieval sweetshop, AFT75 Nanoprehistoryx, AFT76 Pictorial Abuse, AFT77 Bestiaire, AFT78 Fanfare From Outer Space, AFT79 X-Cute, AFT80 Medication, AFT81 Wrong DNA, AFT82 Wrong DNA, AFT83 Minimal Disto, AFT84 Abacadabra, AFT85 Pharmaceutical, AFT86 Code Flu, AFT89 High-Diving Blindness, AFT90 Nopix, AFT91 Floppy Disk O, AFT100 Farewell dawn, AFT104 Locked-in Glow, AFT105 Vivant, AFT106 Sharp Gloss, AFT107 Madame Guillotine, AFT108 Newbic, AFT109 Ataxie, AFT110 Strenuous MICR, AFT111 Effaceur, AFT113 Zeppelin Legacy, AFT1010 Jabbering, AFTN1, BUT1 Quarx, BUT2 Newbix, BUT3 Disto Matricielle, BUT4 Tomono, BUT5 Blurred Clown, BUT7 Religious Pill, BUT8 Nopix (octagonal), BUT9 Tipi Video, BUT10 Slanxic Acid, BUT11 Metamphetamental, BUT12 Znorgs, BUT13 Soyokaze, BUT15 Stick Tech, BUT16 Uninteresting Tech.
In the Testament series from 2012 until 2013, we mention Testament 132 New Indication, Testament 131 The New Orgians, Testament 128 Camphre, Testament 126 Neuromoog, Testament 122 Dissecting Geometry, Testament 115 Placenta Numérique, Testament 116 Abnormal Fairy, Testament 109 Madame Guillotine, Testament 85 Axone, Testament 84 Keen, Testament 83 Minimixture, Testament 52 Neuromecha, Testament 51 Liquor, Testament 50 Artlien, Testament 49 Stereo, Testament 48 Bark At The Code, Testament 56 Eroded Eclosion, Testament 55 Lysergic 1a, Testament 54 Inflated, Testament 59 Nimal Nimoy, Testament 60 X-Church, Testament 64 The Orgians, Testament 67 Panthrax, Testament 66 Human Decay, Testament 69 Chalice, Testament 47 Mondrian Drone, Testament 44 Lysergic3a, Testament 42 Lysergic 4a, Testament 27 Arcane, Testament 11 Minimori, Testament 8 Transfix, Testament 7 Lysergic2a, Testament 6 Lysergic 2b [The Lysergic series is about very large (around 200 cases high) grid pixel fonts with a severe inclination to psychedelism], Testament B Formaldehyde, Testament C Neuroticons, Testament Artefact, Testament Back Home, Testament 1 Heterodoxa, and Testament 12 Neo Geo. He also created an Archive series in 2012, which features an ornamental caps typeface called Archive 10, a geometric typeface called Archive 5, TEST PPain, and a textured typeface called Archive 8. He has a Trauma series that features Trauma 145 Razzmatazz Architect, Trauma 126 Lysergeek Boy, Trauma 127 Lysergeek Girl.
Typefaces from 2014: Trauma 155 Overly, Trauma 151 Migraine Bit.
In 2017, Abneurone allowed me to host his 120-strong Abtox series, which grew out of the FontStruct collection between 2014 and 2016. Download directory. All fonts in one zip file. The complete list: Abtox 1 ATAXIE, Abtox 10 GRIEF, Abtox 100 CORRODED SPACESHIP_0, Abtox 101 LYSERGIC GAMMA_1, Abtox 102 TOXIC DATA, Abtox 103 NEUROTIC CHURCH_3, Abtox 104 SCHIZOPHRENIA TYPE_1, Abtox 105 TWO STAGES OF CONTAMINATION_2, Abtox 106 DINOXYDE_1, Abtox 107 FAUN CALL_0, Abtox 108 SMART KIDS_9, Abtox 109 FORBIDDEN APPLE_1, Abtox 11 SANTA CLAWS, Abtox 110 DYSTOPIAN GEOMETRY_0, Abtox 111 CHEMICAL ABERRATION_1, Abtox 112 DOUBLE-DEALING_3, Abtox 113 FORBIDDEN PLANET_4, Abtox 114 KARMIC_4, Abtox 115 DIZZY MOLECULES, Abtox 116 COMPUTING ELSEWHERE_0, Abtox 117 DEEP LOW_2, Abtox 118 MODULOTNIK, Abtox 119 DATACIDE_3, Abtox 12 CLOUD BLOOD, Abtox 120 CLOSE ENCOUNTERS_7, Abtox 13 CHILDHOOK_C, Abtox 14 BACTERIA_0, Abtox 15 ALCESTE_3, Abtox 16 PSILOCYBINE_1, Abtox 17 AXONE_1E, Abtox 18 GALACTIC ORGAN_0, Abtox 19 NEUROMOOG_1, Abtox 2 TANTRISME_1, Abtox 20 UFOLOGY, Abtox 21 PAIN PDJ_4, Abtox 22 MY VALENTINE_0, Abtox 23 SUCROKID, Abtox 24 FLOPPY DISK CODE, Abtox 25 VERKIDGO, Abtox 26 NEO GEO_1, Abtox 27 MANDRAGORE_F, Abtox 28 HORNS TO COME_1, Abtox 29 NITROX BEAT_7, Abtox 3 DECORATORIO, Abtox 30 FLYBUTTER_1, Abtox 31 MATRIX YELL_0, Abtox 32 BUBBLE GUMMY_A, Abtox 33 SPAWN_2, Abtox 34 SQUARRY_0, Abtox 35 BUBONIC AK47_0, Abtox 36 VINAIGRE GOTHIQUE_3, Abtox 37 NEO POMPOUS, Abtox 38 EFFACEUR GLUED_1, Abtox 39 EFFACEUR BAROQUE_8, Abtox 4 OVERLY_6, Abtox 40 EFFACEUR SOLID_3, Abtox 41 EFFACEUR CODA_5, Abtox 42 DARK ATROXID_1, Abtox 43 LUMINOUS ATROXID_9, Abtox 44 DRUGGED UP ATROXID_0, Abtox 45 NEUROMECHANIC, Abtox 46 CAMPHRE_4, Abtox 47 FEAST OF UNIQUE RITES, Abtox 48 CHALICE, Abtox 49 SPACE DRUG_0, Abtox 5 NEW PUPPY_0, Abtox 50 TRONIXHALLEY_1, Abtox 51 NO DUMMY, Abtox 52 LOST CHILDHOOD_1, Abtox 53 TRAUMATOLOGY_0, Abtox 54 THE NEW ORGIANS_7, Abtox 55 AMOEBA PUNK_2, Abtox 56 MEDICATION, Abtox 57 SIDE EFFECTS_3, Abtox 58 RE-VOLT_1, Abtox 59 CYBERNODE_1, Abtox 6 RAZZMATAZZ ARCHITECT_1, Abtox 60 OUTER CHRIST, Abtox 61 NEW CIRCUS_0, Abtox 62 ART DRONE, Abtox 63 COAXIAL_2, Abtox 64 PONG !_2, Abtox 65 LYSERGEEK GIRL_0, Abtox 66 NEWBIC_1, Abtox 67 BRAIN SURGERY_4, Abtox 68 RETROFUTURE PRECIOUS_0, Abtox 69 TRIPTONITE_2, Abtox 7 LOG_3, Abtox 70 NEUROMICR_8, Abtox 71 HUMAN DECAY, Abtox 72 INK LUST_0, Abtox 73 PANTHEIST_2, Abtox 74 X-CUTE_6, Abtox 75 DATAXY_4, Abtox 76 FRAGRANCE_0, Abtox 77 TOOTH AXIS_2, Abtox 78 MADAME GUILLOTINE_0, Abtox 79 NARCO_2, Abtox 8 KOAN, Abtox 80 GENOMETRY_1, Abtox 81 SAFE TRAIN_4, Abtox 82 NO ISLAND, Abtox 83 LOCKED-IN GLOW_5, Abtox 84 ABNORMAL FAIRY_A, Abtox 85 ACME_0, Abtox 86 GLITCHY ELIXIR_1, Abtox 87 BLACK ELIXIR, Abtox 88 NEW INDUCTION_0, Abtox 89 MECAMYTHIC_3, Abtox 9 ABSTEREO_4, Abtox 90 MEDIEVAL SWEETSHOP, Abtox 91 PARAPHILIA_0, Abtox 92 HARD SYNC_3, Abtox 93 SECT TOY_1, Abtox 94 ARTEFACT_2, Abtox 95 SPACE LAB, Abtox 96 WAX, Abtox 97 E.T. PHEUNE HEUME_C, Abtox 98 COLD FLOWERS_2, Abtox 99 INJECTING DOPAMINE_0, Abtox ALIEN TOYS_14, Abtox NEUROTICONS_13, Abtox X-HEADZ_37.
Dafont link. [Google] [MyFonts] [More] ⦿
Chequered Ink
[Allison James]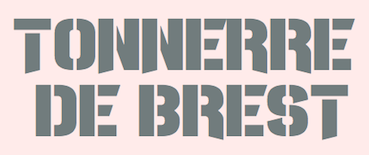 Chequered Ink (est. 2015) is a two-man design studio consisting of Daniel Johnston (b. 1993) and Allison James (b. 1991; Allison is a reincarnation of Andrew McCluskey). Their business is based in Bath, England but they currently reside in Newport, Wales. Before 2015, Andrew McCluskey operated as NAL Games. That font collection was merged with Chequered Ink. As of early 2019, they designed 912 fonts, virtually all downloadable at Fontspace. For detailed attributions, we have:
Typefaces from 2015, mostly made with FontStruct: Heartbeat Synchronicity, Sawchain, Man Flu, Ace Adventure, Disco Nectar, Hex Girlfriend, Future Now, Lycra, Rygarde (pixel font), Empire Straight (avant garde caps), Kitty Katastrophe, Gang Wolfik Craze, O.K.Retro, Xxrdcore, the blocky sans serif Horticulture, the modular angular Heartbreaker, Ninja Thing, Fort Brewith, Urgently, Baxter's Slab (heavy octagonal style), Lady Radical (pixel font), Provisionary, Quickfyr, Vermin Vore, Even Stevens.
Typefaces from 2016: Sportscream, Assvssin, Brandsom (ransom note font), BromineCocktail, DestinationMercury, Eviscera, Halloween*Heresy, IReallyReallyReallyReallyReallyReallyLikeFonts, Viadukt, Yetimology, Indocorno, Overdose Sunrise (dry brush), Happy Talk, Camaraderie, Death Hector (sci-fi), Scones And Crossbows, Casual Softcore, Notepads & Roleplay, Order in Chaos, Stencil of Destiny, ViceVersus, Magenta Flow, Prick Habit, Go Faster, BlackboardRovers, Caperput, Chavelite, Lovecraftimus, RawhideRaw2016, SmackLaidethDown2016, SmackLaidethDown2016Oblique, Pelode, The Nineties Called They Want Their Font Back, You Can't Kill Old School, Thoroughbred, Card Shark, Sheeping Dogs, Zen Monolith, The Joy Facade, Cerulean Nights, Pounds of Violence, Altered Quest (octagonal), Thrash Decision (dripping paint font), Afroed Dizzy Yak (handcrafted style), Circulus (octagonal style), 53 Dollars and 92 Cents, Endless Boss Battle (pixel font), Guest Circus Paradiso, Niagaraphobia (sans), Noseblood (squarish italic), Shake Your Plums, The Light Brigade (trekkie font), Beautiful Heartbeat (handcrafted), Poisoned Paradigm (dripping paint font), Development Hell (modular), Energetic Star (stencil), Men Down (display or poster type), Apple Korea (Hangul emulation typeface), Zdyk Capricorn, CQ Mono (a rounded monoline monospaced sans programming font), Pyrsing, Executionist, Mono a Mano (pixel typeface), Toxico, Swiggity (hexagonal), Mono a Mano (pixel font), Dissolved Exchange, Thundercover, Hors d'oeuvres The Garter, Distortion Dos Digital, Acetate, Arcapulse, ChelseaSmile, Headshots, Here&NotFound, IregulaTo, Japers, MidnightsontheShore, RallyBlade, Sothin (a great ultra-condensed squarish typeface), VerminVibes4Helium, 6Cells, DistortionDosAnalogue, SpotMonkey, Summoners, UnderwearProtest (Piano key style), VerminVibes4, Shapeshifters, Puerto Magnifico (Mexican party style font), Zdyk Gemini (intergalactic font), Bones To Your Generic Script Font, Breathe Fire (medieval style), Escalatio (hipster style), Pocket Monka (beatnik style), Jack Frost, Hiruleon, Cfour, CrystalCathedral, DigitalDust (LED font), DotLirium, Griefmachine, KillerCollege, OfMaidsandMen (oriental emulation typeface), Red Dragons, Grimeplex, Iron Amore, Twizzled, ZedSaid, Vermin Vibes, Major League Duty (military stencil), Moist (dripping paint font), Wondertribute, Of the Blue Colour of her Eyes, Anastasia (script).
Typefaces from 2017: Technoma (rounded sans), Gothiqua, Tune Up De Ting, Diary of an 8-bit mage, Night Machine, The Wastes of Space, Nuernberg Messe, Torque Sense, Crevice Stencil, Glitch Slop, Balloonatic, Typist's Pseudonym, Flob Out A Bork, Tumbling Down (grungy), Onomber, Have a Banana (angular style), Not The Far East (oriental simulation font), Electric Shocker, Lady Radical 2 (pixel), AmidVerrion, Basilisk, Beillingsday, Butcher the Baker (a gory brush), CQ-Full-Stretch, Chillit, Diagon, Durmstrong, Embryonoid, Gravedigger, Gridget (gridded), Gridlocked, Hannover-Messe-Sans, Hannover-Messe-Serif (pixel), Ineptic, I Shot the Serif, JesusFrank, Messe Muenchen (slab serif), Ode-to-Idle-Gaming, Punishment (grungy stencil), Rumutocu (squarish), Slitter, Slim Stradiva, Supercarver, Technoma, VitruvianMan, VoiceInMyHead, Riemann Theatre (art deco), The Messenger, Revengeance, Pimlico, North to South, Qui Finn, Oganesson, Xmas Sweater Stitch, Tinsel Christmas, Inky Thin Pixels, Saint Knick Knack, Cookie Cutter Culture, Talking Baseball, Balls of Bastille, Vegan Abattoir, Oxen Crossbow, Thumbs Down, Enter the Harbinger, Im Not Like Most Fonts, We Used To Be Friends, Trendgetter, Strings Theory, Carnival trash, The Life of Flight, Sci Auralieph (rounded sci-fi style), Foreplayer, Pixel or GTFO, Block Stock, Unability, Swore Games (military stencil), Clintwood (Western, spurred), Floral Compass, Skull and Void, Weymouth Ribbon (7 pixel font), Four Mad Dogs, Blaize, Chisholm Heliport, ConfettiWestern, EdgyMarker, Ganymedian, Klein Bottle, LeipzigerMesse, LifeInTheFastLane, Messe-Duesseldorf, MilestoneOutline, Oilrig, QueenofClubs, Peking Assignment, Racetrack-Stencil (trilined typeface), RodentRage, Spoopy Ghost Pixels, SquareRaising, Whisperer, ZdykLibra, Equalize (sci-fi), Helicopta (sci-fi), Saveloy, Hangar Nine, Robo Arriba (a font with Mexican-patterned texture), Clutching Toth, Freestyling Centipede, Idiot Stax, Lorra Lorra Dates (an image font simulated on FontStruct), Rampant, Typingrad (constructivist), Lovesauce (squarish), Scaremonger, Happy Accidents, Aztechno (Mexican Aztec culture emulation typeface), BeastofRage, ComicKhazi, DaisyRoots, DogRough (ink splatter font), Drowsy, FrankfurtMesse-Serif, FrankfurtMesse-Wide, FrontPageSupplement, HipsterHandGrenade, MerrimentHelicopter, OffspringRemorse, PlacktheHanet, RevolutionWillBeHypnotised, SomersetBarnyard, Almond Rocks, Gridking, Rollcage (circle-themed sans), Satire, Some Kinda Madness, Blackletter Buffoonery, Toe the Lineless, Merriment Helicopter, Revolution Will Be Hypnotised, Long Haired Freaky People, Sui Coward, Pirates of Cydonia, Old School Adventures (pixel style), Mersey Cowboy, Disco Everyday Value, Koln Messe-Deutz, Stress Genesis, Vermin Vibesy, Madness Hyperactive, Nebulous Content, Toe The Line, Chunky Felt, Madness Hyperactive, Member Kinglify, Bristol and Bath, Dirty Princess, Modern Bohemian, Chocolate Cavalcade, Capital Clickbait, Frogotype, Ipscrik, Front Page Supplement, Sex Drugs and Fidget Spinners, Pickle Pushing, Thickedy Grunge (crayon font), Knockout Grunge, League of Extraordinary Justice, Thickedy Quick, Avenged for Yourself, Zoon Hoot, Ambidextrose, Thinly Handled, Sketchit Means Sketchit, Return of the Grid, Fierce Brosnan, Chubby Thumbs, Pseudonumb, West End Knights, Cybercrime 2004, Reflecques, Death Knell, Fake News, Zealousy, Aquamarina (rounded sans), Amateur Camcorder, Mighty Squidge, Track & Shield (multilined), Wander Z, Gardenfreude, The Wild Breath of Zelda, Effective Power, Techno Agony, LED Specimen (textured), Projectionist, Splinter Wonderland, Shiny Eyes, Uncopyrightable, Hallowed Grad, Peace and Equality, Steriliser (heavy sans), Electro Shackle, Castforce (titling sans), Butterfly Reflect.
Typefaces from 2018: January Fair, Scared of the Unknown, Teddy Bears, Wicked Jumps, Enter The Grid 2, Chump Change, Take Me Out, Breathe Fire II, Toon Around, Tabloid Scuzzball, The Jjester, Play Pretend, A Friend In Deed, Girlesque, Bumblebear, Joyful Theatre, Snow Deep, Car Lock, Digital Display (an LED font), Game Played, Seldom Scene, The Shape Of Things, Candy Beans, Internal Rainbows, Pride Thusly, Armwarmer, Futuristic Armour, Refresher (dry brush), Brick Shapers, Frostbite Boss, Armed and Traitorous (a rough-edged stencil typeface), Ambystoma Mexixana, The Slug and Lion, Gourmet Hearth, Virtu, Star Doors, Winter Spice Cake, Canvas Bags, Shocking Headline, Tiny Islanders (pixel font), Yumi, Nobody Talks, Finished Sympathy (white on black), One Slice, Somerton Dense, Sunday Afternoon, Close & Open, Another Flight, Kuiper Belt, Platonica, Smoother, Ladders, Cold Warm, Name Smile, Shepherdy, Friend Head, Kevlar Underwear, Scrambled Tofu, Dillydallier, Joy Kim, Office Square, You've Gotta Point, District Four, Scare Arms (grunge), 22 September, Alimony, Xmas Fairy Lights, Segreteria, Leg Hug, Coded Message, Madeleina Sans, Trample Over Beauty, Emerald Grey, Fine Allie, Bottled It, Glee Finder, Pill Anthropic, Achtung! Polizei, Say the Words, Outcome, First In Line, Brain Wants, Green Strand, Die Grinsekatze, Eight Bit Dragon (a pixel typeface), KreepTown, Loudhailer, Progesterone, Insomniax, Quick Fuse, Rowdy Space Pirates, Oestrogen, Whisper Quiet, Zosilla, Construction Lines, Construction Lines, Juxtaposer, Tommi, Under The Weather, Xero's Punishment, Betryal of Mind, Rustic Love Tattoo, Younger Love (heavy octagonal typeface), Gossamer Girls (a pixel font), Dispence, Time Won, Blessings of Babylon, Requires Moonshine, Stroud, Hot Bleb, Nightmare Codehack, Manilla Cellos, Teeny Tiny Pixls, Ava Meridian, Wonders of the Orient, Float The Boat, Cute Zealand, Super Renewables, Lean Foreword, Mister Fisher, Love Nature, Exposure Salary, A Goblin Appears (pixel type), Project H, There Must Be, Charlestoning, Sportsquake, Violet Wasteland (dry brush), Clubbed to Life (sans), Moonwalk Miss, Best Tease, Reach The End (art deco), Slalom, A Grazing Mace, Boomer Tantrum, Disarmer (military stencil), Hell Underwater, Carnival Centenary (Tuscan), Mahalo Brother, Glue Gun, Tyrannothesaurus, Casanova Scotia, Fatherland Faker, Daughter Of A Glitch, Sparkles, Europhonic, Betelgeuze, Goregeous, Supermarketed, All The Way To The Sun, Russia Five, Soccer Scoreboard, Cinqcent, Megan June, Big Old Boldy, 501, Earthshattering, Sheeping Cats, Thousandyard, Closet Dwellers, Clicky Bricks, Painter Decorator, The 27 Club, Adventure ReQuest, Miamagon, Nineteen Ninety Seven, Vermin Verile, Great Attraction, Great Attraction, Zirconia, Oh Beehive (hexagonal), Gofuyo (experimental geometric sans), Wideboy, Im Spiegelland, Battenberg and Custard, Bugfast, Robotic Harlequin, Scouser Ste, Blend Her, Ancient Venusian, Sivereign State (constructivist), Daily Mix 3, Brushstroke Horror, Hellgrazer, Corporation Games (sci-fi), Pride Cometh (dry brush), Squirk (stone cut), Mecklabecka (octagonal), Nineteen Ninety Three (pixel), Dominian (octagonal), Perfectly Together, Super Comic, Nrvsbrkdwn, Bottom Brazil, Don't Delay Act Now, Nu Home, Just My Type, techno at Dusk, Starbirl, Hate Agent, Fool's errand, Bullet Rain, Orchestra of Strings, One Pill Makes You Larger, Interlewd, Fandomonium, Ball Bearing, Jamboree, Hot Thin Roof, No Added Sugar, X Termination, Real Fun Time, Der Neue Spargel, Nineteen Eight Seven (pixel), Bittypix Countdown, Nineteen Ninety Six, Fasterisq, Peekavous, Modest Felt, Im Wunderland, Megarok, Sunk Foal Brother, Skydiver, Chasing Rabbits, Background Noise, Viridian College, Sacred Hertz, Sawyers Whitewash, Brittle, Cupcake Smiles, Machine Gunk, Dubspikes, Onslaughter, Eyes Wide Suicide, Boatycabiners, All Square Now (pixel), Hawking Bowen (octagonal), Style Thief, Tagon (octagonal), Withheld Data (LED font), Dubstep Blackletter, Pixabubble, Hopelelessly in Lurve, Springtime Daydream, Techno Til Dawn, Fluid Lighter, Rush Rush (stencil), Incompetent Landlord, Danger on the Motorway (dot matrix), Hippopotamus Apocalypse (hexagonal), Homunculus, Bittypix Monospace (pixel font), Unicorn Scribbles, Rockout, Truly Madly Dpad, Tincture, Virtual Pet Sans (dot matrix font), How Are You Today (ultra-condensed), Juicebox, Chemical Superior, Organic Teabags, Broadsheet Bubble, Document Two, Slope Opera, Blockbrokers, Off The Haze, Gang Wolfik, Gnorts Mr A, Radiator Falls, Take Me On, Cyberspace Raceway, Rocket Rinder, May We, The Citadels, Life Is Okay, Astrolab, Simple Stitch, Feeding A Moment, Gooseberry Juice, Namso, Rabbit Fire, Texas Drop, Short Xurkit, Maiden Crimes, Hysterix, Introducing Pretentiousness, Lullaby Weight, Slumbers Weight, Vampires, Veal Nerve (a neurotic typeface), Be Kind To Earth, Aardvark Sk8, Ancient Modern Tales (blackletter), Spider Talent (Halloween font), Pooch Doo, Plan G, Rhapsodies (art deco), Lab Pulsar (sci-fi), Hamburg Messe (blackletter), Xide, Scrawling Pad, Bun Ting, Speedeasy, Itty Bity Notebook.
Typefaces from 2019: Hindsight 2020, Provicali, Go Everywhere, Smack Laideth Down 2019, China Fad, Monster Twenty, Into Deep (sci-fi), Mandatory Plaything, Galaxy Girl, San Marino Beach (a shadowed font), Acorn Caravan (a rounded sans stencil), Hairy Beard, Phonograph, Sterelict (futuristic), Egosurf, Bankruptcy, Wayfarer's Toy Box (a pixel font), Fox Cavalier, Heartisan, Modular Amplitude (heavy octagonal, Dolphin with a Massive Shotgun (a glitch font), Jasmine Laslo, Earth Spirit, Nemesis Grant, Daily Mix 4 (an all caps blackboard bold typeface), Uplifting, Ministry of Moron (a heavy sans), Extinction Event, Cut Deep, Q For The Memories, Wozcott, Super Legend Boy (pixelish), Chopsic, Lesotho Beach (octagonal), Illiead, Ten Pin, Isite, Motorstrike, Hwyl Fawr Hello, Undersided, Shut Up and Love Me (shaky letters), Terminal Day, I Am A Designer, Born to Grille (a semi-stencil), Amuse-Bouche, Die Frau, Err Hostess (octagonal), Cthulhu's Calling, Fresh Eaters, Gamma Orionis, Greatsby Gat, Hands Oversaturation (sans), Joy Multiplication, Kotoba, Midnight Champion (an extra tall sans), She Smiles, Read Wharf, Ohno (poster sans), Prodigy Forever (a blood and paint splatter font), Questrian 2 (sans), Nau Sea (squarish), The Macabre, Long Fox, Roll Accurate (stencil), Princess Saves You (pixel font), Clone Machine, Cyberpunk Sealion, Misery Garment, Klimaschutz, Space Obsessed, Serpentire, Squidgy Sweets (fat rounded sans), Yokelvision (fat letters), Coral Colour, None Away From The Moon (counterless), Squidgy Sweets, Yokelvision, Coral Colour, None Away from the Moon, Robot Roc, Figure Things, Gaeilge Kids, FoughtKnight Haymaker, Medical Shape, Revenant (octagonal), Pinch My Ride, Dire Gramme, Assembled from Scratch, Premier 2019 (squarish).
Typefaces from 2020: Hardigan (a titling sans), Petrichor Sublimey, Bardolatry, Star Trebek, Fast Hand (sci-fi), Bonk Robbers, Neuterous, Demoness, Lucid Streams (sci-fi), Fosterama (an elliptical sans), Woman, Shock Mint Fund (octagonal), Milletun (an all caps slab serif), Mille, Vudotronic, Elder Head, Dead Revolution, Charge Off, Asleepytiming, Questrian3, SplendidConfusion, XXIX, Septacharge, Dark Seed, Hawkeye, Dustfine, We Are Survivors, Be A St, Computo Monospace, Dealer Strikes, Zdyk Virgo, Bathrind, Honk, Revamped, Clease Plap, Zdyk Cancer, Cyberway Riders, Memorial Lane, Doubleplus, Ominus (italic), Army Buster (stencil), Tudor Victors (a grungy stencil), Romantic Chemicals, Migraine Machine, Warhead (constructivist), X-Heighting.
Dafont link. Creative Market link. Fontspace link. [Google] [More] ⦿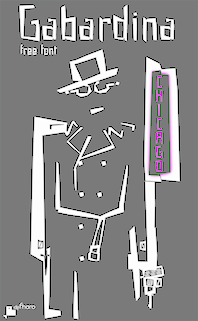 Las Palmas de Gran Canaria, Ampuero and Laredo, Spain-based designer (b. 1971) who set up deFharo. Creator of the monoline sans typeface Depez (2011), Fabada (2011), and the free monoline geometric sans typeface La Chata (2011). La chatte, in French? Maybe not.
In 2011, he made the monoline organic sans typeface Lerótica (free at OFL).
In 2012, he created Nabatea (stone chisel typeface), V de Vacia (a grungy outline face), Sabática (organic), the straight-edged data style typeface Gabardina, the grotesk typeface A Bebedera, the shadow typeface B de Bonita, D Puntillas, and the deconstructed Qebrada.
In 2013, he designed Yacarena Ultra, H.H. Agallas, Nacimiento (a dymo label font), J Airplane Swash (a psychedelic typeface named after Jefferson Airplane), CA Garrutas (grunge), CA Gatintas (grunge), I Am Telefono (the largest phone dingbat and scanbat typeface on earth), Wach Op-Art (kaleidoscopic icons), K.O. Activista, I Am Hueca, X Template (stencil), H.H.Samuel (rounded sans), U2 Metalona (a beautiful white-on-black display face), M F Plexus Italic, J.M. Nexus Grotesque (an "thin inline" fat grotesque), Wachinanga, Tabaquera, Pabellona (grunge), El Pececito (video game font), the poster typeface Hobby of Night (OFL), H2O Shadow (outline version of Fabada), Zabatana Poster (a didone-inspired poster font), Oaxaquena Tall, Yacimiento (wood style wedge serif), and Rabanera.
Typefaces from 2014: Babalusa Cut, A Cuchillada, Sabandija (a plump round display typeface), F2 Tecnocratica, F1 Secuencia Quad (pixel face), La Pejina FFP (bilined), Tabaiba Wild, Gabachita (ultra-condensed rounded sans).
Typefaces from 2015: Tabarra Pro (Swiss style sans family for Latin, Cyrillic and Greek), A Sogra Ruth (ultra-condensed art deco), Gaban (an outline version of Tabardo), Tabardo (a heavy blocky font), Wacamoler Caps (a Tuscan typeface inspired opening credits of the Western movie Winchester '73 directed by Anthony Mann in 1950), Ubicada (condensed geometric sans), Rabiosa (neurotic font), Zacatecas (condensed shaded sans), F3 Secuencia Round, La Babaca (a powerful black condensed sans in the style of Impact), Obcecada Sans + Serif (condensed with almost disappearing descenders), Eacologica Round Slab (a nice commercial font with an incomplete set of numerals), Palim Script (curly), Vacaciones (signage face), de La Cruz.
Typefaces from 2016: Yugoslavia (calligraphic), Love Box (stencil), Cienfuegos (connected retro script named after the Cuban her Camilo Cienfuegos), Gaitera Ball (round fat script), The Black Box (a retro banner font), Durum Kebab (shadow sans), Jolgoria In Town (script), Yerbaluisa (signage script), Escobeta One (brush script), Posteratus Rex, Bastardilla (a cursive font), Rotulona Hand, The Juke Box (retro juke box lettering), Angelique Rose (connected monoline script), Promenades, Bucanera (a swashbuckle font), Lucemita, Panama Road (a casual calligraphic font), Deslucida, Disoluta, Sucesion Slab, Tabarra Pro Round, Qebab Pro Shadow, Monserga (white on black), Indulta SemiSerif.
Typefaces from 2017: Partizano Serif (a retro poster font; free demo), Jack Stanislav (a great condensed movie poster font), Fontanero (rounded fat sans), Yonky (fat slab serif), Zigzageo, Libertatus (manual serif fonts based on a Czech poster from 1935), Libertatus Duas (slab serif), Flamante Sans, Flamante Serif, Flamante (Round, SemiSlab, Stencil, Seca, Cairo, Roma), Seisdedos Dead (rough stencil fonts), Neo Latina (stencil), Carta Magna (blackletter), La Sonnambula (signature script), Bola Ocho (an eightball font), Clandestina (textured, layered), Acratica (signage script), Penitencia Inline, Autarquica (outlined vernacular style), Caminata One (shaded signage typeface), Sin Razon (wedge serif), Glotona Black and White (a layered tattoo style font duo), Glotona Dots (the textured versions of Glotona), 6th Aniversario, Tribal Box (squarish sans, with tattoo ornaments and a great environment for borders), Candy Pop (bubblegum font), Sargento Gorila (army stencil font), Libertinas + co (a curly calligraphic script; the free version has no numerals).
Typefaces from 2018: Gudariak (a free color SVG font: Vicente Ballester Marco (Valencia 1887-1980) was a graphic designer and Valencian poster artist affiliated with the CNT (Confederacion Nacional del Trabajo) who created political propaganda posters of clear modernist and post-cubist influence during the Spanish Civil War. The Gudariak typeface is inspired mainly by one of the posters he made for the Government of Euskadi and also in others where the author continues to explore this particular typographic style. ), Farisea Fraktur, Octuple Max (techno), Ordeal Eroded, Panfleta Stencil, Secuela (free), Fragua Pro (condensed sans family), Getho (a geometric semi-sans), Cowboya Tuscan (a curly Tuscan circus font), Txuleta Deco (a striped art deco typeface), Coltan Gea (slab serif), Getho Semi Sans, Cowboys (a Tuscan typeface), Drystick Geo Grotesk, Diezma, Grifa Slab, Coltan Gea (slab serif family), Paloseco (geometric and grotesk), Stoica (a color SVG font), Letrera Caps (a rounded square style layered and color font that pays homage to the sans serif inline genre), Enagol Math (a condensed rounded slab serif based on carefully applied mathematical ratios), Heptal, Velocista, Octagen Condensed, Octagen Black, Sextan Serif, Sextan Cyrillic, Quickat (signage script), Octagen (condensed sand with short descenders), Wolframia Script (flowing handwriting), Pentay Slab, Pentay Sans, Pentay Book, Cuatra, Judera (Flat and Ring: monospaced, unicase and totally sqaurish), Quotus (slab serif), Tripleta Grotesk (a 16-style geometric sans family).
Typefaces from 2019: Pervitina Dex (sci-fi), Megalito Slab, Obesum Caps, Jane Roe (sans), Icons Opentype, Felona (stencil: a variable font), Neo Fobia, Bocartes Fritos (food icons), Red Thinker (a squarish monoline sans), Pena Caldaria (blackletter).
Typefaces from 2020: Anoxic (a squarish monoline sans).
Typefaces from 2021: Humato (a sturdy font for weightlifters), Probeta (a squarish techno sans family in 42 styles), Speeday (a speed emulation sans).
Creative Market link. OFL link. Behance link. Dafont link. Devian tart link. Abstract Fonts link. Fontspace link. [Google] [MyFonts] [More] ⦿

Quebec-based designer (b. 1971) in 2010 of the outline face Elégante and of the grunge typefaces Apocalypse Regular, Arbre, Autodestruction, Papineau (hand-printed), de Lorimier, Gardien d'herbe, Elusion (organic), Cataclysme (grunge), Wolfred Nelson (rubber stamp caps), Chénier (grunge), Crack and Bold, Fleur de Lys (dingbats that are useful pour mon pays), Manuscrit, Ancien (grungy inline face), Confusion, Patriote 1837 Regular, Arbre (hand-printed) and Cloutier Script (hand-printed).
Typefaces created in 2011: Sioux Caps (ornamental caps: a scanbat face), Flower Cap (floriated caps), Damned (a grungy horror movie typeface), Sketch Me (a sketched face).
Typefaces from 2012: Dill Francis, I Hate Futur, Fabrics (stitch font), Stucco, Children, Hacking Trashed, Flower (floriated caps), Arbre, Patriotes 1837, Damned Deluxe, Trashed Light (grunge), Leather (ornamental caps), Punk Rock Show, Crack And Bold, Ana Eve (grunge), British Museum 1490 (ornamental caps), Nature Font (grungy caps), Chenier (grunge), Mosaique (a textured typeface), Motor Pieces (commercial), Mixtec Codice (Maya, Aztec or Inca dingbats), Parkinson (grungy outlines), Ludger Duvernay, Monster, Sponge, Napoleon (a nice fat poster face), Negative Film, Nelson Old Newspaper, Fuck Autority (sic), Rene Levesque (hand-printed), First Nation (an Indian scanbat face), Pustule, Emilie (hand-printed caps), Papineau (hand-printed), Sixties, Dali, Midnight (brush face), Fairy Tale (ornamental caps), Tiger Balloon (African-themed), Rafael (fat poster face), Sacred Place (heavy poster family), Pistache Regular (unicase Plakat font), Morning Stress, Hippie Gypsy (ornamental caps), FBI Old Report (old typewriter face), Mitsouskos, Ten O Clock (a multiline hand-printed face), Strawbwrry, Jewels, CF Night of the Damned, CF One Two Trees (tree-themed), Hagadou (bejeweled letters), CF Punk Forever (white on black grunge), CF Anabelle (curly script), CF Samurai Bob, CF Marie-Eve, CF Christmas Shit, CF Pinceau (fat brush face), CF Deco 1492, CF Cracked Stone, CF Metropolis Serif, CF Punky, CF Snowball (snow-capped glyphs), CF Tuques, CF Revolution, CF Fashion, CF Tissus, CF Christmas Letters, CF Diamond (diamond-studded letters), CF Stencil Orama, CF Dallas Stars (stars and stripes face), CF Old Photograph Credit Font, CF Christmas Letters.
Typefaces from 2013: CF National Stitches, CF Spaceship, Historia (sans caps), CF WireFrame, CF NaVia, CF Sortilege, CF Spirality, CF Charlie, CF Fredo Style, CF Little Monsters (alphadings), CF Tissus, CF I Love Montreal (fat finger face), CF Jungle, CF Paris (art deco caps), CF Marie Eve Cartoons, CF Circuit Electrique, CF Jack Story, CF Punk Attitude, CF Billabong, CF I Want To Believe Comp (grunge), CF Zombie Party (crayon or lipstick font), CF Life Is Beautiful (paint font), CF Gothika (grungy blackletter), CF Manifesto (painted letters), CF Rise of Nations, CF The Lost Batallion, CF Armageddon, CF Electronic Board, CF Old Typography (letterpress font), CF Modern 165, CF Hockey Players (dingbats published on the day the Montreal Canadians were humiliated, 6-1, by the Ottawa Senators in the Stanley Cup playoffs), CF Nelson Old Caracters (sic), Peru Adventure, CF Montreal High School (athletic lettering), Urban Life (textured font), CF Same Old Story (grunge), CF Plants And Flowers, CF Cant Change The World (clean, hand-printed), CF Jeanne Mance, CF Jeans Collection (textured), CF Alien Abduction, CF Rebelle (brush font), CF Jungle Adventure, CF Never Trust A Hippy, CF Anarchy (ransom note font), CF Life Is A Dream (grunge), CF Farwest, CF Typocraft, CF Politicians Killers (blood drip face), CF Technomania, CF Technorama, CF I Love Ugly Fonts, CF Ribbon, CF Tree Of Life, CF Revenge, CF Back to School, CF Nut And Bolts, CF Final Conflict (brush script), CF Nostalgia (brush face), CF Industrial Fabrics (textured face), CF Font Shading, CF Rock Age, CF Nouvelle France (antiqued alphabet), CF My Bloody Valentine, CF Ceinture Flechee (multilined typeface), CF Disappointed, CF Atlantide, CF Bucherons (texture face), CF Simon Marchessault (hand-printed), CF Haunted House (brush face), Gray Texture, CF Space Cowboy (textured typeface), CF Louis Cyr.
Typefaces from 2014: CF Goliath, CF Alone on Earth, Stencil of Rama, Bad News (textured face), CF Xerography, CF Milk, CF Springtime, CF Crayons, CF Dwarf, CF Asshole Politicians, CF Old Milwaukee (spurred typeface), CF Paris Old Style (grungy Peignotian typeface), Creature of Darkness (textured typeface), Quebec Stamp (grungy stencil), Schizophrenia (neurotic typeface), La Belle Helene, CF William Wallace, CF Dots 521, CF LCD 521, CF America, CF Left Behind, CF Jacques Cartier, CF My Best Friend, Flowers of Destiny.
Typefaces from 2015: CF Rise of Nation (bold poster typeface), CF Punk (grungy capitals), Baron Rouge, General Tao (oriental simulation font), CF Mother Board (circuit font), CF John Doe (sketched), CF Crayons de Plomb, CF US Army (textured type), CF White Trash (Treefrog style), CF Punk Rock Show, CF Denim Jeans, CF School Handwriting, CF Nuclear War (very grungy caps face), CF Jack Story, CF Civilisation Maya (textured typeface), CF Punk Is Not Dead, CF Calligraphia, CF Life Is A Dream (grungy textured font), CF Blueprint, CF Far West Regular, CF Samuel de Champlain, CF Azteques (Mexican decorative font)., CF Fleurs de Lys (dingbats), CF Chevalier de Lorimier (connected script), CF Bonaparte, CF Expedition, CF Boston Regular (casual script), CF Jacques Parizeau (a grungy font named after a racist and pompous former political figure in Quebec), CF Trash Zone (grungy stencil), CF I Dont Want To Grow Up, CF Metro Parisien (art deco), CF Craig Robinson, CF Paradise City, CF Great Destiny, CF Robert Nelson, CF Grand Nord (a snow-capped design), CF Green Monster (slab serif).
Typefaces from 2016: CF Showbizz, CF Halloween (dripping blood font), CF La Sorciere Noire (vampire script), CF Green Corn (white on black), CF Engraved, CF Ghost Stories, CF Legends of the Fall, CF Bad Cops, CF Cherokee (wood block printing emulation), CF School Zone (crayon font), CF Snowboard Project (grunge), CF Oak Island, CF Peterson.
Typefaces from 2017: I Robot, Christmas Stitch, Nightmare (dripping blood font), Tangerine (inline typeface), CF Klondike (spurred Western font), CF Letterpress Type, CF Brothers in Arms, CF Etoffe du Pays (a dusty typeface), CF Second Son, CF The Rock (textured), CF Old School, CF Pretty Trees.
Typefaces from 2018: CF Le Dernier Empereur (oriental emulation), CF Sacred Planet, CF Glitch City, CF Remington Typewriter, CF Cyborg, CF Punk vs Cyborg, CF The Ocean Song (monoline connected script), CF Wild West (Tuscan), CF Three Dimensions, CF Mexicana.
Typefaces from 2019: CF Le Grand Cirque (a circus font), CF Saturn 21, CF World at War (an old typewriter font), CF Night of Terror (a dripping blood font), CF Blackboard (a chlak font), CF Punk Fashion, CF Punk Songwriter.
Typefaces from 2020: CF Punk Posters (a ransom note font), CF University of Nowhere (a grungy varsity font), CF Letterpress Type Two, CF Band of Brothers. [Google] [More] ⦿