House of Lime
[Merethe Liljedahl]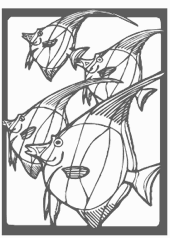 Free original dingbats, alphadings and fonts, mostly from scanned art by Merethe Liljedahl (House of Lime) in Landskrona, Sweden.
The font list: Abstract, Africa, African Design, African Eggs, AfricanPattern, AlphaRemember, AlphaSausage, AlphaThin, AmishQuilts, AngelsFairies, Angelsaroundtheworld, AngloText, Animal, AnimalDesign, AntiqueStuff, AntiqueStuffII, AroundSports, Aroundthehouse, ArtDecoMotif, ArtNouveauBild, ArtNouveauBlume, ArtNouveauFlowers, ArtNouveauFramesandBorders, ArtNouveauInitials (2001), ArtNouveauInitialsA, ArtNouveauInitialsB, ArtNouveauInitialsC, AsianArt, AsianArtII, BOO, BabyTime, BackToSchool (2000, pencil-themed face), Bagsandstuff, BagsandstuffII, Balloons, Baseball, Big Lou (2003, art deco), BirdStencilDesign, BirdStencilDesignII, Birdies, Bzzy (2004, alphadings), Books, Butterflies, Buttons (2006), Calender, CamelotCaps (2000), CarstensOwls, Cats, CelticElements, CelticElementsII, CelticMotif, Celtics, Cherub, CheshireInitials (2001), Chiseled (2006), ChristmasTime, ChristmasWreath, ChubbyDotty, ChubbyTrail, Cornerflair (2002), CrayolaKiddyFont, Curly Fleur Caps, DBLCeltic, DBLCorners, DBLFacesfromthepast, DBLFlowerDelight, DBLMedievalDesign, DancerInTheDark, DancerInTheDarkII, DancerInTheDarkIII, DecorativeOrnamental, Decorette, Decorina (2001), DesignMotif, DesignerCorners, DesignerCorners, DesignerDing, DesignerDividers, DesignerFrames, DesignerFramesTwo, DesignerMix, DesignerMixII, DesignerMixed, DesignerMotifs, DesignerMotifsThree, DesignerMotifsTwo, DesignerPlus, DesignerStuff, Dividers, DividersTwo, DoggyBag, DogsandCats, Dolphins, Dot Trail (2002), DoverChineseMotifDesign, DoverFloral, DoverFloralandDesignII, DoverJapaneseDesign, Dragons, Durbin Initials (2009), EasterBunny, EasterHoppy, EasterTime, EatingOut, Egypt, ElectionTime (2000), Elegance, EvelynsHeart, EvsDragons, ExtraOrnamentalNo2, FaceofaLady, Faces2Faces, FacesOfTheCentury, Faith, Fans, Fashion, FashionLadies, FleurCornerCaps (2000), FloralDesign, FloralStencilDesign, FloridVictorianOrnament, FlowerandFairyAlphabet, Folklore, FolkloreII, Fontanesi, Framed, Frames, FramesAndBorders, FramesAndBordersII, FramesAndBordersIII, FramesandBackgrounds, FramesandHeaders, Fromthegarden, Fruityandveggie, Furballs, GailsUnicorn, GardenTime, Geisha, Genzsch Initials, GermanCaps, GothicCornerCaps, GothicFlourish, GrafikText, GuinevereCaps, HalloweenKiddyFont, Hats, HatsII, HatsIII, HatsIV, HatsV, HeartsofLime, Heraldics, Horses, Houses, HousesII, Howling, Iconettes, Inmygarden, Inyourgarden, Itsserved, Jars, JustFrames, KarensKitties, KeyasTurtles, KiddyDing, KiddyFlakey (2002), KiddyFrames, KiddyHalloween, KiddyToys, KidsAlphabet, KittytheCat, Ladiesofthe20s, Leaves, LimeBlossomCaps (1999), LimeGloryCaps (2000), LisasDragons, LittleHeroes, LizsGibsonGirls, LovePoision, Maskes, MedievalAlphabet (2000), MedievalMotif, MedievalMotifTwo, MexicanMotif, MirrorImage, MosaicCaps (2000), Motif, Mousie (2000, alphadings), MoyrasParrots, Music For Your Ears (2006), MutansII, Mutants, Mythical, NavyBlues (2000, white on black buttons), OldFashionedIllus, OldFloralIllustration, OldFolksShuffle (2000), Onthefarm, OrientalDesign, OrientalIcons, OrientalIconsII, OrientalIconsIII, OrientalIconsIV, OrientalView, OrnamentalCorners, OrnamentalDecoration, OrnamentalDecorationII, OrnamentalElements, OrnamentalElementsII, OrnamentalFramesI, OrnamentalInitialsA, OrnamentalInitialsB, OrnamentalInitialsC, OrnamentalInitialsD, OrnamentalInitialsE, OrnamentalInitialsF, OrnamentalInitialsG, OrnamentalInitialsH, OrnamentalInitialsI, OrnamentalInitialsJ, OrnamentalInitialsK, OrnamentalInitialsL, OrnamentalInitialsM, OrnamentalInitialsN, OrnamentalInitialsO, OrnamentalInitialsP, OrnamentalInitialsQ, OrnamentalInitialsR, OrnamentalInitialsS, OrnamentalInitialsT, OrnamentalInitialsU, OrnamentalInitialsV, OrnamentalInitialsW, OrnamentalInitialsX, OrnamentalInitialsY, OrnamentalInitialsZ, OutOfAfrica (2000), Paisley, Paisley Caps, PaisleyII, Party (2004, Mexican simulation face), Pentagon (2003, Western face), PhilliBoo, PokemonKiddyDing, Retro Elite (2003, art deco), RibbonCaps, Rose, Rosegarden, Scary, Scary House, Scrapper's Arrows, ScrappersCorner, ScrappersElements, ScrappersElementsII, ScrappersElementsIII, ScrappersElementsIV, ScrappersElementsV, ScrappersKeys, ScrappersStencil, ScrappingDoodles, Scream, Sealife, September11, Shaking Salsa, Ships, SimplyFriends, Skeleton, Smelly, SomeoneSpecial, Spiders (2001), SplatterCaps, Spooky, Sporty (2004), Spring (2003, Victorian ornamental typeface), Square Frame (2006), Stamped Flowers, Starlite, Stars, Stencil, StripesCaps (2000), SugarFootStrut, Sun and Moon, Sunflowers, Sunny Days (2004), SunshineKiddyFont, Tattoo, TheGoddess, ThePerfectMan, ThemeCorners, TiffanyCorners, TiffanyCornersII, TiffanyCornersIII, Tiles, Tools, TraditionalFloralDesign, TraditionalFloralDesignII, TraditionalFloralDesignIII, Trapeze (2004), TreasuryofDesign, Treesandleaves, Tulips, TylersPokemon (2000), UncasWomen, Valentine, VictorianWindow, Wedding, Wildflower, WildflowerII, WildflowerIII, WildflowerIV, YesterdaysBeauty, YourSign, Yummi, Zodiac.
Designer Menues (commercial dings, 2001). In 2006, these commercial dings: Scrapping Corners, Scrappers Fills. Direct access to the dingbats. Direct access to fonts.
Fontspace link. Dafont link. Abstract Fonts link. [Google] [More] ⦿
London's Letters (was: Kitten's Korner)
[London Stokes]

London Stokes is a Utah-based designer who made mostly alpha dings. First her pages were called Kitten's Korner, and now they are just London's Letters. A partial font list: Birthday-Balloons, Conradasaur, Cat-Treats, Conrad's-Cows, Christmas-Cardinals, Cuddle-Cats, David's-Ducks, Hound-Dog, Jeremy's-Rigging, LondonBugs, Merry-Go-Round, PokeDex, Ringling-Brothers, Rykers-Pram, Stalking-Kitten, Tin-Soldiers, Toy-Soldier, Ty-Babies, Under-An-Acacia-Tree, Baby Egg, Helpful Hunnybee, Irish Beer, Pill Toad, Pokemon Master, SunshineMoonshine, Christmas Lights, LMS-HeroesAmongTheAshes, LMS-Beach-Wedding, LMS-Beautiful-Butterfly, LMS-Boyton-Alphabet, LMS-Calla-Lily, LMS-Darren's-Delight, LMS-Darren's-Diversion, LMS-Loves-Me, LMS-Tulips, Utah Welcomes The Olympics, LMS-Becca's-Wedding, LMS-Hogle-Zoo-Flutterbys, LMS-Inside-My-Claddah, LMS-Kat's-Cat, LMS-Lazy-Dayz, LMS-Oh-Canada, LMS-Rose, LMS-She-Shells, LMS-Summer-Camp-Love, LMS-Sunflowers-for-Jodie, LMS-Traci's-High-Flying-Hubby, LMS-A-Berry-Nice-Baby, LMS-Back-To-School, LMS-Bed-of-Ivy-and-Ribbons, LMS-Bloodsucker-Proxy, LMS-Comedy-of-Tragedies, LMS-Coral-Colt, LMS-Costume-Party, LMS-Friendly-Skys, LMS-God-Save-The-Queen (on the theme of the union jack), LMS-Hippy-Chick (flower power typeface), LMS-I-Wanna-Be-A-Superhero, LMS-Lights,-Camera,-Action, LMS-New-Cheerleader, LMS-Pumpkin-Pal, LMS-School-Spirit, LMS-The-Sorcerer's-Font, LMS-We-Love-To-Fly, Candle Lit, Collections Specialist, Daisy Days, Deck The Font, Everlasting, Festival of Lights, He Filled Both Stockings, Holly Jolly Christmas, Jazz Fan, Jolly Holiday, Let It Snow, Tropical Island Dream, Saint Nick, Snail Mail, You Better Watch Out, You've Got Mail, LMS-Just-A-Little-Pacers-Fan, LMS-Peppermint-Twist, LMS-Survive-Africa, LMS-Survive-The-Island, LMS-Survive-The-Outback, LMS-You-Are-My-Sunshine, LMSTyBears, Canadian Olympic Spirit, Charismatic Care Bears, Picnic Parade, Spring Lily, We're the chipmunks, By The Power of Grayskull, Pretty Baby Pony, Pretty Pony, Zoorific, LMS Zoo and aquarium Life, LMS-A-Berry-Nice-Baby, LMS-A-Berry-Nice-Font, LMS-A-Berry-Nice-Girl, LMSASnailsPace, LMSAliciasHorses, LMS-America-LSF, LMS-Anniversary-Dinner, LMS-Baby-Egg, LMSBabyHaydensShoes, LMS-Back-To-School, LMS-Beach-Wedding, LMS-Beautiful-Butterfly, LMS-Becca's-Wedding, LMS-Bed-of-Ivy-and-Ribbons, LMSBettyandVeronica (two women posing), LMSBeyondInfinity, LMSBirdWatching, LMS-Birthday-Balloons, LMSPebblesandBamBam, LMSScoobyDoo, LMSScrapPaper, LMSTheTruthIsOutThere, MS Circus Bugs, LMS Cut It Out, LMS Monday Night Football, LMS Paper Work, LMS Pigglet's Prize, LMS Rugrats Need Love Too, LMS Bloody Brujah (Treefrog-lookalike).
Fontspace link. Dafont link. [Google] [More] ⦿
Protoform Project (was: Fontshack)
[Neale Davidson]

Free original designs, often with a science fiction feel, by Neale Davidson (b. 1971). Does some custom font work. Adventure.
Neale Davidson's typefaces:
4E Dings (based on those used in WotC's 4E Dungeons and Dragons game).
AdventureNormal (1998), AdventureSubtitlesNormal, Alpha Mutation (2012, based on the title logo to the 2011 version of "Gammaworld"), Alternity, AlternityNormal, Anayanka (2013, Cyrillic simulation font), Angel Arms (2012, a shothole font), Anglorunic, Armorhide (2013, sci-fi face), Arneson (2013), Artifact (2011; became Ravenwood), Aurebesh (based on the WEG version of Star Wars Imperial Writing).
Bantorain (2013, spurred), BattleBeasts (2000), BeastWars, Betazed (2013, for Star Trek betazoids), Bienvenu (2011, pixel face), Broadmoor (2012, art deco).
Cardosan (2013, runic script), Carlton (2012), Celestial, Chapleau (2012, art deco), Chinyen (2005, oriental simulation), Classic Robot (2011), Coburn (2013: miltary stencil), Colony Wars (replaced by Gallonigher), Comic Book, Constitution Class Hull, Convoy (2011, based on the logo for "Armada" and "Robots in Disguise"), Crichton (2013, an avant-garde font based on the title logo from the "Farscape" television series), 2015 Cruiser (2013, based on the police-car lettering used in the move "Back to the Future II"), Crystal Deco (2008), CuniformEnglishNormal, Cyberfall (2013, octagonal / mechanical face based on the logo of the console game "Fall of Cybertron"), Cybertron Generations (dingbats, now replaced by Transdings), Cybertron Metals, Cyberverse (2011, futuristic).
Daedra (2012: based on the Elder Scrolls series of games), DalelandsNormal (a Celtic face based on the lettering used in early TSR Dungeons and Dragons products), Datacron (2013: based on the Fall of Cybertron toyline), Decahedron (2012), Dethek Stone (runes), DiamondFantasyNormal, Dinobots (based on the Dinobots logo from Hasbro's Beast Machines line), Dodecahedron (2012), Downlink (2013, techno), Dragonmaster, Dunkin and Dunkin Sans (2012, based on the rounded fat letters of the Dunkin Donuts logo), Dovahkiin (2013), dPoly (2013, polyhedra and game dingbats), Duodecahedron (2012), Dwemer (2013).
Eladrin (based on the third edition version of the Elven font used in Dungeons and Dragons), Electrorocket (2012, art deco), Elminster, Emotion Engine (2012, based on the Playstation 2 logo from Sony), Emulator (based on the old Nintendo game font), Energon (2011), Equestria (2012: based on the My Little Pony Line), Erte (2013), Espruar (based on the Elvish script found within TSR's "2nd Edition: Dungeons and Dragons" Forgotten Realms Elvish script), Eurocorp (2012, based on the logo and menus within the classic "Syndicate Wars" game from Bullfrog Entertainment), Exodite Distressed (2013, a custom design for LPJ's "Neo-Exodus" Pathfinder campaign world).
Falmer (2013), Flipbash (2012, an octagonal typeface that is based on the logo of Hasbro's Bot Shots), Flynn (2011, futuristic stencil face), Fontana (2011, techno-futuristic), Fractyl (2013, used for the Predacons' speaking bubbles in the BotCon "Ground Zero" comic in 1997), Furmanite (2011).
Gaiking (2012: Based on the logo of Mattel's Giant Robot toyline, Shogun Warriors), Galaxy Force (2011, based on Hasbro's Transformers: Cybertron logo), Gallonigher (was Colony Wars), Gamedings, Gargish (2013), Gargoyles, Garriott (2013, runic), Geddes (2011), Generation Two, Gold Box (2012, a pixel face based on the in-game lettering from the classic SSI "Gold Box" game collection, featuring Dungeons and Dragons: Pool of Radiance, Curse of the Azure Bonds, and so on), GothamNightsNormal, GutcruncherNormal, Graalen (2013: an alien-glyph typeface based on the Andorian writing found in Last Unicorn Games' Among the Clans supplement for their Star Trek: Roleplaying Game).
Harker (2013), Harpers (runes), Hauser (octagonal, futuristic; Former "Action Force", based on the logo of GI Joe), Hellpoint (2013, based on some of the plate markings founds in IDW's "Transformers" comic series), Hetfield (2013: a spurred typeface), Hexahedron (2012: dice), Hexahedron Rounded (2013), Hyperspace (2012, thin monoline octagonal, based on the original Atari vector font from Battlezone, and on Asteroids).
Imaki (futuristic; was Cybertron Metals; based on the logo of the Japanese Beast Wars Metals series), Indiana (2012, from the titling for the Indiana Jones movies and comics), Instruction (2012, monospaced and monoline caps face for engineering applications), Invaders (2012).
Jedi (2012: Star Wars logo font), JediHollowNormal, JediSolidNormal, Jefferies (former Constitution Class Hull, based on the original Star Trek Enterprise lettering), Jhiaxus (2011), Joystick (2011), Jumpman (2012, based on the logo of the original Donkey Kong game from Nintendo).
Kanno (formerly called Sharon Apple), Kentaurus (2013, Greek simulation typeface; he writs: This 'microgramma-like' font is based on the "Kentaurus" writing found within Franz Joseph's "Star Trek: Technical Manual"), Ketchum (a comic book face based on the logo of the popular Pokemon franchise), Kreon (2011, a round techno face based on the logo of Hasbro's Kre-O line).
LaBouf (2011, techno: based on Indiana Jones subtitles), Laser Rod (based on the Transformers line), Lassiter (2012, a spurred Western typeface), Lorre (art deco).
Mage Script (2013), Majoram (2012, a hairline avant garde typeface), Majoram Serif (2012), Manga (oriental simulation), Mara's Eye (2013, based on the lettering used on Disneyland's Indiana Jones "Forbidden Eye" ride), Marston (2013, on the title logos of numerous Spaghetti westerns), Masterforce, MasterforceHollow, MasterforceSolid, MaximalBeasts, Maximus, Mech Tech (2013, based on Hasbro's "Transformers: Dark of the Moon's" toys' "Mech Tech" logo), Medabots (based on the Hasbro toy line), Megatron (2011, based on the logo of the live-action Transformers movies), Microgramma Extended (later replaced by Probert), Minerva (2012: based on the logos used for Shout's releases of Transformers: Headmasters, Masterforce, and Victory), Mode X (2012, based on lettering from classic "Mode X" games of the early 1990s), Modern Cybertronic (2013: an alien-dings font based on Jim Sorenson's "Ancient Autobot" script), Modern Destronic (2013: based on Jim Sorensen's "Ancient Decepticon" script), Montalban (2011, based on the title credits of Star Trek II: The Wrath of Khan), Moria (runes), Morse Tech, MysticEtchingsNormal.
Nakadai (2011, a unicase techno font based on Hasbro's Transformers: Prime figures), Neo Gen (2011, based on the logo for the SD Gundam series of games), Neostar (2012, sci-fi), Neverwinter (2001, based on the logo of the popular "Neverwinter Nights" computer game from Bioware) (see also here), Night Warrior, Nippon Tech (faux oriental), Nite Club (2011, dot matrix).
Octohedron (2012), Okuda (formerly Okudagrams; based on the LCARS characters from Star Trek: The Next Generation), Omnicron, Ophidian, Optimus, Orion (2012, a techno-style font based on the "Robots in Disguise" logo from Hasbro's 2012 Transformers toyline), Overseer (2011).
Pacmania, Palisoc (2013), Phoenixians (2012: based on the logo of Centuri's Phoenix arcade game), Planewalker (formerly called Magic Cards. Based on the text used in older Magic: The Gathering cards), Pokemon, Powerpuff (based on the logo of "The Powerpuff Girls" from Cartoon Network), PredaconBeasts, Probert (replaces Microgramma Extended), Protoculture (2012, based on the franchise logo of Robotech).
Quintanar (2011).
Ravenwood (2011), Razorclaw (2013: based on the logo of the Beast Hunters Transformers line), Reconstruct (2013), Regen (2012: a science-fiction font based on the logo used on the cover of the Transformers: Regeneration One comics), Resavy (2012, a Broadway style art deco beauty), Rio Oro (2012, a Far West Tuscan marquee font), Robot Masters (now called Takara), Roddenberry (2011, based on the StarTrek logo), Roughknight (formerly Materia Arms. Based on the Wild Arms 5 video game logo---it simulates wood type and is Western in concept), RunicEnglishNormal.
SandsofFireNormal, Schnaubelt (2011, rounded technical caps face), Sierra Madre (2012: an avant-garde face based on the Sierra Madre casino's logo from Fallout: New Vegas: Dead Money), Silverball Oblique (2012, LED font), Simple Runes, Sinescript (2013), SkeksisNormal, Skir, Sorenson (2013, a stencil typeface), StarcraftNormal, Starfleet (2004), Stark (2012: based on the title logo of the Iron Man and Iron Man 2 movies), Steamcog Caps (2013), Steampuff (2012), Steamwreck (2012), Sternbach (2011), Suchet (2013: a nice art deco typeface inspired by the material of BBC Production's legendary "Poirot" series starring David Suchet), Symtext (2012, a faux 5x5 bitmap font based on the lettering used in early VGA games, such as Syndicate).
Taibaijan (faux Arabic), Takara (former Robot Masters; based on the "Robot Masters" logo from Takara's Transformers), Tandysoft (2011, based on the old typeface of the MC-10 computer), Tellarite (2013: based on the canonical glyphs of the "Tellarite" language from Paramount's Star Trek franchise), Tetrahedron (2012), Thorass (runes), Thundercats, Toril, Transdings (replaces Cybertron Generations: based on Transformers logos from Hasbro), Transformers, TransformersHollowNormal, TransformersSolidNormal, Transmaidens, Transmetals (based on Hasbro Inc's, "Beast Wars: Transmetals" logo), Trek Arrowheads (2013), Tsa Script, Turok, Turtles.
Vector Sigma (based on the secondary "Beast Machines" logo), Visionaries, Visitor Script (2013).
Warlords (based on the logo of the game series).
YsgarthEnglishNormal (almost blackletter).
Zarathos (2012, based on the titles for the Ghost Rider movie series), Zebulon (2013, sci-fi face based on the title logo of TSR's classic "Star Frontiers" game series), Zentran (2013, based on the Zentraedi glyphs found in Harmony Gold's "Robotech" franchise).
Dafont link. See also here and here, here, and here. Klingspor link. Abstract Fonts link. Devian Tart link. [Google] [More] ⦿
RAS Design
[Rodrigo Araya Salas]


RAS Design is Rodrigo German or Rodrigo Araya Salas, a designer from Santiago, Chile, b. 1987.
Dafont link. Behance link. Fontspace link. Fontsy link. Abstract Fonts link. Old URL.
Creator of many hand-drawn free fonts. His typefaces from 2008 and 2009: Super (2009, for signage), Snow (2009), Mari (2009), El Cubano (2009, dingbats of faces), Mental Freak (2009, outline), Freak Animals (2009), Kona (2009), Brigada Ramona Parra (2009, dingbats), Happie (2009, dingbats), Santiago Icono (2009), Icono Skate Dingbat (2009), 78 Skate (2009), The Sorden (2009), Estilo Urbano (2009, stencil), Tetris (2009), Techno (2009), Kona (2009, childish hand), Parody Logoskate (2009, dingbats), Fat Love (2009), La Rata Bizarra (2008), Tabla (2008), A Mano Alza (2009), Maribel (2009, handwriting), Stencil (2009), Rayando (2008, chalky writing), Klam, Loco TV, Monos Frekis (2008, funny dingbats), Tabla (2008), Happie (2009, more funny dingbats), Funny Icons (2009), Kiltro (2008, dog dingbats), Pokemona (dingbats), Maniatico (scratchy outlined hand), Bizarro 1 (outline hand), Chile (dingbats), Freaky (2008, dingbats), Esquiso (outlined handwriting), Crazy Ras (outlined and handprinted), Skatelove (2008, dingbats), Los de Abajo (2008, dingbats), Logoskate (2008), David (2008, flowing ultra fat face), Destruccion (2008, grungy), Skateboarding (2008, ransom note face), Mike Valley (2008, skateboard dingbats), Rodney Mullen King (2009, skateboard dingbats), El Chavo del 8 (2008, scanbats), Grande Maradona (2008, scanbats), Saintfont (2009, handprinted), New Tetris (2009), September 11 Icon (2009, a powerful set of dingbats), Icono BMX (2009, bike dingbats).
Typefaces from 2010: Commando X (2010, a pixel dingbat face for computer games), Raya Irregular, Mari+David, Depressive Icon, Esquiso, Ego (2010), El Cubano (dingbats with faces), Barras Bravas (almost graffiti face), Globe Face (award winner at Tipos Latinos 2010).
Fonts done in 2011: Logo Font, Buen Dia (ransom note face), Drugstore (blackletter), Condorita (dingbats), KingKöng (a nice fat letter comic book face), Rolo (fat letter face), Logo, Comando X (a pixelized dingbat face based on video games), Catbox (2011, fat and rounded), Joia (a thin octagonal face), Plop (a "hip hop font").
Typefaces from 2012: Designio (rounded sans family), Nollie, Rocka (triangulated), Mosku (paint or blood drip face), Gigio Italia Bizarre (dingbats), Conny Rocket, Retro Hand Type (stitched), Wood (wood type simulation), Tritona, Nollie, Zdravo Maria (children's hand), Bordados (stitched typeface).
Typefaces from 2013: Varial Hellflip.
Vectorlove won an award at Tipos Latinos 2012. [Google] [MyFonts] [More] ⦿