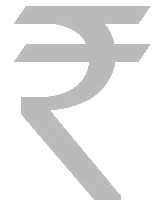 Dr. D. Udaya Kumar is an Assistant Professor at the Indian Institute of Technology Guwahati, India. He has a Ph.D. and Master's degree in Design from the Industrial Design Centre, IIT Bombay. He obtained his Bachelor's degree in Architecture from the School of Architecture and Planning, Anna University. He worked as a design head of the magazine "Intelligent Computing CHIP". His areas of interest include Visual Communication, Graphic Design, Typography, Type Design with special focus on Tamil Typography and Architecture.
Designer of the new rupee symbol in 2010. The new symbol is a blend of the Devanagari "Ra" and the Roman capital "R" without the stem.
Speaker at ATypI 2012 in Hong Kong: Black and white in Indian typography. Speaker at ATypI 2013 in Amsterdam: Indian politics: typography. In that talk, he attempts to understand the usage of multicolor typography that challenges the conventional typography principles and norms. [Google] [More] ⦿
Dalton Maag
[Bruno Maag]



Swiss designer Bruno Maag (b. Zürich) founded Dalton Maag in 1991, and set up shop in Brixton, South London. He serves the corporate market with innovative type designs, but also has a retail font line. Ex-Monotype designer Ron Carpenter designs type for the foundry. In the past, type designers Veronika Burian and fabio Luiz Haag have worked for Dalton Maag. A graduate of the Basel School of Design, who worked at Stempel and was invitedd by Rene Kerfante to Join Monotype to start up a custom type department. After that, he set up Dalton Maag with his wife Liz Dalton. He has built the company into a 40-employee enterprise with offices in London, Boston, Brazil, Vienna and Hong Kong.
Bruno Maag designed these commercial fonts:
Aktiv Grotesk (2010) was published as an alternative to Helvetica, a typeface Bruno hates with a passion.
Bligh (2015). A three-weight sans family.
Co (2007): a rounded monoline minimalist sans codesigned by Bruno Maag and Ron Carpenter.
Cordale: a text family.
Dedica (2007): a didone face.
Effra and Effra Italic (2007-2009): sans family by Jonas Schudel and Fabio Luiz Haag. Followed in 2013 by Effra Corp.
Fargo (2004): a humanist sans in 6 weights.
Foco: sans family.
Grueber (2008): a slab serif.
InterFace (2007): an extensive sans family; one weight is free (2001). See also InterFace Corporate (2007).
King's Caslon
Lexia (1999, Ron Carpenter and Dalton Maag): a slab serif family.
Magpie (2008) is a serifed family---Dalton Maag was able to trademark the name Magpie despite the fact that Vincent Connare had created a typeface by that name in 2000. Well, as with so many of Maag's announcements, it took siome time before he gave credit to Connare---in fact, Magpie isConnare's font.
Pan (1996). A text family at 1500 US dollars per style.
Plume (2004): a display typeface inspired by calligraphy, co-designed with Ron Carpenter.
Royalty (1999, +Royalty Obese, 2007): a stunning art deco display family.
Stroudley (2007): a sturdy large counter condensed sans by Bruno Maag, Ron Carpenter and Veronika Burian.
Tephra (2008): a collaboration with Hamish Muir. This is an experimental multi-layered LED-inspired family.
Tondo Corp (2007, at Dalton Maag): a rounded information design sans family designed by Veronika Burian for Dalton Maag.
Ubuntu (2010): this is a team effort---a set of four styles of a free font called Ubuntu. This font supports the Indian rupee symbol. Some work for the Ubuntu Font Family was done by Rodrigo Rivas Costa in 2010. Download via Fontspace.
Viato: a simple sans family co-designed by Bruno Maag and Ron Carpenter in 2007. This tapered terminal sans family includes Viato Corp (2007) and Viato Hebrew (2013).
Fonts sold at Fontworks, and through the Bitstream Type Odyssey CD (2001). At the ATypI in 2001 in Copenhagen, he stunned the audience by announcing that he would never again make fonts for the general public. From now on, he would just do custom fonts out of his office in London. And then he delighted us with the world premiere of two custom font families, one for BMW (BMWType, 2000, a softer version of Helvetica, with a more virile "a"; some fonts are called BMWHelvetica), and one for the BMW Mini in 2001 (called MINIType: this family comprises MINITypeRegular-Bold, MINITypeHeadline-Regular, MINITypeHeadline-Bold, MINITypeRegular-Regular).
Other custom faces: Tottenham Hotspur (2006), Teletext Signature (by Basten Greenhill Andrews and Dalton Maag), Skoda (Skoda Sans CE by Dalton Maag is based on Skoda Formata by Bernd Möllenstädt and MetaDesign London), UPC Digital, BT (for British Telecommunications), Coop Switzerland (for Coop Schweiz), eircom, Lambeth Council, Tesco (2002), PPP Healthcare, ThyssenKrup (Dalton Maag sold his soul to these notorious arms dealers; TK Type is the name of the house font), Co Headline (2006), Co Text (2006, now a commercial font), Telewest Broadband, Toyota Text and Display (2008), TUIType, HPSans (for Hewlett-Packard, 1997). His custom Vodafone family (sans) (2005) is based on InterFace. In 2011, Dalton Maag created Nokia Pure for Nokia's identity and cellphones, to replace Erik Spiekermann's Nokia Sans (2002). The Nokia Pure typeface has rounder letters, and is simultaneously more legible and more rhythmic.
In 2010, the Dalton Maag team consisted of Bruno Maag and David Marshall as managing and operations directors, and Vincent Connare as production manager. The type designers are Amélie Bonet, Ron Carpenter, Fabio Haag, Lukas Paltram and Malcolm Wooden.
Typefaces at Dalton Maag from 2014 include Soleto (a simple sans) and Prometo (an organic stressed sans). Soleto (Bruno Mello, Fabio Haag, Fernando Caro, Rafael Saraiva and Ron Carpenter) won an award at Tipos Latinos 2014. In 2014, Bruno Maag, Ron Carpenter, Fernando Caro and Rafael Saraiva codesigned the rounded organic sans typeface Oscine (Dalton Maag).
In 2015, Kindle picked Bookerly by Dalton Maag for their typeface.
Interview in 2012 in which he stresses that typefaces should above all be functional.
View the Dalton Maag typeface library. [Google] [MyFonts] [More] ⦿
New York-based programmer who created the free sans family Tuffy (2005). It has a large character set that covers Greek, Cyrillic, and Indic, and has the new rupee symbol. In 2010, Barta Karoly updated the Tuffy package and placed it here.
Thatcher writes: Karoly Barta did a ton of work creating Greek, Cyrillic and accented characters for Tuffy, which he has generously contributed back to the public domain Tuffy. Also, Michael Everson created a Tuffy-derived font, Rupakara, which adds the new Indian Rupee Sign, plus many other currency symbols, and a full set of letters commonly used to transliterate Indian languages. Rupakara is under the SIL Open Font License, but Michael also agreed to let me merge his new characters into the public domain Tuffy.
Kernest link. Klingspor link. Dafont link. Abstract Fonts link. Open Font Library link. [Google] [More] ⦿