Alphabetum
[Juan-José Marcos García]
Juan-José Marcos García (b. Salamanca, Spain, 1963) is a professor of classics at the University of Plasencia in Spain. He has developed one of the most complete Unicode fonts named ALPHABETUM Unicode for linguistics and classical languages (classical&medieval Latin, ancient Greek, Etruscan, Oscan, Umbrian, Faliscan, Messapic, Picene, Iberic, Celtiberic, Gothic, Runic, Modern Greek, Cyrillic, Devanagari-based languages, Old&Middle English, Hebrew, Sanskrit, IPA, Ogham, Ugaritic, Old Persian, Old Church Slavonic, Brahmi, Glagolitic, Ogham, ancient Greek Avestan, Kharoshti, Old Norse, Old Icelandic, Old Danish and Old Nordic in general, Bengali, Hindi, Marathi, Phoenician, Cypriot, Linear B with plans for Glagolitic). This font has over 5000 glyphs, and contains most characters that concern classicists (rare symbols, signs for metrics, epigraphical symbols, "Saxon" typeface for Old English, etcetera). A demo font can be downloaded [see also Lucius Hartmann's place]. His Greek font Grammata (2002) is now called Ellenike.
He also created a package of fonts for Latin paleography (medieval handwriting on parchments): Capitalis Elegans, Capitalis Rustica, Capitalis Monumentalis, Antiqua Cursiva Romana, Nova Cursiva Romana (2014), Uncialis, Semiuncialis, Beneventana Minuscula, Visigothica Minuscula, Luxoviensis Minuscula, Insularis Minuscula, Insularis Majuscula, Carolingia Minuscula, Gothica Textura Quadrata, Gothica Textura Prescissa, Gothica Rotunda, Gothica Bastarda, Gothica Cursiva, Bastarda Anglicana (2014) and Humanistica Antiqua. PDF entitled Fonts For Latin Palaeography (2008-2014), in which Marcos gives an enjoyable historic overview.
Alphabetum is not Marcos's only excursion into type design. In 2011, he created two simulation fonts called Sefarad and Al Andalus which imitate Hebrew and Arabic calligraphy, respectively.
Cyrillic OCS (2012) is a pair of Latin fonts that emulate Old Church Slavonic (old Cyrillic).
In 2013, he created Cuneus, a cuneiform simulation typeface.
Paleographic fonts for Greek (2014) has ten fonts designed by Marcos: Angular Uncial, Biblical Uncial, Coptic Uncial, Papyrus Uncial, Round Uncial, Slavonic Uncial, Sloping Uncial, Minuscule IX, Minuscule XI and Minuscule XV. These fonts are representative of the main styles of Greek handwriting used during the Classical World and Middle Ages on papyrus and parchments. There is also a short manual of Greek Paleography (71 pages) which explains the development of Greek handwriting from the fourth century B.C. to the invention of printing with movable type in the middle of the fifteenth A.D. He wrote a text book entitled History of Greek Typography: From the Invention of Printing to the Digital Age (in Spanish). See also here and here. [Google] [More] ⦿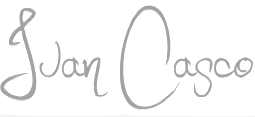 Designer from from Puyo, Ecuador, b. 1991, known as Darko Juan. He made numerous free fonts.
Creator of these typefaces:
Amazonica (2009) is a curlified roman face.
Artesanias (2011).
Básica (2010, an organic octagonal sans done with FontStruct) and Básica Unicode (2010).
Black Audio (2010): gridded.
Bohemia (2010): grunge face.
Borracho (2009).
Bosque Encantado (2010).
Cabaret (2011).
Chave (2010) and Gato (2010) are hand-printed typefaces.
Colonial (2010).
Cuneiforme (2010): cuneiform simulation face.
The scary gothic typefaces La Flama y La Espina, Pasión Acústica (2009), Dark Pix (2010, FontStruct), Goth Stencil (2009, blackletter stencil), Goth Stencil Premium (2009), Ming Imperial (2009) and Ming Gothic (2009, was Chino Gotico before that). The latter two typefaces have an Asian look. Pasion Gotica (2010, FontStruct).
Fam Fuerte (2011, grungy).
Furia&Venganza (2011). A tattoo face.
Hangul Love2 (2010).
La Rosa Muerta (2010).
Lejana (2010): a curly script.
Linexter (2013). A vintage typeface.
Luismi Murder (2009).
Magical Dreams (2011).
Mobile Sans (2015).
Narn Font (2011). Inspired by The Chronicles of Narnia.
Ninja Turtles (2014) and Guardians of the Galaxy (2014). Sci-fi typefaces.
No Hubo Tiempo (2009) is a timid handwriting face.
PercanceFatal (2009).
Pixel typefaces: Code 7x5 (2015) and Code 8x8 (2016), Trium (2010), DarkPix (2009, done with FontStruct).
The blackletter typefaces Por Siempre Gótica (2011), Artesanias (2011), Fraktura (2011), Neue Goth (2011), Estilographica (2011).
The curly scribbly typefaces One Wild Line (2012), Romance Fatal 2.0 and 3.0 (2009, based on his own hand), Romance Fatal Pix (2010), Romance Fatal (2009, +Serif), Romance Fatal Goth (2009), Romance Fatal Sans (2011), Romance Fatal Serif Pro (2017).
Rounded Sans (2014).
Scars Before Christmas (2010).
Schindler's Font (2011). Inspired by the movie.
Sucker Font (2011). A metal band face.
Tatida Versal (2009), Tatida Rocking (2009).
Tattoo Sailor (2010).
A custom font for Teller Of Tales: A Fib Fit For A King, a 2011 movie by Woody Lindsey.
The Fire Regular (2011).
Tipófila (2010).
Valle Lejano (2010, FontStruct).
Verde Amazonico (2011).
Versal-Gothic (2009).
Xefora (2011). A spindly blackletter.
Schindler's Font (2011). Based on the movie sequence.
Frozen Font (2014) is also movie-inspired.
Viaje Script (2015).
The Marauders (2015). A pirate typeface.
Camomila (2015). A feminine script.
Jupiter Serif (2015). Based on the titling of the movie Jupiter Ascending.
Symphony Script (2015).
Erie Roman (2014). A roman caps typeface.
Ancient War (2015). Inspired by the movie War Craft.
Guayaba Sans (2016).
Letra Hipster (2016). A signage script.
Slim Chef (2016).
Verde Sans Neue (2017).
Legends of Tomorrow (2017) and Legends Sans (2017). Sci-fi style.
Ragnarok Serif (2017).
Ecuador Handscript (2018).
Herradura (2021).
Behance link. Devian tart link. Home page. Dafont link. Old home page. Fontspace link. Abstract Fonts link. Creative Market link. [Google] [More] ⦿
Sugargliderz
[Shuji Kikuchi]



Shuji Kikuchi from Hadano, Kanagawa, Japan, was born in 1972 in Osaka. His foundry, est. 2006, is called Sugargliderz.
Free fonts: Frail (2011, a 6-style grungified didone family), Cuneiform (2006-2008, this is a cuneiform simulation font), Fragment Core, Proto Uncertain (handwriting), Shears, Unnamed.
Commercial fonts: Puchiflit (2020: a typewriter slab serif that according to Kikuchi is a felt tip pen font), Pinch Remix (2020: hand-printed), Oddlini (2019: a 360-style basic grotesk family that covers all widths; it has obliques instead of italics), Oddlini 2 (2019), Knock Type (2017, a kana-Latin-Braille transcription font), Du (2016, a hand-printed font), Magendfret (2016, a warm typewriter family), Artlessness (2015), Bush (2014), Nora Pen (2014, a didone influenced by Walbaum), Uncertain Felttip (2008), the Palindrome family (2006, experimental), Pinch (2007, hand-printed), ScratchWithTheCoin (2007, grunge), Bagworm (2007, four styles, influenced by Tekton), Decay (2008, grunge), Beg Before (2008, grunge), Beg After (2008, grunge), Phoebus Palast (2008), Kropotkin (2008, 24 styles of a sturdy early 20th century grotesk), Rebuild-Square (2009, totally square family), Ponytail (2009, rounded), Violadabraccio (2009, serif), Lettera, Bush, Long Haul Trucker (2009, alphading/logo font), Michel (2009, didone).