Geckodude (or: Sleepy Gecko) [Steve Harrison]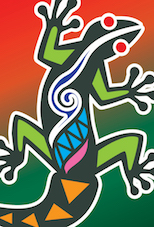 Steve "Gecko" Harrison of the Sleepy Gecko Chillout Bar on Cam Nam island off Hoi An, and also Danang, Vietnam, b. 1952, designed these typefaces:
Rocodecoco (2019). An art deco, Broadway style typeface based on a hybrid of Grock (1935) and Roco (1973).
Motter Alustyle. After a 1972 font by Othmar Motter.
Rabbit Moon (2019). Based on a few glyphs drawn by Kenneth Anger for an alternative film).
In 2020, he did a proper revival of Gene Eidy's iconic oriental simulation typeface Sukiyaki (1968, Lettergraphics), which can be downloaded here.
Together with Blair Massey, he designed the Victorian typeface Brand New Memorial (2020), which improves on Dan Solo's Memorial
Razor Face (2020). A revival of the spurred film font Scott Gothic (Photolettering). Free download.
Castaway (2020). A huge improvement and extension of Dan X. Solo's Stowaway, in Inline, Fill, Solid and Outline styles. Free download.
Alpha Nouveau (2020). A free all caps art nouveau typeface based on old signage.
Bergling Nouveau Display (2020). An ornamental art nouveau typeface based on an alphabet by John M. Bergling (1923). Download.
Skedaddle (2020). An all caps sans. Download.
Balsamic Display (2020). A tall all caps display serif. Download.
Snicket Initials (2020). After an alphabet called Initial Letters by John O. Ohnimus (1906). Download.
Typefaces modeled after Ross F. George: Doolally (2020; Ross F. George, 1938), Dawdling (2020; Ross F. George, 1935), Dawdling Snowflake (2020; Ross F. George, 1935), Bogeyed (2021: art deco), Faffinabout (2021).
Seraphime (2017). Download.
Skaliwag Display (2020). A decorative art nouveau typeface inspired by an alphabet in John M. Bergling's Art Alphabets and Lettering (1914, 1918, 1923). Download.
Astrologos (2021). An exquisite zodiac symbol font.
Cordwrangler (2021). A display typeface inspired by Kenneth Williams from the "Carry On" movies.
Lettres Ornes Blonde, Lettres Ornes Noire and Lettres Ornes Lignes (2021). Three exquisite decorative caps typefaces modeled after Joseph Gillé's Lettres Ornées (1820).
Ruffinit (2021). An alphabet for emulating mural signage.
Floral Poppl (2021). Steve's attempt to decorate one of the Friedrich Poppl faces, making it all flowery.
Odessa (2021). A joyous and prototypical art nouveau typeface.
Hullabaloo (2021). A nearly art nouveau typeface from Dan X. Solo's treasure chest of oldies but goodies.
Doubleback Display (2021). A revival and clean-up of a Letraset rub down lettering typeface.
The prismatic typeface family Stripes (2021). This is an enormous expansion of the similarly named typeface Stripes (1972, Tony Wenman), which was made available by Letraset for dry-transfer lettering as part of Letragraphica 11 in 1973. It comprises eleven fonts from a nine-stripe version (note: Wenman had eight prismatic lines) down to a solid one-line version. Along the same lines, he created the prismatic typefaces Sixty Eight and Sixty Eight Plus (2021) based on Lance Wyman's lettering for the 1968 Mexico Olympics.
Schlubert Rounded and Schlubert Round Stencil (2021). Two squarish typefaces.
Vermin (2021). Based on an old typeface called Voodoo.
Geometricfix Eighteen and GeometricfixThirtySix (2021). Textured typefaces based on geometric / techno designs by Brazilian designer Danilo Gusmão Silveira.
EXTERNAL LINKS
Geckodude (or: Sleepy Gecko)
Dafont page
MyFonts search
Monotype search
Fontspring search
Google search

INTERNAL LINKS
Type designers ⦿ Type designers ⦿ Sites with only a few free fonts ⦿ Vietnamese ⦿ Font hosting at On Snot and Fonts ⦿ Oriental simulation fonts ⦿ Victorian typefaces ⦿ Art Nouveau typefaces ⦿ Astrological (or Zodiac) fonts ⦿ Art deco typefaces ⦿ Ornamental caps typefaces ⦿ Floriated initial caps ⦿ Prismatic typefaces ⦿