Alexander Sperl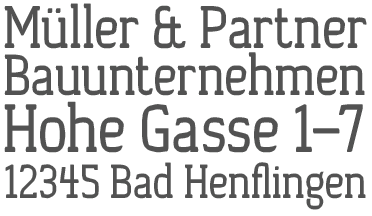 German designer (aka laynecom) at FontStruct in 2008 of band, blokk_2, maiden, substance, Fette Serif (fat, octagonal), Runde Pixelig, Velvet, Thin Sans, Constr, Clear Serif, Blokk.
Added in 2009: Russisch Brot, Block Out (3d face, +Filled1, + Filled2), Bold Stencil Sans, Script Pixelig, Dorky Corners Sans, Haus der Kunst (inspired by the building in München by that name), Fraktur Test, Fette Sans (nice), Emilia, Runde Pixelig (pixel script).
Creations in 2010: Fraktur Test, The Plot (octagonal, architectural), 80s Metal Band, Fieldwork Font (pixel), Black Metal, I slabbed the Seriff, Play (curly face).
Creations in 2011: Obvious Stencil (Bauhaus, or piano key), Supercali (a psychedelic font inspired by the cover for A.R. Kane's "I"), Manuale (with straight slabs; +Manuale Giocoso, 2012), Graphite (fat and rounded), Graphite 2, Hinterland Italic (quaint Victorian face).
From 2012: Linea Fraktur (extended in 2013 to Linea Runde), Black Organic (spiky blackletter), Green Organic (a spurred blackletter), Standard Sans, Modular Blackout Bold Condensed, Viva Las Vegas, Helios, Faux Pas Serif (Egyptian typeface), Nova Thin Extended (this hairline sans is a tour de force---it is the first successful hairline sans typeface ever made by anyone using FontStruct), Bencraft.
Fonts from 2013: Meadow Bold, Lush Capitals, SwiftStroke, Its Slab To Be Square, Mellow Doubt, Ligure Black, Beige Organic, Trafo, Trafo Evolution, Codester Mono (a programming font), Swash Buckle, Nova Thin Extended (a hairline sans), Meson Sans, Burgwald Exquisite Bold Condensed, Editoriale, Coalescimen, A La Carte, Hampton Italic, Baby Elephant (fat grotesque).
Fonts from 2014: Terminal One (a basic sans), Fanomino, Fontris (like Tetris), Schlaraffenland (+Variant: great rounded sans family), Crystalline, Tick Brush, Manuale Neue Bold, Terminal One, Sanspura, Italics Study, Mundane Black Extended, Heavy Grain, Wineshop Stencil, Folds and Rhizones, Viva Las Inline.
Fonts from 2015: Augustine, Coleridge, Framtid, Licht-Sans, Quire-Bold, Quire, Static-Grotesk, Tattoo-Parlour, The-Gift-Serif, Tuileries-Black, Usual-Type, Ziseleur, Zungenschlag, Blackesteverblack.
EXTERNAL LINKS
Alexander Sperl
Klingspor Museum page
MyFonts search
Monotype search
Fontspring search
Google search

INTERNAL LINKS
FontStruct fonts ⦿ Octagonal typefaces ⦿ Pixel/bitmap fonts ⦿ Athletic lettering faces ⦿ Type designers ⦿ Type designers ⦿ Blackletter fonts ⦿ 3D fonts ⦿ German type scene ⦿ Stencil fonts ⦿ Piano key typefaces ⦿ Bauhaus and type design ⦿ Victorian typefaces ⦿ Piano key typefaces ⦿ Very thin (hairline sans) typefaces ⦿ Monospaced fonts ⦿ Fonts for programming ⦿ Curly typefaces ⦿