Delve Fonts (was: Delve Media Arts) [Delve Withrington]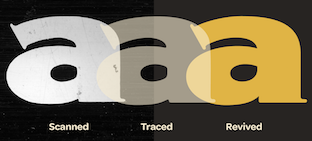 Delve Withrington (Alameda, CA; b. 1970, Asheville, NC) studied at Savannah College of Art and Design, designed signage, print projects and web pages in addition to designing custom typefaces, worked for Fontshop, and in 2004, joined the type team at Agfa Monotype, which morphed into Monotype Imaging, Redwood City, CA. From Asheville, NC, he moved around and ended up in San Francisco. In 1996, he founded Delve Fonts in Berkeley, CA (in fact, Delve Media Arts, and later renamed Delve Fonts). He has collected a virtually complete list of books on typography. Author index. MyFonts link. Designer of these typefaces:
Beleren (2015). A custom typeface for the trading card game Magic: The Gathering (Hasbro).
Blot Test (1999): a dingbat font inspired by the work of noted German psychologist Hermann Rorschach [1885-1922].
Cody (1999): an informal comic book face.
Continuo (1996): an all caps bilined outline face.
Cortina (2011). A futuristic family by Joachim Müller-Lancé.
Eucalyptus Regular.
Eulipia (1997-2003): organic.
Helfa (2011). Delve writes: Readability is baked in with a generous x-height, fine proportions that have a medium height to width ratio, and reasonable contrast in stroke weight variation.
Filmotype Washington (for Font Diner). Designer unidentified.
Muskeg. A combination of German expressionism and brush styles.
Oktal Mono (2012, a rounded octagonal modular typeface by Joachim Müller-Lancé and Erik Adigard of MAD studio in Sausalito).
Quara (2009): a techno sans.
Smith & Nephew (2003) and Smith & Nephew Cyrillic (2015), rounded sans typefaces in the style of VAG Rounded.
Tilden Sans (2004-2009): low contrast, large x-height.
Tome Sans (2020). A 10-weight sans superfamily, with a variable font option.
Uppercut Angle (2011). A signage typeface by Joachim Müller-Lancé. It was originally developed for the Krav Maga training center of San Francisco.
Ysobel (2009; winner of an award at TDC2 2010). Delve co-designed the newspaper type family Ysobel (Monotype) with type designers Robin Nicholas, head of type design at Monotype, and Alice Savoie (Frenchtype, Monotype). The sales pitch: According to Nicholas, the idea for the Ysobel typefaces started when he was asked to create a custom, updated version of the classic Century Schoolbook typeface, which was designed to be an extremely readable typeface - one that made its appearance in school textbooks beginning in the early 1900s. See also Ysobel eText Pro (2013).
His Art work often involves type. Bitstream's Type Odyssey 2 (2002) has Continuo, Blot Test, Peso, Peso Negative. In 2009, Steven Skaggs designed Rieven Uncial and Rieven Italic at Delve Fonts. Pic.
EXTERNAL LINKS
Delve Fonts (was: Delve Media Arts)


[Buy fonts]


[Designer info]
Monotype link
Klingspor Museum page
MyFonts search
Monotype search
Fontspring search
Google search

INTERNAL LINKS
Books on type design ⦿ Commercial fonts (small outfits) ⦿ Type designers ⦿ Type designers ⦿ Typography ⦿ Dingbats (original) ⦿ Type scene in California ⦿ Type scene in North Carolina ⦿ Type scene in Massachusetts ⦿ Sites with only a few free fonts ⦿ Comic/cartoon fonts ⦿ Handwriting fonts ⦿ Horror fonts ⦿ Octagonal typefaces ⦿ Ornamental caps typefaces ⦿ Signage typefaces ⦿ Uncial typefaces ⦿ Monospaced fonts ⦿ Cyrillic type design ⦿ Typefaces related to German expressionism ⦿ Variable fonts ⦿