Bigelow&Holmes [Charles Bigelow]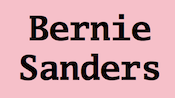 Bigelow&Holmes was founded by Charles Bigelow and Kris Holmes. Charles Bigelow (b. 1945, Detroit) is a type designer and teacher, who runs his own studio, Bigelow&Holmes. Bigelow was a colleague of Donald Knuth at Stanford University when Knuth developed his Computer Modern typeface family for TeX. In mid-2006, Bigelow accepted the Melbert B. Cary Distinguished Professorship at Rochester Institute of Technology's School of Print Media. Before that, he taught at Stanford University, Rhode Island School of Design, and other institutions. Typefaces designed by Bigelow:
The Lucida family (1985). Lucida is used in several scientific publications such as Scientific American. Its origins go back to Computer Modern. I find it more appropriate for screens than paper, but that is just a personal view. The Lucida family contains LucidaConsole (1993), LucidaSansTypewriter (1991), LucidaFax, LucidaCalligraphy, LucidaBright, Lucida Blackletter (1991, a bastarda) and Lucida Handwriting. It has been recently expanded to comply with the Unicode Standard, and includes non-Latin scripts such as Cyrillic, Greek, Arabic and Hebrew. Charles Bigelow created the font families Lucida Math (with Kris Holmes, 1993), Lucida Sans (with Kris Holmes, 1985), Lucida Typewriter Sans (with Kris Holmes, 1985) and Lucida Serif (with Kris Holmes, 1993). The paper by Charles Bigelow and Kris Holmes, The design of a Unicode font (Electronic Publishing, 1993, pp.289-305), explains the design issues such as letter heights, readability studies, and typeface designs for readers versus non-readers of the various scripts.
Syntax Phonetic.
Leviathan (1979).
Apple Chicago (1991), Apple Geneva (1991).
For the Go Project, Kris Holmes and Charles Bigelow designed the free typeface families Go Sans and Go Mono in 2016. The font family, called Go (naturally), includes proportional- and fixed-width faces in normal, bold, and italic renderings. The fonts have been tested for technical uses, particularly programming. These fonts are humanist in nature (grotesques being slightly less legible according to recent research) and have an x-height a few percentage points above that of Helvetica or Arial, again to enhance legibility. The name Go refers to the Go Programming Language. CTAN link.
Ascender link. Wikipedia link. FontShop link. Klingspor link. Font Squirrel link. Ascender link. Lucida Fonts is a dedicated commercial site.
EXTERNAL LINKS
Bigelow&Holmes


[Buy fonts]


[Designer info]
Monotype link
Monotype foundry link
Klingspor Museum page
MyFonts search
Monotype search
Fontspring search
Google search

INTERNAL LINKS
Type designers ⦿ Type designers ⦿ Monospaced fonts ⦿ Commercial fonts (small outfits) ⦿ Hebrew font links ⦿ Typefaces and type design for Arabic ⦿ Greek/Coptic ⦿ Cyrillic type design ⦿ Typewriter fonts ⦿ Type scene in Michigan ⦿ Type scene in California ⦿ Type scene in Hawaii ⦿ Dingbats (original) ⦿ Bastarda / B&acirctarde / Schwabacher ⦿ Fonts for programming ⦿