Computer Modern fonts [Donald E. Knuth]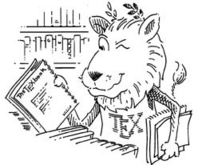 Donald Knuth's Computer Modern family was developed by Stanford's most famous computer science professor, Don Knuth, in the 1970s and 1980s, with the help of Hermann Zapf and a group of people at Stanford University. It was a monstrous achievement, that started first with the development of the Metafont graphic description language for glyphs. The 72 original fonts are free. They are described by a set of 36 parameters. Each glyph is a carefully crafted computer program written in Metafont. It stands today as the prime example of parametric font design. Many individual fonts were designed using Metafont, but not one came has come close in scope and achievement to the Computer Modern collection.
The Computer Modern fonts, and their derivatives, are the main fonts used by the scientific community thanks to the TeX typesetting system. Derivatives include Lucida (by Knuth's colleague at Stanford, Charles Bigelow). Lucida is used by Scientific American. The commercial MathTime font family originally developed for the American Mathematical Society (AMS) by Michael Spivak, and then extended by Y&Y, and the AMS, includes a large set of mathematical characters.
Included in the CTAN subdirectories, where one can download the fonts and the sources, are now three sets of type 1 PostScript fonts, Basil K. Malyshev's BaKoMa fonts, the American Mathematical Society (or Bluesky) versions, and the Paradissa font collection for Computer Modern, Euler and Computer Modern Cyrillic, also by Basil K. Malyshev. There are also PostScript type 3 versions of the Computer Modern fonts. Doug Henderson made some outline fonts (in metafont). Concrete is a metafont family designed for Knuth's Concrete Mathematics book by Knuth himself between 1987 and 1999. In the three decades that followed the development in the late seventies, only rarely have glyphs been corrected or altered---one such instance was an error in cmmib5.
Truetype version of the fonts are here.
Download Computer Moder Unicode (or CM Unicode) either in PostScript or OTF formats. This family is called CMU (2007) and font names are standardized as CMU Serif, CMU Typewriter Text Regular, CMU Bright Bold Extended, and so forth. This set was created by Alexey V. Panov.
EXTERNAL LINKS
Computer Modern fonts


[Designer info]
MyFonts search
Monotype search
Fontspring search
Google search

INTERNAL LINKS
Metafont links ⦿ Sites with only a few free fonts ⦿ Type designers ⦿ Type designers ⦿ Mathematics fonts ⦿ Type 3 Font Software ⦿ Monospaced fonts ⦿ Type scene in California ⦿ Modern style [Bodoni, Didot, Walbaum, Thorowgood, Computer Modern, etc.] ⦿