Free Typewriter Fonts [Johan Holmdahl]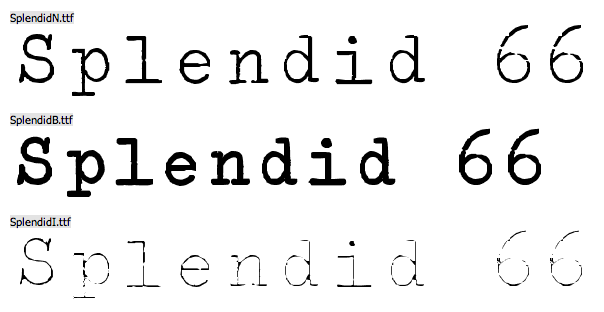 Johan Holmdahl's magnificent list of free typewriter fonts: 3000, Adler, AmericanTW, AmerTypeCnd, Another, BatikR, Border, BrentonscrawlType (by B.W.P. Inc), Broken, Buttzilla, Carbonated, Correo, Crud, Dead, Detective, Dislexie, Disrowt, Electric, Facelift (Boaz Arad, FunkyType), Fifth Copy, Floopi (by Jason Fasi, a modification of Courier), Foxscript (by Josep Patau Bellart: Antaviana Serveis Interactius, SCCL Typeface Division), Garbageschrift (S. Ulrich), GFHalda, GFHaldaS, Gutter Vomit, Hammered, Hammer Keys, Harting, Hartin2, Honeybomb, Hootie, Iceaged, Isotype, Linenstroke, Loveletter, Mailbomb, McGarey, Metalic, Monitor, Moms, Myold, Oldtype, Pookie, Really, Roger, Royal, Smash, Stalker1, Stalker2, Stock, Teletype, Teleprinter, Thin, Toxica, Trash, Twold, Twrough, Typesimple, Typewise, Typewriter2, Typist, Typeright, VTBulletin, VTCorona, VTSmith, Xfiles.
Johan himself made the typewriter fonts MyOldRemington, SilfvensSkrivmaskin, Splendid66 (2001), 1942 Report (2005), Type Wheel, Another Type, and TypeRight.
He designed My Old Remington (1999), which can be found here.
EXTERNAL LINKS
Free Typewriter Fonts
Dafont page
MyFonts search
Monotype search
Fontspring search
Google search

INTERNAL LINKS
Typewriter fonts ⦿ Type designers ⦿ Type designers ⦿ Monospaced fonts ⦿ Courier and derived typefaces ⦿