Eugène Samuel Grasset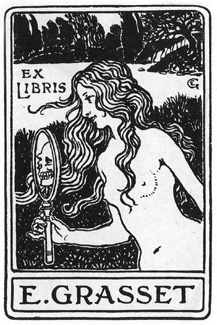 Swiss decorative artist, poster designer of the art nouveau era, and type designer (b. Lausanne, 1841, d. Sceaux, 1917). Grasset worked in Paris during La Belle Epoque.
He made Étrusque (Fonderie Gustave Peignot&fils, 1900), Grasset (Fonderie Gustave Peignot&fils, 1898-1899), Grasset Initialen (Peignot), Grasset Italiques (Peignot), Grasset Antiqua (1900, Genzsch&Heyse) and Römisch Grasset (1913, Genzsch&Heyse). McGrew: Grasset was designed by Eugène Grasset, French [note: McGrew is wrong...] decorative artist, in 1898 for Deberny&Peignot, French typefounders, and cut by ATF in 1904. It was advertised as a chic, up-to-date typeface of the day, but has mannerisms that later became quite dated. The Monotype cutting in 1912 was modified and reproportioned to fit the early restrictions of that machine, but retains the quaintness of the foundry originals. His ex libris.
In 2012, Dick Pape created a few typefaces based on Grasset's alphabets. These include LFD Asian Stencilling 205 (original oriental-looking art nouveau drawings by E. Grasset and M. Verneil) and LFD French Printed Type 189 (this warm serif typeface was used in France for books). In the book Divertimento (Editlivre, Paris), Albert Legault (UQAM, Montreal, Canada) published the decorative art nouveau caps alphabet Eugene Grasset (2015).
EXTERNAL LINKS
Klingspor Museum page
MyFonts search
Monotype search
Fontspring search
Google search

INTERNAL LINKS
Type designers ⦿ Type designers ⦿ Type design in Switzerland ⦿ Art Nouveau typefaces ⦿ Dick Pape's typefaces ⦿ Oriental simulation fonts ⦿ Stencil fonts ⦿