Letterhead Studio YG [Yuri Gordon]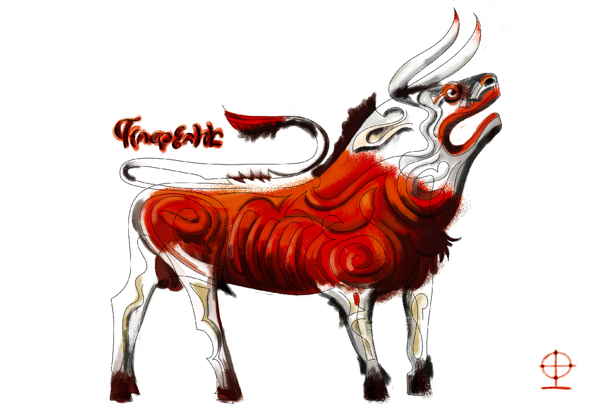 Letterhead is Yuri Gordon's (b. Moscow, 1958) Moscow-based foundry which publishes mainly Cyrillic fonts. Its coowners are Valery Golyzhenkov and Olga Vassilkova and it was established in 1998. It evolved from Garbage Type Foundry. Not to be confused with Chuck Davis' Letterhead. The main designer is Yuri (or: Jury) Gordon, the Moscow-based designer of the Type Directors Club 1999 award-winning designs Dve Kruglyh and FaRer Cyrillic, available from Paratype. URL at Yakovlev's Foundry. Picture. Article in the Moscow Times (2006), in which he proclaims: Better to make five fun and tasty new display fonts than one old, boring (and you thought it would look fresh!) text font. He is a graphic designer, illustrator, type designer, engraver and copyrighter. He is Art Director of several magazines.
Yuri Gordon created AntiQuasi (2008, a nice lightly slabbed serif family), Babaev [1996; inspired by the Russian Art Nouveau typefaces, initially created as a part of a corporate identity programme for Babayevskoye AO of Moscow], Artemius (custom designed family for Art Lebedev Studio), Barrizmo (2004), Bistro (1997, hand-printed), Chantage (2000, handwriting), Conqueror Text, Conqueror Slab and Conqueror Display (large families), Conqueror Sans (2005-2010), Conqueror Text (2005-2010), Costa Brava (2003, fun script described as beach type), Costa Dorada (2003), Dva Probela (1997-1998), Dve Kruglyh (1997, unicase), Excession (1999), FaRer [1994; art deco typeface inspired by the work of Russian graphic artists Vladimir Favorsky (1886-1964) and Ivan Rerberg (1892-1957), especially by Favorsky's lettering of 1924 and by Rerberg's of 1935. Dedicated to the Moscow Underground (Metro). Obtained an award at the 1997 TDC competition], Forward No. 10 (1995-1996), Forward Grotesque No. 9 (1998-2000), Gordoni (his take on Bodoni), GiardyOla (2008-2019), Handy, HotSause (1997, irregular handwriting), Karkas (2004, a manly sans), Little Shift (1999), Method (2002, a sans family), Minusmanscript (1998, calligraphic), Mr. Mixter (2011), Non System (2000), OptiMyst (1997), ResPublicana (1999), Sivtzev Vrazhek (1999, + mono), Michelle (2004, medieval), Naylorville (2004), Probel (1997-1998).
Illarion Gordon made the fun fonts Strelochnik (1996, irregular hand), Probbarius (1996), Monte Summa (1997), as well as Rahit (1998, kid's handwriting), Rough (2000, blotchy hand), Simpel (kid's hand), St. Valentin (2001), Accept (1998), Kartofel (2000, irregular handwriting), LangobardR (1999), Ospa (1997, funky handwriting), pLatinum (1999, informal script).
Valery Golyzhenkov's fonts from before 2000 are typically destructionist. He made 04.07 (1998), Bort#1 (2000), CardHolder (1997), Chellebrity (2004, screen), Cracker (1997), Cubes (2000), Dead Metro (1997, a constructivist family renamed Dead Mementro in 2017), Do Not Touch (1997), Dream Team (2000), Formalist (2001), Gamering (+Sans, 2009: a game font), Garbage (12997), GarbEdge (1997), Garmony (1997), Grammatika (1997), HandsOn (1997), Hole Down (1997), Hot Sauce (2009, Yuri Gordon), Ice Cola (2000), Kabotage (1998, octagonal), Kassa (2002, octagonal), Kren (1998), Laborant (2000), Lavert Noise (1997), Matrrolla (2001, octagonal), Mono (2000), Musor (1997), OneCode (1998), Primitiv (1998), Principal (1998-1999), Recruit (2004, octagonal), Remont (2000), Rounds (basic dingbats), Silver Winer (2000), Sklad (2000), Stampit (2000), Upadok (1997, futuristic), YE Stencil (2009), Zaplyv (1997), Zanoza (2005).
Custom typefaces for companies or special projects: 19oclock (2004, Yuri Gordon: for Vernost Kachestvu confectionery factory), AlfaBank, Always, Anteus, Artemius, Alexey, Atlas-1904, Bat Sans, Bat Roman, Calendarus, Carlis, Cifirki, CTC Screen, Digrol, Digimag, Esquire, Gulliver UTS, Gurmania_MA (2004, handwriting), Hi Afisha, In CaST, Ka, Kater, Komet, Kostro, Lumene Script, N.B.T., Nochnoi Dozor, Odessa, Progress Custom, Redd's, Robb Report New, Rolling Stone 2003, Rolling Stone 2005, Romb (2010), Rosbank Sans, RMA 2006, Salon Script (2007, calligraphic), Salon Antiqua (2007), Seventeen, N.Side, W.Side, Sivtzev Vrazhek, Snickers, Sovereign, STS Vizion, Svyaznoy RF (2008, sans), ToShi, Trust, Whiskas lettering, Zabava.
Typefaces and/or lettering from 2007-2009: Barocco Mortale (2005-2007curly script), Barocco Mortale Borders, Alfavita (ornamental caps by Goluzhenkov), Fleurs du Mal (2008, a Baudelarian antiqua, mischievous and decadent), DBL Cheque (by Goluzhenkov), Medved (by Goluzhenkov), YE Stencil (by Goluzhenkov), 21Cent (2009, related to Century; +Cyrillic; +Thin; +Black; advertised as not Century, not Clarendon, this fresh family is sure to win awards), Antiquasi (2008), Around the world, Bazaarban (2009, for Harper's Bazaar), Blacksteel, Citizen M (art deco), EsqGuardi (for Esquire), the curly Naska, with accompanying dingbats Naska Kozliki, the bird dingbats Udo Birdo, and more at Flickr.
Production in 2012: Digital October, Red Square (constructivist), Red Ring (art deco sans), Baker Street 221B (anglomane grotesque).
In 2013: Clarendorf (a hand-printed spoof on Clarendon), Bonvalet (large x-height sans), Bazaart (an art deco typeface for Harper's Bazaar), The drop-dead gorgeous condensed American slab and sans serif typefaces Mr Palker and Mr Palkerson.
Typefaces from 2014: 20 Kopeek (sans family with steampunk influences).
Typefaces from 2015: Buffon (a spaghetti Western italian typeface), Mr Palker Dad, Mr Palker Dadson.
Typefaces from 2018: Atomic Alice (a simple stocky sans family).
Author of the acclaimed 384-page book Book of Letters From  to " (2007, Art. Lebedev Studio).
Behance link. Art by Yuri. Issuu link. Klingspor link. Behance link for Yuri Gordon. Art Lebedev link.
EXTERNAL LINKS
Letterhead Studio YG


[Buy fonts]


[Designer info]
Behance page
Klingspor Museum page
MyFonts search
Monotype search
Fontspring search
Google search

INTERNAL LINKS
Type design in Russia ⦿ Cyrillic type design ⦿ Type designers ⦿ Type designers ⦿ Calligraphic typefaces ⦿ Handwriting fonts ⦿ Monospaced fonts ⦿ Children's handwriting fonts ⦿ Books on type design ⦿ Octagonal typefaces ⦿ Art Nouveau typefaces ⦿ Art deco typefaces ⦿ Dingbats (original) ⦿ Modern style [Bodoni, Didot, Walbaum, Thorowgood, Computer Modern, etc.] ⦿ Type design and constructivism ⦿ Commercial fonts (small outfits) ⦿ Clarendon ⦿ Fashion mag typefaces ⦿ Steampunk typefaces ⦿ Curly typefaces ⦿