Nepfont Digital Foundry [Oszkár Boskovitz]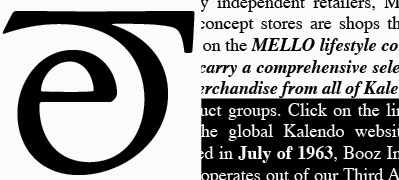 Hungarian type designer who studied at MOME, Moholy-Nagy University of Art & Design, Budapest, Hungary, BA and MA, Communication Design, 1995-2000. Oszkár Boskovitz ran Nepfont Digital Foundry, and at some point, ca. 2009, changed its name to Fontbistro (dead link). He digitized the award-winning typeface family Pannon (2001) made by Edit Zigány in 1972. He is working on a book that will summarize Hungarian type in the 1970s and 1980s. His repertoire:
Experimental typefaces: Balek (2005), Cassius (2001), Tubyfex (2005).
Stencil: Syrup (2005), Digital Sherpa (2002), Tilos (2002, rough stencil family), Wagon (2001, another rough-edged family).
Brush style: Ecsetirás (2001, based on a typeface of Zoltán Nagy, 1967).
Techno: Krax (2001, free), Konwektor (2001), Moab (2002, family), Shrapnel (2004, octagonal family).
Signpainting: Thaifun (2003).
Simple monospaced fonts: Monostar (2002).
Unicase: Troppauer (2005, many weights).
Text families: Pannon Antiqua (2001, based on a family by Edit Zigány (1972).
Testosterone enhanced typefaces: Pluto (2006).
EXTERNAL LINKS
Nepfont Digital Foundry
MyFonts search
Monotype search
Fontspring search
Google search

INTERNAL LINKS
Type design in Hungary ⦿ Type designers ⦿ Type designers ⦿ Stencil fonts ⦿ Commercial fonts (small outfits) ⦿ Sites with only a few free fonts ⦿ Unicase type design ⦿ Monospaced fonts ⦿ Experimental type ⦿ Octagonal typefaces ⦿ Brush script typefaces ⦿ Extinct 20th century foundries ⦿