Gestalten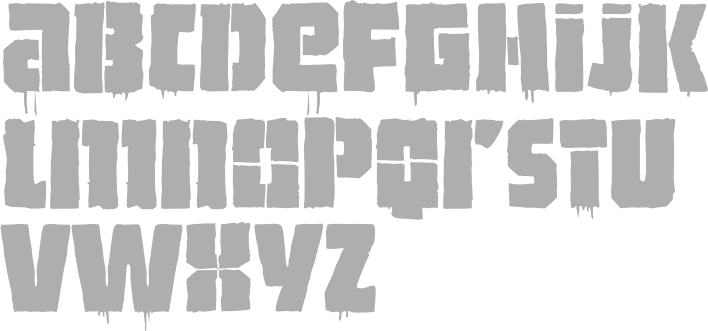 German foundry, part of Gestalten Designstudio and Die Gestalten Verlag (dgv) in Berlin, a company self-described as follows In 1990, industrial design students Markus Hollmann-Loges, Andreas Peyerl and Robert Klanten began to curate and organise prototype design shows commissioned by the worlds biggest consumer fair in Frankfurt in between attending their lectures and writing their dissertations. Very much aware of the limitations of their field of study, they soon moved to Berlin, where they quickly met key people involved in the local Techno and cultural scenes. With the advent of desktop publishing, they formed a loosely organized graphic design agency called Die Gestalten and started designing flyers and posters for clients such as the groundbreaking club Tresor and the annual Loveparade. Its typefaces, by designer:
Bowling Club: Victor.
Boris Dworschak: Basic, Exakt (stencil), Ikiru Sans (organic).
Stefan Gandl: DS Yakuti (experimental).
Alexander Puell: dtype (fuzzy typewriter), Online Gothic.
Frank Rocholl: Nuri (sans family).
Alexander Wise: Mini (hip display sans), Hiploe, Winter (modernistic two-line display face).
Marc Schilkowski: Traffic Wide.
Soffi Beier: Pemba (connected 50s script), Engel (sans family).
Fulguro: Adhesive (octagonal script).
Pau Misser: Agrafia (LED simulation), Bustia (futuristic), Escacs, Fastig, Hodierna, Natja, Oliosa, trifasic (futuristic), Quelcome.
Clarissa Tossin: Arvore (experimental).
Nik Thönen: Regular Cargo (stencil;; the Bold version is free), Blender (sans), Regular (sans).
André Nossek: Sassy (2006).
Martin Aleith: Boxen, Haudegen (octagonal style), Halunken (rpounded octagonal), Feixen, Braten Fat, Logasmen.
Michael Luther: Forza (was: Pilot).
Alexander Meyer: Lacrima (typewriter face).
Donald Beekman: Beatbox, Breeze.
Mika Mischler: Brother (stencil), T-Star Mono Round (monospace).
Birte Ludwig: Yogasaan (Indic simulation).
Pact: BR Jaeger (gothic).
Dimitri Lavrow: Hard Case Striped, Hannover Milennial (sans).
Erik Worsoe Eriksen: Friends (sans), Kit Fat.
Critzla: Flomaster (with JayOne), Starlet (fifties script), Franz Jaeger (ultra fat).
Jutojo: Inbetween (experimental).
Alexander Tibus: Wirefox (experimental).
Timo Gässner: 123 Naiv (2006).
Mutabor: Lingua Digitalis Icon Set (2012).
Free fonts include Regular Cargo Bold by Nik Thoenen, RussianBread, DrEye and Doener Kebap Strong by Lund Sundson, as well as HardCase-Striped by Dimitri Lavrow. New releases.
EXTERNAL LINKS
Gestalten
MyFonts search
Monotype search
Fontspring search
Google search

INTERNAL LINKS
Commercial fonts (small outfits) ⦿ Sites with only a few free fonts ⦿ Stencil fonts ⦿ Indic simulation fonts ⦿ Monospaced fonts ⦿ Sci-Fi fonts ⦿ Pixel/bitmap fonts ⦿ Typewriter fonts ⦿ Experimental type ⦿ Octagonal typefaces ⦿ German type scene ⦿ LED / LCD fonts ⦿