Johann Heinrich Schoensperger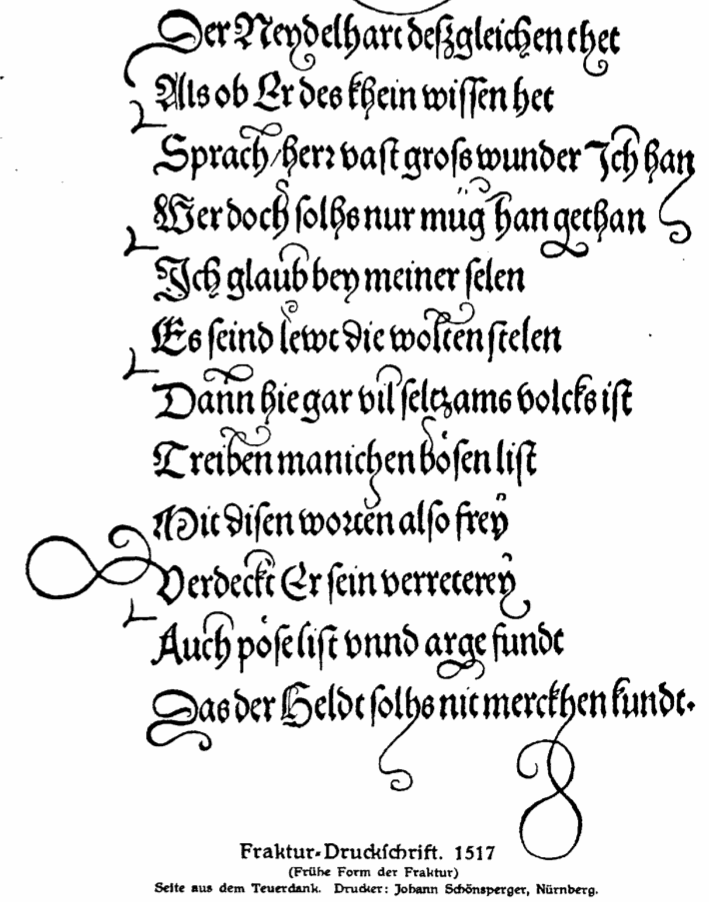 Johnann or Johannes or Hans Schoensperger or Johann Schönsperger der Älte, was an early printer in Augsburg. Born ca. 1455, d. before 1521. He started his print shop in 1481 and dominated German printing in Augsburg until 1500. For Kaiser Maximilian I, he printed the beautiful Theuerdank (1517) and the blackletter Gebetbuch für den St.-Georgs-Orden. For both these books, he designed his own type. Sample page from 1517. Sample page of Gart der Gesundheit (1487).
A font named after him, FF Schoensperger, was made by Manfred Klein as part of his package, which also includes FF Carolus Magnus, FF JohannesG, and FF Koberger. SchoenspergerCaps (2004), Hans Fraktur (2003) and Hans Schoensperger Randomish (2004) can be had for free at Manfred Klein's site. Other revivals include Theuerdank Fraktur (2000) by Dieter Steffmann ans Theuerdank Fraktur Pro by Softmaker (2016).
Schoensperger's typeface for the prayer book of Maximilian I in 1514 served as example for an 1890 metal typeface at Genzsch and for the digital font Altdeutsch (2002-2006) by Hans J. Zinken.
See also Schoensperger Der Altere (2017, Shane Brandes).