John Haddon & Co (or: Haddon-Caxton Type Foundry) [Phil May]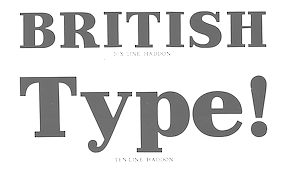 London-based foundry with a sense of humour, because all their type names start with the letter H. Examples of art nouveau typefaces: Harlech, Harquil, Harrington, Hawarden Italic, Huntsman (late Victorian, pre-art-nouveau style).
Most of their typefaces were designed by Phil May [information unverified].
For digital revivals, see Huntsman (2005, Dan X. Solo).
John Haddon published Haddon-Caxton List of Poster Wood-Letters Ornaments and Rules at the Fleet Street location of the Haddon-Caxton Type Foundry in London in 1923. Free local PDF. That book shows these exclusive wood types: Haddon, Hawarden, Highland, Herald, and Hamlin.