DejaVu Fonts [Stepan Roh]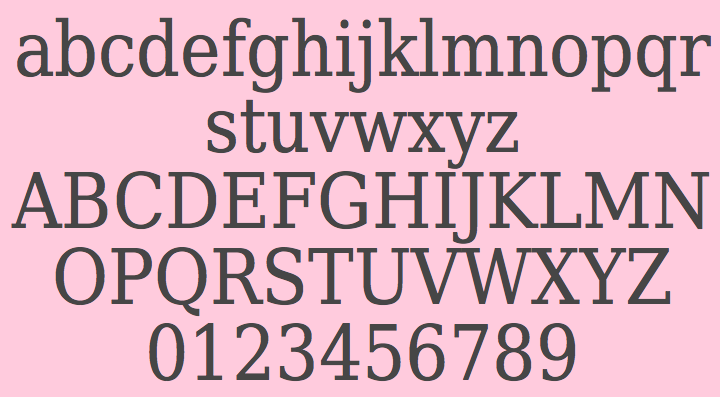 The DejaVu fonts form an open source font family based on the Bitstream Vera Fonts. Free download. Its purpose is to provide a wider range of characters (see Current status page for more information) while maintaining the original look and feel through the process of collaborative development. Included are DejaVuSans-Bold, DejaVuSans-BoldOblique, DejaVuSans-Oblique, DejaVuSans, DejaVuSansCondensed-Bold, DejaVuSansCondensed-BoldOblique, DejaVuSansCondensed-Oblique, DejaVuSansCondensed, DejaVuSansMono-Bold, DejaVuSansMono-BoldOb, DejaVuSansMono-Oblique, DejaVuSansMono-Roman, DejaVuSerif-Bold, DejaVuSerif-BoldOblique, DejaVuSerif-Oblique, DejaVuSerif-Roman, DejaVuSerifCondensed-Bold, DejaVuSerifCondensed-BoldOblique, DejaVuSerifCondensed-Oblique, DejaVuSerifCondensed.
Authors and contributors comprise Adrian Schroeter, Ben Laenen, Dafydd Harries, Danilo Segan (Cyrillic), David Jez, David Lawrence Ramsey, Denis Jacquerye, Dwayne Bailey, James Cloos, James Crippen, Keenan Pepper, Mashrab Kuvatov, Misu Moldovan (Romanian), Ognyan Kulev, Ondrej Koala Vacha, Peter Cernák, Sander Vesik, Stepán Roh (project manager; Polish), Tavmjong Bah, Valentin Stoykov, and Vasek Stodulka. The idea is to eventually cover most of unicode. Currently, this is covered: Latin (+supplement, extended A and part of extended B), IPA, Greek, Coptic, Cyrillic, Georgian, Armenian, Hebrew, N'ko, Tifinagh, Lao, Canadian aboriginal syllabics, Ogham, Arabic, math symbols, arrows, Braille, chess, and many dingbats.
Alternate download site. Wiki page with download information.
EXTERNAL LINKS
DejaVu Fonts
Fontspace page
MyFonts search
Monotype search
Fontspring search
Google search

INTERNAL LINKS
Cyrillic type design ⦿ The Serbian type scene ⦿ Eastern European fonts ⦿ Type design in Romania ⦿ Cyrillic type design ⦿ Phonetic (IPAfonts) ⦿ Greek/Coptic ⦿ Standards/ISO/Unicode ⦿ Sites with only a few free fonts ⦿ Dingbats (original) ⦿ Hebrew font links ⦿ Armenian fonts ⦿ African fonts ⦿ Typefaces and type design for Arabic ⦿ Fonts for Berber/Tifinagh/Tamazight ⦿ Laotian fonts ⦿ Ogham fonts ⦿ Native-American fonts ⦿ Chess fonts ⦿ Coptic typefaces ⦿ Typefaces with arrows ⦿ Open source fonts ⦿ Type designers ⦿ Type designers ⦿ The Polish type scene ⦿ Monospaced fonts ⦿