Codesign (or: Aviation Partners, or AVP) [Nicholas Garner]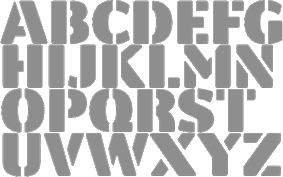 Nicholas Garner (b. 1949, Windsor) runs Codesign (or: Aviation Partners), a small London-based design firm which has created these commercial type families:
Cerafino (2005): informal sans.
Delamere (2005): more classical sans.
Kensington (2005): titling sans related to Gill Sans.
Maisee (2005): an open, wide, generous and broadly smiling sans family.
Tenison (2005): connected formal script.
Fiendstar (2006, 16 styles; +Cameo (white on black), +Shaded) (after Gill Sans Schoolbook).
Rosie (2010): a connected cosy script, in the Mistral style.
Norwich (2006): a grungy version of Tenison. Outrage (2006) is more grunge.
Cashback (2006).
Crystal (2006): a slab serif family.
Autobahn (2011) is a monoline elliptical sans family. Garner writes: Autobahn is a robust masculine sans of near monoline thickness and angular characteristics. Autocode (2011) is a monoline monospaced (for programs) elliptical sans based on Autobahn.
LaCarte (2007): inspired by a series of handwritten menus produced in 1980. Further extended to La Carte Pen in 2010.
Midas (2007).
Sky Sans (including hairline weights) (2007).
Lamoreli (2007).
Backstage (2007). A stencil face.
Amy (2010). Nicely hand-printed.
Atria (2010) An ink-trapped sans-serif.
Blocksta (2010). A rounded fat sans.
The elegant script typeface Jacqueline (2010).
New Fiendstar (2010).
Omniscript (2010).
Cambridge (2010). An elegant sans family with a misbehaving lower case q. Accompanied by a Cambridge Round family. It is designed as a schoolbook font, and is useful for dyslexics, since there are no ambiguities between letterforms.
Central (2011). A rounded geometric sans family. Followed in 2012 by Central Inline.
Combi (2011). This is a wonderful effort, as described by Garner himself: The Combi collection includes Sans, Sans Oblique, a true Italic, Serif, Serif Oblique and a set of Openface capitals. Combi fonts have 5 compatible weights and metrics allowing them to be used in free combination. Inspiration came from Jan Van Krimpen's Romulus (Enschedé, 1931). In addition to the Roman style, Van Krimpen created a set of open capitals, a simple oblique variant and subsequently, an attractive calligraphic italic, Cancelleresca Bastarda. In addition to Van Krimpen's idea, Combi has been influenced by features from many typefaces including Bembo, Melior and Optima. The object was to create a versatile family of body text and titling typefaces for use in books, magazines and on the web.

Polaris (2012) is a rounded sans family that reads well in print and on screens.

Mensa (2012) is a 36-weight large x-height sans body family.

Beaulieu (2012).
Clocktime (2012). A dingbat font with clocks.
Chokey Pro (2012). A tall connected script face.
Alleyn (2013). A soft geometric sans family. Followed in 2021 by the 12-style Alleyn Pro (2021).
Corsica (2013). Corsica is an all-purpose geometric sans-serif typeface of visually uniform stroke thickness. The family contains six weights, two widths and three lowercase size options, together with an italic variant for each.
Intrinseca (2014). An incised sans with some contrast and flaring, but still quite readable thanks to a good x-height.
Browser Serif and Browser Sans (2014). These families were designed for use on screen.

Arethusa (2014) and Arethusa Pro (2014) are 12-style transitional typeface families.

Gimbal Egyptian (2018). Characterized by some asymmetric slabs and curvy italics. It covers Latin and Cyrillic and comes in several widths. See also Gimbal Grotesque (2018).
Cadmium (2020). A 48-style grotesk family influenced by DIN.
Varisse (2021). A 60-style superfamily consisting of Baskerville and transitional serifs on one end and Gill Sans-inspired humanist sans typefaces at the other end.
Fielding (2022). A 12-style confident flared text and titling serif family.
EXTERNAL LINKS
Codesign (or: Aviation Partners, or AVP)


[Buy fonts]


[Designer info]
Fontspring link [Buy fonts]
Monotype link
Monotype foundry link
Klingspor Museum page
MyFonts search
Monotype search
Fontspring search
Google search

INTERNAL LINKS
Commercial fonts (small outfits) ⦿ Type designers ⦿ Type designers ⦿ Stencil fonts ⦿ Very thin (hairline sans) typefaces ⦿ Handwriting fonts ⦿ Type design in the United Kingdom ⦿ Monospaced fonts ⦿ Typefaces for dyslexics ⦿ Eric Gill and his typefaces ⦿ DIN ⦿ Bembo ⦿