Roumond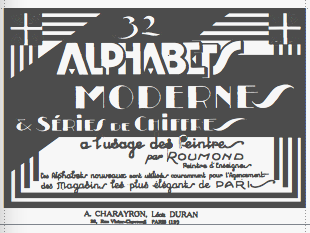 This page has a number of scans from a booklet by signpainter Roumond entitled 32 Alphabets Modernes, published in Paris by A. Charayron and Léon Duran, some time in the 1930s. There are lots of alphabets with art nouveau and art deco influences.
In 2011-2012, Dick Pape digitized all 32 fonts from that booklet. They can be downloaded here.
Pape's 32 fonts are FAModerne0369, FAModerne0562a, FAModerne0562b, FAModerne0946aBold, FAModerne0946bBold, FAModerne1367a, FAModerne1367b, FAModerne2021a, FAModerne2021b, FAModerne2491a, FAModerne2491b, FAModerne2491c, FAModerne2491d, FAModerne4441, FAModerne5204, FAModerne5204a, FAModerne5204b, FAModerne5204c, FAModerne6183a, FAModerne6183b, FAModerne6518a, FAModerne6518b, FAModerne6518c, FAModerne6518d, FAModerne7287a, FAModerne7287b, FAModerne7666, FAModerne7798, FAModerne9002a, FAModerne9002b, FAModerne9321a, FAModerne9321b.
EXTERNAL LINKS
MyFonts search
Monotype search
Fontspring search
Google search

INTERNAL LINKS
Handwriting fonts ⦿ Books on type design ⦿ Art Nouveau typefaces ⦿ Ornamental caps typefaces ⦿ Type designers ⦿ Type designers ⦿ Art deco typefaces ⦿ Signage typefaces ⦿ Dick Pape's typefaces ⦿