Type Together [Veronika Burian]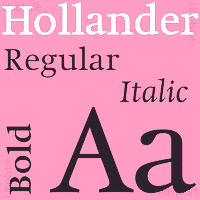 Foundry est. in 2005 by Veronika Burian (Czechia) and José Scaglione (Argentina). TypeTogether's library of retail fonts includes
Karmina (Veronika Burian / José Scaglione, a text typeface for newspapers, winner of the ED Awards) and Karmina Sans (12 styles). Award winner at Tipos Latinos 2010. Karmina, Bree and Ronnia were selected as part of the travelling exhibition Tipos Latinos 2008.
Athelas (José Scaglione / Veronika Burian, 2008, a calm and balanced 4-style book type family, winner of the first prize at the Granshan 2008 competetion).
Ronnia (Veronika Burian / José Scaglione, a flexible sans serif for editorial use with 28 styles).
Maiola (an award-winning calligraphic serif family by Burian).
Crete (Veronika Burian, 2007, inspired by lettering in a chapel in Crete, winner of the Gransham 2008 competition; ideal for posters). Followed by Crete Round (2011).
Bree (Veronika Burian / José Scaglione, 2008). A 10-style upright italic with a matchting oblique for display usage.
Adelle Sans. A 12-style slab serif family made in 2009. Award winner at Tipos Latinos 2010. Adelle Condensed followed in 2013. With the help of Erin McLaughlin and Vaibhav Singh, Adelle Sans Devanagari was finished in 2017.
Abril (2010) is a didone font family engineered mainly for newspapers and magazines that features friendly and elegant styles for headlines and robust and economic styles for text. It won an award at Tipos Latinos 2012. Abril Fatface is free at Google Font Directory. Abril Titling was published in 2013-2014.
Jockey One (2011) is a free sans typeface at Google Font Directory.
Birdy (2011). A free angular inline typeface by Veronika Burian.
Fonts by third party designers: Cora (by Bart Blubaugh), Alizé (2009, by Tom Grace) and Givry (by Tom Grace: a bastarda typeface), Iskra (2012, by Tom Grace; not to be confused with Iskra by Edgar Reyes, 2009), Gitter (a modular type with letters built up of triangles).
Tablet Gothic (2012). A joint design of Veronika Burian and José Scaglione, it is a grotesque meant for titling. Tablet Gothic won an award at Tipos Latinos 2014.
Alverata (2013). A lapidary flared typeface with a huge x-height influenced by roman ("romanesque") lettering from the XIth and XIIth centuries. Alverata consists of three different fonts: Alverata, Alverata Irregular and Alverata Informal. For the development of the Greek letterforms, Unger collaborated with Gerry Leonidas (University of Reading) and Irene Vlachou (Athens). He cooperated with Tom Grace for the Cyrillic letterforms. Alverata was published by Type Together in 2014 and 2015. It appears to have Vesta's skeleton and dimensions. PDF file.
In 2015, Veronika Burian and José Scaglione finally published the 18-style editorial sans typeface family Ebony, which won an award at Tipos Latinos 2016.
TypeTogether and Design Sessions Studio collaborated in the development of a logotype and an associated type family for the government-owned TV channel and Radio station of Puerto Rico, WIPR Unicase.
Protipo (2018) is a 52-font information design sans family designed by Veronika Burian and José Scaglione. This was a major team effort. Irene Vlachou will soon finish the variable font production. The information icons were designed by Luciana Sottini. Kerning by Radek Sidun and engineering by Joancarles Casasin.
Speaker at ATypI 2017 Montreal.
EXTERNAL LINKS
Type Together


[Buy fonts]


[Designer info]
Monotype link
Monotype foundry link
Klingspor Museum page
MyFonts search
Monotype search
Fontspring search
Google search

INTERNAL LINKS
Commercial fonts (small outfits) ⦿ Type designers ⦿ Type designers ⦿ Type design in Czechia ⦿ Type design in the United Kingdom ⦿ Modern style [Bodoni, Didot, Walbaum, Thorowgood, Computer Modern, etc.] ⦿ Sites with only a few free fonts ⦿ Type design in Argentina ⦿ Triangulated typefaces ⦿ Corporate typefaces ⦿ Unicase type design ⦿ Bastarda / B&acirctarde / Schwabacher ⦿ Indic language fonts ⦿