Dharma Type [Ryoichi Tsunekawa]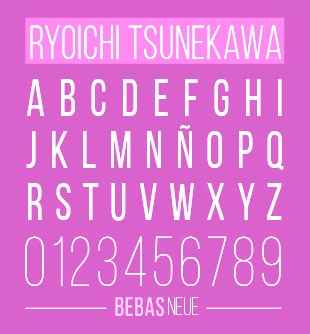 Yet another foundry of Nagoya, Japan-based designer Ryoichi Tsunekawa, who also runs Flat-It, Prop-A-Ganda, and Holiday Type. The first download is the industrial grotesk typeface Bebas Neue (2010), which was followed in 2014 by Bebas Kai, in 2018 by Bebas Neue Semi Rounded and Bebas Neue Rounded, and in 2019 by Bebas Neue Pro. Bebas Neue can now be had for free at Open Font Library and at FontFabric, where new weights and a Cyrillic were added. Bebas Neue v2 is free at Github and Google Fonts. Dedicated web site.
The connected signage typeface Sneaker Script and the 19th century set of ornaments Gothic Extras followed in 2012 and 2011, respectively. Great Victorian (2012) follows the prototypical Victorian style.
In 2015, Dharma Type published the great ultra-black creamy signage script Piepie. In 2016, he published the powerful layered Mighty Slab.
Typefaces from 2017: Pansy Bo (calligraphic), Nothing (script), Daisy Lau (calligraphic), Banana (script), Lily Wang (calligraphic), Calling Code (monospaced programming font), Commuters Sans (elegant wide sans), Mighty Slab, Rigid Square (octagonal), Taro (sans), Concrete Stencil.
Typfaces from 2018: Victorian Orchid (a transitional text typeface characterized by a Victorian era A and a frolicking lower case g), Dr Slab (an extraordinary layerable and colorable rounded slab poster typeface), Code Saver (a condensed monospaced programming font), Sometype Mono (a free programming font family; MyFonts link).
Typefaces from 2019: City Boys Soft, City Boys (sans), Slow Tempo (a relaxed sans family), Baby Baby (an experimental layerable font), Dharma Gothic Rounded. Like Dharma Gothic, it is an antiqued condensed sans serif designed inspired by 1800s-style wood type. It comes in 42 styles.
Dafont link. Creative Market link. Behance link. Graphicriver link.