MuirMcNeil Design Systems [Hamish Muir]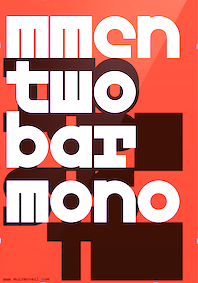 MuirMcNeil Design Systems is a project-based collaborative between Hamish Muir and Paul McNeil, est. 2010. Their activities are focussed on exploring parametric design systems to generate appropriate solutions to visual communication problems. Hamish Muir is a founding principal of 8vo (1985-2001) and co-editor of Octavo (1986-1992). He currently combines work as an independent graphic design consultant specialising in editorial, information and systems design with teaching part-time at the London College of Communication. Paul McNeil is a London-based independent graphic design consultant specialising in type, information and systems design. He is a Senior Lecturer in Postgraduate Graphic Design at the London College of Communication and lead developer, MA Contemporary Typographic Media.
They have several parametric and modular software syystems for typography and type design. These include 20-20 (done in 1974: a modular design idea in the spirit of FontStructor, but without any active software), Interact (done in 1994---grid-based parametric screen fonts), Three Six (an experimental optical / geometric type system consisting of six typefaces in eight weights. It explores the possibilities of using systematic principles to generate geometric typeforms which are distinctive at large point sizes but which can also be read at smaller sizes in bodies of extended text), Four Two (an extension of Three Six). The Three Six project led to a number of multiparametric dot fonts. It was published by FontFont in 2012.
In 2014, four commercial modular and pixelish typeface families were published, Panopticon (a system of layered 3d geometric typefaces), Intersect, Nine (Metric, Mono) and Interact. In that series, the nine-weight geometric almost-typewriter typeface Nine Mono (monospaced and monoline) stands out. The superfamily of pixelish and dot matrix fonts Two followed in 2015.
Muir helped Dalton Maag with the development of Tephra (2008), an experimental multi-layered LED-inspired family.
In 2016, the designed the dot matrix-themed identity for Typecon on the theme Resound. Still in 2016, MuirMcNeil released the geometric stencil typeface Cut.
THD Sentient (2017) is an all-capitals monolinear rounded proportionally spaced all caps sans type family in four weights, designed by Tim Hutchinson in collaboration with MuirMcNeil.
In 2017, Paul McNeil and Hamish Muir co-designed the stencil family Five.
Typefaces from 2018: Farset (MuirMcNeil and John McMillan), Feirste (a gaelic typeface by MuirMcNeil and John McMillan). Farset and Feirste are digital reinterpretations of the tiled lettering used for Belfast's historic street signage in matching Latin and Gaelic scripts.
In 2020, they released the Bauhaus typeface Two Bar Mono to complement the TwoPoint, TwoPlus and TwoBit series.