Wojciech Kalinowski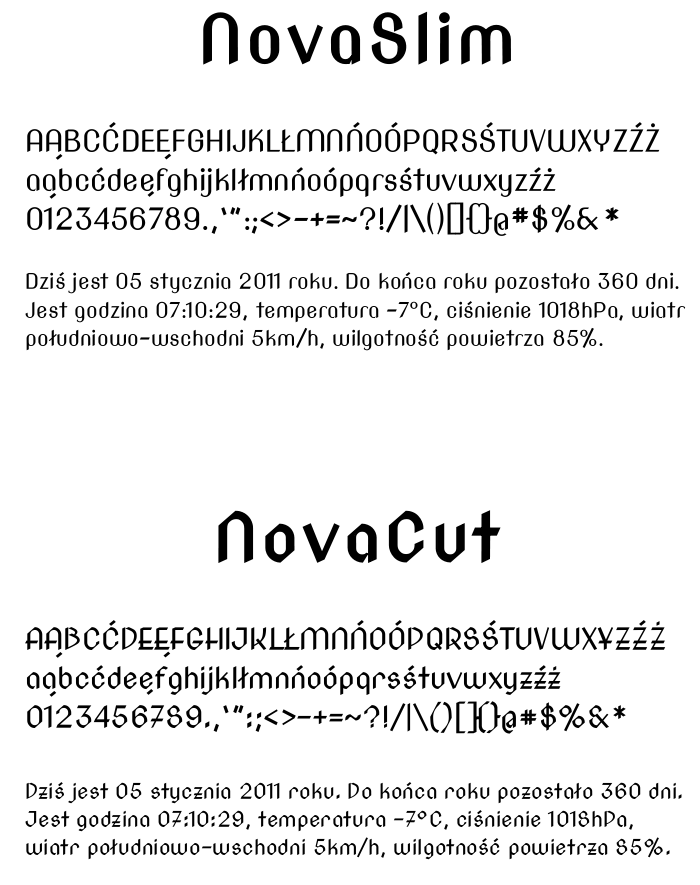 Wojciech Kalinowski was born in Wroclaw, Poland in 1969. Since 1990, he has designed and carved inscriptions and reliefs in stone, commemorative plaques, and gravestones. He also deals with computer graphics, digital typeface and logo design, and wallpapers. His typefaces are free and are available from the Open Font Library (or OFL).
He created New Shape (2012, organic sans), Medieval Sharp (2011, blackletter), which originated 15 years earlier from a stone inscription alphabet. Consola Mono (2011, OFL) is a monoline monospaced sans for Latin, Greek and Cyrillic. Classica (2011) is a classical roman family. SquareAntiqua (2011, OFL) is a wavy informal face. Cursive Sans and Cursive Serif (ca. 1997, OFL) and Modern Antiqua (1997, OFL) are also based on stone inscriptions. Klaudia and Berenika (2011) is a Celtic style family. Roundstyle (2011) is a sans display family. Modern Antiqua (2011) has a strange name for a font that is neither modern (i.e., didone) nor Antiqua---it is an organic, or liquid, typeface with the gothic flavor of Jonathan Barnbrook's types.
Kalinowski started the NovaCut typeface ca. 1986. Around that time, he devveloped Gothica, which served as a model for Nova Cut. Gothica was released in 2020.
He created the free monospaced "programming" fonts NovaCut, NovaFlat, NovaOval, NovaRound, NovaSlim, NovaSquare, and NovaMono (2011, OFL): NovaMono is the monospace font especially created for programming, text editors and for terminal-use. NovaMono contains a large number of symbols, operators and other miscellaneous signs. NovaMono is a missing part of NovaFont Family. Nova Font is the family of six fonts. There are: NovaCut, NovaFlat, NovaOval, NovaRound, NovaSlim and NovaSquare. Now, the seventh part of the family - NovaMono. The following Unicode ranges are supported:
Controls and Basic Latin - 0000-007F (all)
Latin 1 - 0080-00FF (all)
Latin A - 0100-017F (all)
Latin B - 0192, 01C4-01CC, 01E4, 01E5, 01F1-01F3, 01FA-021B, 0237
Spacing Modifier Letters - 02C6, 02C7, 02C8, 02D8-02DD, 0308
Greek and Coptic - 0370-03FF (all)
Latin Extended Additional - 1E0C-1E0F, 1E24, 1E25, 1E36, 1E37, 1E80-1E89, 1E9E, 1EF2-1EF5, 1EF8, 1EF9
General Punctuation - 2000-206F (all)
Superscripts and Subscripts - 2070-209F (all)
Currency Symbols - 20A0-20CF (all)
Letterlike Symbols - 2100-214F (all)
Number Forms - 2150-218F (all)
Arrows - 2190-21FF (all)
Mathematical Operators - 2200-22FF (all)
Miscellaneous Technical - 2302, 2308-230B, 2310, 2319, 231C-2323, 2329, 232A, 2335, 239B-23AE, 23B0-23B7
Geometric Shapes - 25A0, 25A1, 25A3, 25AA-25CC, 25CF-25D7, 25E0-25FF
Miscellaneous Symbols and Arrows - 2B12-2B1C, 2B1F-2B28, 2B2C-2B2F, 2B53, 2B54
EXTERNAL LINKS
Wojciech Kalinowski
Fontspace page
Klingspor Museum page
MyFonts search
Monotype search
Fontspring search
Google search

INTERNAL LINKS
Sites with only a few free fonts ⦿ The Polish type scene ⦿ Mathematics fonts ⦿ Monospaced fonts ⦿ Coptic typefaces ⦿ Stone age fonts ⦿ Blackletter fonts ⦿ Celtic/Gaelic fonts ⦿ Typefaces with arrows ⦿ Greek/Coptic ⦿ Cyrillic type design ⦿ Fonts for programming ⦿