Roboto (or: Google Android Design) [Christian Robertson]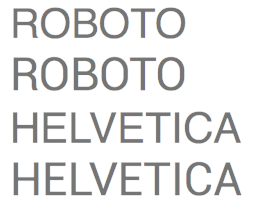 In October 2011, Google unveiled its in-house production, Roboto, a sans typeface developed by Christian Robertson for Android 4.0, that can be downloaded here and here.
John Gruber: I wouldn't call it a Helvetica rip-off (like Arial), but Android 4's new system font Roboto is definitely a lot more Helvetica-esque than Droid Sans (the old Android font) was. I'd say it's like a cross between Helvetica and DIN, but inherited more of Helvetica's genes. Here's a comparison I just whipped up between the two---each word set once in each font. (Helvetica on the top, Roboto on the bottom, in case you can't tell the difference.) I doubt most people could tell them apart, and the uppercase R is almost shameless. Definitely a better-looking typeface than Droid Sans, though, that's for sure.
Stephen Coles writes that Roboto is a Four-headed Frankenfont. Excerpts: Its parents are a Grotesk sans (like a slightly condensed Helvetica) and a Humanist sans (like Frutiger or Myriad). There is nothing wrong with combining elements of these two styles to create something new. The crime is in the way they were combined: grabbing letters---almost wholesale---from the Grotesk model, along with a Univers-inspired Y and G, welding them to letters from the Humanist model, and then bolting on three straight-sided caps à la DIN. When an alphabet has such unrelated glyphs it can taste completely different depending on the word. Fudge is casual and contemporary. Marshmallow is rigid and classical. This is not a typeface. It's a tossed salad. Or a four-headed Frankenstein. You never know which personality you'll get. For now, I can only speculate on how this beast came to be. The font files credit the design to Christian Robertson, whom I know to be a very bright professional with some decent work under his belt, including the convincing handwriter Dear Sarah and the adorable Ubuntu Titling font. Either Google tied him down and made unreasonable demands or there's something nasty in the water down in Mountain View. To be fair, I haven't seen the fonts on a phone, in person, and Google promises that they are built specifically for that medium. But I can't imagine that would erase the inherent problem with the design. There are some good shapes in Roboto, they just belong in multiple typefaces. In any event, Roboto probably won't terrorize mobile screens for very long. Helvetica and Frutiger are immortal. Hodgepodge brutes like these usually have a short lifespan. Image by Stephen Coles.
Later additions include Roboto Mono (2015) and Roboto Slab (2013). Someone posted the free derived fonts Franko and Franco, both dated 2013, in 2016 on the Open Font Library site, the names referring to the four-headed Frankenstein Stephen Coles described. Franzo (2016) is a reworking of Roboto Slab.
Google Web Fonts download link. Fontspace link. Dafont link. Download at CTAN. Roboto Mono (2015) at Google Fonts. Google Plus link. Klingspor link. FontShop link.
EXTERNAL LINKS
Roboto (or: Google Android Design)
Dafont page
Fontspace page
Klingspor Museum page
MyFonts search
Monotype search
Fontspring search
Google search

INTERNAL LINKS
Typography ⦿ Sites with only a few free fonts ⦿ Monospaced fonts ⦿