IP Art [Iordanis Passas]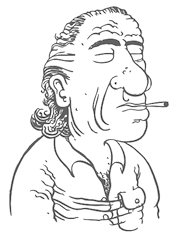 Iordanis Passas (IP Art) is a designer in Athens, b. 1986, who was briefly located in London. He published some free typefaces including the grungy typeface Edirne (2015: free), the grungy Baston (2015: free for any use except police commercials), Athens (with Stergios Tsiamis), Peracto (2015, thin sans), Bomb Type (2015, sans), Koulouri (2014), Outer Space (2014, download), dPopper (2014), Born to be Condensed (2013), Serious Man (2013, a 3d typeface), IP Arial (2012, an experimental overlay typeface), Brush of Anarchy (2012, graffiti face), Cubes (2013), Mia (2014, free), Adamo (2014), The Kids Marker (2014), Gagalin (2014, a free brushy comic book font for Latin and Greek).
In 2015, Iordanis Passas and Anastasia Dimitriadi created the gorgeous Finos, which was inspired by Greek retro cinema (buy it here and check the free demo).
Typefaces from 2016: Repens (a free poster font), Sanek (a free handcrafted titling font; cyrillization in 2019 by Denis Kukushkin), April Ten.
Typefaces from 2017: David Carson (a free grunge ransom font to pay homage to David Carson), Figno (free rounded sans).
Typefaces from 2018: Meganek (free), Lulu Monospace (a free squarish font; with Stelios Ypsilantis), Depravo Stencil (which is advertized as free to anyone except police; covers Latin and Greek).
Dafont link. Fontspace link. Blogspot link. Behance link. Download many of his fonts at Free Typography.
EXTERNAL LINKS
IP Art
Dafont page
Fontspace page
Behance page
MyFonts search
Monotype search
Fontspring search
Google search

INTERNAL LINKS
Type designers ⦿ Type designers ⦿ Experimental type ⦿ Greek/Coptic ⦿ Sites with only a few free fonts ⦿ Graffiti fonts ⦿ 3D fonts ⦿ Type design in the United Kingdom ⦿ Brush script typefaces ⦿ Comic/cartoon fonts ⦿ Sites with only a few free fonts ⦿ Monospaced fonts ⦿ Stencil fonts ⦿