Etienne Aubert Bonn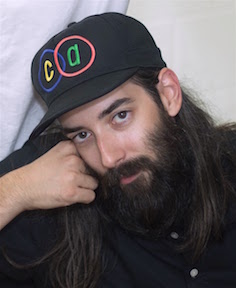 Étienne is a graduate of the graphic and type design program at UQAM in Montreal. Cofounder in 2011 of Coppers & Brasses in Montreal, together with Alexandre Saumier Demers. He studied at Type@Cooper in New York and at KABK in Den Haag, The Nethelands (class of 2013). He also teaches type design at UQAM in Montreal.
In 2012, he designed the signage typeface Sardine and the blackletter typeface Freitt. Together with Alexandre, he created Martha (a monospaced slabby grotesque), still in 2012. At The Cooper Union, he created Barapa (2012). His fonts at Coppers Brasses:
Double (2015, Alexandre Saumier Demers and Étienne Aubert Bonn). A retail typeface family from condensed to wide with wedge serifs, a copperplate feel, and slight flaring. Ideal for display work.
Canal (2015). A fantastic retail sans typeface family: Canal is a typeface family inspired by the blue collar, hard working people that were the late 19th and early 20th centuries labor force of the new continent. It is a sturdy workhorse with a wink of humanism.
Martha (2014, Alexandre Saumier Demers and Étienne Aubert Bonn). A retail typeface family with curvy typewriter influences, some monospaced styles and a grotesque to boot.
Klaus (2014). Developed for personal web and paper work.
Théorie (2014, Alexandre Saumier Demers and Étienne Aubert Bonn). A techno stencil typeface commissioned by UQAM's Bureau de Design for the Bâtisseurs of the science faculty award.
Nurraq (2013). In 2013, Etienne graduated from the Type & Media program at KABK in Den Haag. His graduation typeface is called Nurraq. He explains this Latin/ Inuktitut typeface: Nurraq is a multi-script typeface system that matches a Latin serif text typeface with a Canadian aboriginal syllabics character set for the Inuktitut language. The very different nature and origin of these two scripts creates an interesting context for both typefaces to share influences coming from each other's tradition, and, by doing so, bridging the gap that usually separates these two forms of writing. Nurraq won an award in the Morisawa 2014 type competition.
Compass (2013). A revival based on the early drawings of Monotype Plantin series 110 by Frank Hinman Pierpont and Fritz Stelzer.
MLS Soccer (2012). A hand-crafted custom typeface by Alexandre Saumier Demers and Étienne Aubert Bonn, commissioned by Sid Lee.
Triade (2016). A heavy titling or display typeface with tons of personality.
Hochelaga (2012-2017). In cooperation with Feed Type. An all caps sans inspired by old street signs in Montreal.
EXTERNAL LINKS
Etienne Aubert Bonn
MyFonts search
Monotype search
Fontspring search
Google search

INTERNAL LINKS
Type designers ⦿ Type designers ⦿ Type design in Quebec ⦿ Monospaced fonts ⦿ Blackletter fonts ⦿ Signage typefaces ⦿ Native-American fonts ⦿ Soccer typefaces ⦿ Stencil fonts ⦿ Typewriter fonts ⦿