Russian Fonts [Misha Panfilov]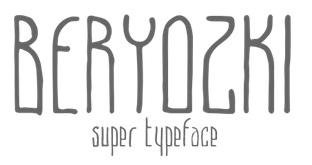 Misha Panfilov (Russian Fonts, St. Petersburg, Russia) created the free Cyrillic simulation Latin/Cyrillic font Tsarevich (2014). Later in 2014, he published Pribambas (free poster font), Shadow (a strong sans), Galaktika (a rounded sci-fi typeface), the free hand-drawn typeface Beryozki (Latin & Cyrillic) and the free poster typeface Fantazyor.
In 2016, he designed the Latin / Cyrillic display typeface Ogonyok, the Latin / Cyrillic typeface Gora (+Stencil) and the free constructivist / art nouveau / pre-Petrine Latin / Cyrillic typeface Dobrozrachniy (with Aleksander Moskovskin).
Typefaces from 2017: RF Rostin (monospaced, ideal for programming), RF Rufo (condensed sans), Krabuler (a fun free children's book or comic book font; free; by Cyril Mikhailov and Misha Panfilov), RF Barbariska (handcrafted and friendly).
Typefaces from 2018: RF Tone (a geometric sans with short descenders), RF Dewi.
Typefaces from 2019: RF Takt (a geometric sans).
Behance link. Home page. Creative Market link. Behance link for Russian Fonts.