Rüdiger [Philipp Caroline Neumeyer]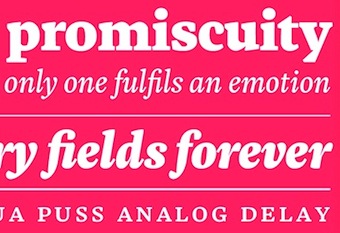 Philipp Neumeyer is a ballet dancer and type designer who studied communication design at the Muthesius Academy of Fine Arts and Design Kiel (MAFAD), Germany, class of 2014. In the TypeMedia program at KABK in Den Haag, Phillipp Victoria (or Beatrix, or Caroline, or Bartholomaeus) Neumeyer designed the typeface Elma and Frederick (2015), about which he writes: Elma has a robust construction with chunky-esque serifs, subtle rough and slightly quirky details but resonates in a yet serious appearance that combines traditional elements with modern functionality.. After graduating from the KABK in 2015, he moved to Berlin and then to Copenhagen, where he worked for Playtype.
As Rüdiger at Future Fonts, he designed the typefaces Arnold (2018: a monospaced sans for Latin and Cyrillic) and Rainer (2018: a compressed sans). In 2019, he released the condensed sans typeface Theodor for Latin, Greek and Cyrillic.
In 2021, he published Norbert at Typemates. Norbert is an extensive grotesque with support for Latin and Cyrillic. Subfamilies include Norbert Schmal and Norbert Breit. Award winner at 25 TDC in 2022.
In 2022, Philipp Neumeyer released Juneau, a friendly geometric workhorse sans for Latin and Cyrillic, at TypeMates.