Black Foundry [Jérémie Hornus]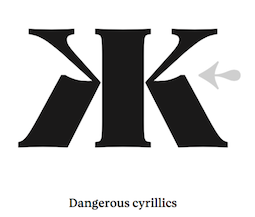 Type foundry in Paris, est. 2016 by Jérémie Hornus, who is the design lead. Type designers associated with Black Foundry include Alisa Nowak and Ilya Naumoff. They initially bought the font collection of FontYou. Typefaces not included in the original FontYou collection:
Angus (2018). A multiplexed rounded sans typeface family by Elliott Amblard that includes a variable font.
In 2018, Elliott Amblard and Jérémie Hornus co-designed the information design humanist sans typeface family Drive. It is accompanied by the more typewriter-styles families Drive Mono and Drive Prop, and published by Black Foundry. The fiorms in Drive Mono and Prop are great, but all fonts in Drive are too widely spaced (as are several other fonts in the Black Foundry collection).
Clother (Jeremie Hornus, Julie Soudanne, Ilya Naumoff, 2017). This geometric sans workhorse covers also Cyrillic, Hebrew and Arabic.
Vesterbro (Jeremie Hornus, Alisa Nowak, Ilya Naumoff, 2017). High-contrast Latin / Cyrillic typeface with a Viking feel that won an award at Granshan 2017.
Jeremie Hornus, Gregori Vincens, Yoann Minet, and Roxane Gataud (and possibly Riccardo Olocco) designed the free Google web font Atma for Latin (in comic book style) and Bengali. Github link.
In 2016, Google Fonts published the free Latin / Bengali signage font Galada (2015). It is based on Pablo Impallari's Lobster (for Latin). The Bengali was developed as a studio collaboration by Jeremie Hornus, Yoann Minet, and Juan Bruce at Black Foundry.
In 2016, Franck Jalleau designed the monospace sans typeface family Aubusson. Initially designed as a custom typeface by Franck Jalleau for the Cité internationale de la tapisserie d'Aubusson, the monowidth proportions are linked to pattern and tiles arrangements used in tapestry. The retail version of Aubusson offers four weights with matching italics. It was published by Black Foundry.
Drive (2016). A corporate sans serif family.
Dragon (2016). A clean sans typeface.
Galien (2019). By the Black Foundry team, a mix with didone elements in the roman and garalde features in the italic. There is also a variable font with a weight axis.
A custom sans font family for DS Automobiles (2019).
Finder is a multiscript typeface developed in 2020 at Black Foundry by Jérémie Hornus, Gaëtan Baehr, Changchun Ye and Zhang Miao. This neutral sans is intended for interface design, and covers Arabic, Cyrillic, Greek, Hangul, Hebrew, Japanese, Latin, Simplified Chinese, Thai and Traditional Chinese.
Screen Sans (2020). A 14-style sans by Jérémie Hornus and Ilya Naumoff published by Indian Type Foundry.
Alpine Script: a variable font with four axes including boldness, humanity, and irregularity, made for the identity of the French (Renault) Alpine sports cars.
Maif (2020). A sans family for the corporate identity of the Mutuelle d'Assurance Automobile des Instituteurs de France.
In 2017, Jérémie Hornus, Théo Guillard, Morgane Pambrun, Alisa Nowak and Joachim Vu co-designed Bespoke Sans, Bespoke Serif and Bespoke Slab at Fontstore / Fontshare. In 2020, Bespoke Stencil was added.
Egitto (2020). A huge Egyptian (slab serif) family together with a handy variable font. By Jérémie Hornus and Solenn Bordeau.
Rowton (2021) is a humanist sans in black, regular and hairline weights, named after Arthur Eric Rowton Gill. It is accompanied by two stencil styles.
NouvelR (2021). A corporate geometric sans typeface for Renault covering Latin, Greek, Cyrillic, Hebrew, Arabic and Korean. Characterized by a totally square lower case r. All terminal angles are 28 degrees, to align with the angle in Renault's logo.
Enedis (2022). A commissioned sans.
Creative Market link for Black Foundry.
EXTERNAL LINKS
Black Foundry


[Buy fonts]


[Designer info]
Fontspring link [Buy fonts]
Creative Market page
MyFonts search
Monotype search
Fontspring search
Google search

INTERNAL LINKS
Commercial fonts (small outfits) ⦿ Type design in France ⦿ Type designers ⦿ Type designers ⦿ Cyrillic type design ⦿ Bengali fonts ⦿ Monospaced fonts ⦿ Cyrillic type design ⦿ Typefaces and type design for Arabic ⦿ Hebrew font links ⦿ Monospaced fonts ⦿ Variable fonts ⦿ Garalde or Garamond typefaces ⦿ Corporate typefaces ⦿ Stencil fonts ⦿ Eric Gill and his typefaces ⦿