William F. Capitain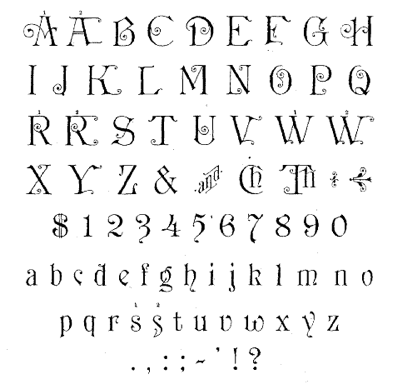 Punchcutter, b. 1851, Southgate, UK. Picture. In 1865, he went to Flinsch in Frankfurt to study punchcutting with William Kirkwood. Then he left for Chicago, and became American. His later work was done while he lived in Bayonne, New Jersey. His typefaces, often quite ornamental and/or Victorian, were all done at Marder, Luse & Co, except Adtype (+Italic) (1903, ATF), Lithograph Shaded (1914, ATF, with Morris Fuller Benton), an unnamed typeface patented by ATF in 1916, and Alfereta (ca. 1897, Crescent Type Foundry: Alfereta by Dan X. Solo is a digital revival). Google patent link. The Marder, Luse typefaces by date:
1877: Parallel Shaded.
1881: Ladies Hand Script.
1885: Critic, Fancy Grotesque, Octagon, Pencillings.
1886: Hiawatha, Parthenian, Roumanian, Spartan.
1888: Lithotint, Trinal 1, 2 and 3.
1889: Banquet, Caxton Old Style, Caxton Italic.
1890: Ebony. This typeface was revived in 2011 by Claude Pelletier as a free font.
1891: Diagonal Card Black.
1894: Caxton Old Style Bold.
1895: Circular Gothic, Circular Italic.
Patents of various typefaces in PDF format: 1885, 1885, 1885, 1886, 1886, 1886, 1887, 1889.
EXTERNAL LINKS
William F. Capitain
Klingspor Museum page
MyFonts search
Monotype search
Fontspring search
Google search

INTERNAL LINKS
Type designers ⦿ Type designers ⦿ Type design in the United Kingdom ⦿ Victorian typefaces ⦿ Type scene in Illinois ⦿ Type scene in New Jersey ⦿ Caslon ⦿ Morris Fuller Benton ⦿ Caxton ⦿