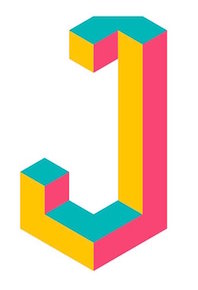 Russian designer of the LED lights font LED (2015), the colorful 3d typeface Isometric (2016), and the bubblegum font Bubble Letters (2016). In 2017, he designed the colorful geometric all caps alphabet Memphis and the colorful sketched typeface Funky.
All fonts are in vector format. Aka Malina Shop. [Google] [More] ⦿
Anugraha Design
[Cina Catteau]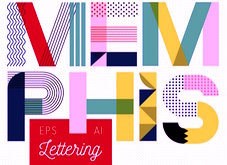 Pokhara, Nepal-based designer whose work is characterized by bold colorful geometric patterns and constructions. Typefaces from 2017 include Roam (which Cina calls a tribal type) and the color font Beach Towel. Creative Market link. [Google] [More] ⦿

During her studies in Kharkiv, Ukraine, Anastasiia Sokha designed an elaborate deco typeface called Memphis (2015). The name refers the Memphis Style promoted by the Memphis group in 1981, for whom decoration and styling was a game to combat austere modernism. They achieved this by combining flashy geometric shapes with bright colors. [Google] [More] ⦿
The Memphis Group was an Italian design and architecture group founded in Milan by Ettore Sottsass in 1981 which designed Postmodern furniture, fabrics, ceramics, glass and metal objects from 1981 to 1987. The Memphis group's work often incorporated plastic laminate and was characterized by ephemeral design featuring colourful decoration and asymmetrical shapes, sometimes arbitrarily alluding to exotic or earlier styles.
Wikipedia: On December 11, 1980, Ettore Sottsass organised a meeting with designers, and in 1981 formed a design collaborative named Memphis. The name was taken after the Bob Dylan song "Stuck Inside of Mobile with the Memphis Blues Again" which had been played repeatedly throughout the evening's meeting. They drew inspiration from such movements as Art Deco and Pop Art, including styles such as the 1950s Kitsch and futuristic themes. The group produced and exhibited furniture and design objects, annually from 1981 until 1988. The result was a highly acclaimed debut at the 1981 Salone del Mobile of Milan, the world's most prestigious furniture fair. The group's members included Alessandro Mendini, Martine Bedin, Andrea Branzi, Aldo Cibic, Michele de Lucchi, Nathalie du Pasquier, Hans Hollein, Arata Isozaki, Shiro Kuramata, Matteo Thun, Javier Mariscal, Luciano Paccagnella, Peter Shire, George Sowden, Marco Zanini, Paola Navone, Ettore Sottsass, and the journalist Barbara Radice. Sottsass left the movement in 1985, and it disbanded in 1991.
In 2012, Bertrand Pellegrin called the movement a shotgun wedding between Bauhaus and Fisher-Price.
Type designers have brought the Memphis design principles back to life in numerous typeface projects. The arrival of color fonts has facilitated this. See here.