Dri Zy
[Faqih Sandri]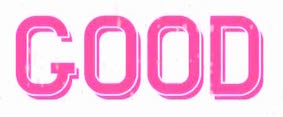 Dri Zy, orv Drizy, is Faqih Sandri, aka Faqih Fawaji. Bandung, Indonesia-based designer of the layered techno typeface Trixie (2016), the brush typefaces Syelma Script (2016) and Syemox (2016), the gothic typeface Dark Widow (2016), the vintage lettering typefaces Overjoyed (2016, Western style) and Beatrixe (2016), the paperclip typeface Kuxu (2016), Dark Widow (2016), Brain Melt (2016: the ultimate Halloween / horror font), Mama Lian (2016), Copper (2016), Dust (2016), the brush script fonts Aeros (2016) and Rostoh (2016, brushy), the children's script typeface Roast (2016), the hand-crafted Eastpine (2016), Nyam (2016, layered) and Monstahh (2016), the slimy Halloween typeface Brain Melt (2016), and the poster typeface family Ayuenda (2016).
Typefaces from 2017: Heimdal (futuristic), Alectro (sci-fi style, with elements of Sinaloa), Wakiki (layered typeface), Kauai, Maui Script, Mokoto (a layered TV glitch typeface), Anxiety (multiline font), Nemphis (neo deco), Andimia (a layered Victorian font family), Mr. Trumb (comic book style, what else?), Mr. Trumb Chalk.
Typefaces from 2018: Orbit, Solo (a thin all caps avant-garde font), Midnight (horror font), Buick (ethnic, futuristic and bold), Astro, Amoux, Galatee, Love & Life. [Google] [More] ⦿
Fabrika de typos
[Marcio Hirosse]

Fabrika de typos is a Brazilian fondry run by Marcio Hirosse (b. 1969) in Sao Paulo. He made Destroyer (2007, splatter grunge), Helena (2007), Boogaloo (2006), Casual (2006), Expedito (2006), Impresso (2006), Club (2006), Qualque Coisa (2006), Pig (2006), Boogaloo, Casual, Error (2006), Sherley XXX (2006), Thailandesa (2006, Thai simulation face), Expedito, Impresso, Club (2006, stencil), Ferrugem (2006, grunge), Qualque Coisa (2006), Saco de Pao (2006, grunge), Clean (2006, experimental), Poesie Noire (2006, a great multiline calligraphic face), Fuck You Las Vegas (2005), Serial Killer (2004, bloodied Arial), Tragedia (2004), Font Macabra (2004), Font Abuso (grunge), Font Cartaz (2004, stencil face), and Font Mexicana. He created Ballom (psychedelic), Anarchy, Macabra, Cartaz, Crash, Tragedia, Abuso, Estragou de novo (1999), Sucata Special, Brother Bear, Floppy Disk, Punk Dingbats (2004-2005, destructionist typefaces), Swiss AntiNormal (2005), Jooy (2007, grunge), Deusdeti (2007, double script), Deux ex Machina (2007, blackletter-inspired), Comunista (2007, constructivist), BONDAGE-DEMO-VERSION (2007), CASULO-DEMO (2007), D-E-S-T-R-O-Y-E-R-D-E-M-O-V-E-R-S-I-O-N (2007), GARTEN-VON-DORNEN-BLACK---DEMO-VERSION (2007), GARTEN-VON-DORNEN-DEMO-VERSION (2007), Load (2007, grunge), LYSSA-DEMO-VERSION (2007), MUMIA-DEMO-VERSION (2007), OFF-SET---DEMO-VERSION (2007, grunge), Pig (2006, rough stencil typeface), PLEASURES-DEMO-VERSION (2007), Querencia-Army-DEMO-VERSION (2007), TETARIA (2007), FDT Sodomy (2008, blackletter), FDT Carreto (2008), all freely downloadable.
In 2017, he created the colored Memphis-style typeface Denoise.
Commercial typefaces: Circus de Terror, Rapariga (curly), Indiana, Hard Core, Iemanjai, Disorder, Joy, Deusdeti, Deux ex Machina, Comunista, Destroyer, Off Set, Pleasures Poesie Noire, Helena, Base, Clean, Casulo, Serial killer.
Creations in 2012: Big Pig, Suicidal Tendencies.
In 2015, he made FDT Wonderland.
Dafont link. Yet another URL. Behance link. [Google] [More] ⦿
The Memphis Group was an Italian design and architecture group founded in Milan by Ettore Sottsass in 1981 which designed Postmodern furniture, fabrics, ceramics, glass and metal objects from 1981 to 1987. The Memphis group's work often incorporated plastic laminate and was characterized by ephemeral design featuring colourful decoration and asymmetrical shapes, sometimes arbitrarily alluding to exotic or earlier styles.
Wikipedia: On December 11, 1980, Ettore Sottsass organised a meeting with designers, and in 1981 formed a design collaborative named Memphis. The name was taken after the Bob Dylan song "Stuck Inside of Mobile with the Memphis Blues Again" which had been played repeatedly throughout the evening's meeting. They drew inspiration from such movements as Art Deco and Pop Art, including styles such as the 1950s Kitsch and futuristic themes. The group produced and exhibited furniture and design objects, annually from 1981 until 1988. The result was a highly acclaimed debut at the 1981 Salone del Mobile of Milan, the world's most prestigious furniture fair. The group's members included Alessandro Mendini, Martine Bedin, Andrea Branzi, Aldo Cibic, Michele de Lucchi, Nathalie du Pasquier, Hans Hollein, Arata Isozaki, Shiro Kuramata, Matteo Thun, Javier Mariscal, Luciano Paccagnella, Peter Shire, George Sowden, Marco Zanini, Paola Navone, Ettore Sottsass, and the journalist Barbara Radice. Sottsass left the movement in 1985, and it disbanded in 1991.
In 2012, Bertrand Pellegrin called the movement a shotgun wedding between Bauhaus and Fisher-Price.
Type designers have brought the Memphis design principles back to life in numerous typeface projects. The arrival of color fonts has facilitated this. See here.
You Work For Them (or YWFT; formerly Cinahaus or TrueIsTrue)
[Michael Cina]



Michael Cina (Minneapolis) is the cofounder of WeWorkForThem and YouWorkForThem (in 2002), also known as YWFT. Before that, he ran TrueIsTrue, and before that was partner in Test Pilot Collective (which he left in 2001), and before that he ran Cinahaus. YWFT is located in Knoxville, TN and/or Baltimore, MD. The creative director is Michael Paul Young.
Cina's fonts include the pixel fonts YWFT Caliper (1998), YWFT Bit (1998), 6x7oct (1998) and BlackGold; the handwriting font Cinahand; Blessed (1999, techno), YWFT Cam (1998, a slab serif based on industrial lettering), CommunityService, Crossover (1998, dot matrix with stars instead of dots), Composite (1998, octagonal), Formation (1999, a big octagonal family), Jute (2004, a masculine, military, sans-serif), YWFT Maetl (1999, octagonal, angular family), YWFT Moteur (a technical, retro, machine-like design; it briefly went under the name Alloy---in the early 2000s it was heavily used in the video gaming magazine Playstation), YWFT Novum (2002: a heavy block font that draws inspiration from a typeface originally used by the Swiss graphic designer Siegfried Odermatt), Pakt, Reversion (1997, squarish), Selector, Selek (1998, pixelish), YWFT Blackgold (2000, pixelish), Service (2001-2002, an octagonal family), YWFT Signature (1998), Trisect (1999, three-lined family), Unisect (1999, organic monoline sans), YWFT Ultramagnetic (1996, a popular rounded gothic typeface family), Ultramagnetic2 (1999), YWFT Ultramagnetic Expanded (2011), YWFT Ultramagnetic Rough (1996-2017), Unfinished. Bastard (1998), Kcap6 (with Matt Desmond), Cheese (1998), Novum (2002), Overcross (2002, unfocused letters), Stem (1998), Testacon (with Kral and Desmond, 1999), Praun (2002, pixel typefaces), OneCross (2002, pixelish stitching family), Estenceler (2004, a great stencil family a bit related to Milton Glaser's Glaser Stencil), Graphium (2004, octagonal Western style family), Expos (2004, graffiti or poster face), YWFT Pixacao (2007, after the Brazilian graffiti style), Vox (2007, monoline sans), Militia Sans (2007, like a Russian constructivist stencil), Jupiter (roman), Militia (2007, heavier stencil), Merc (2007, grunge), Guild (2007), Clarendon Text (2007, a complete revival), Jezebel (2007, script), Ambassador Script (2007, a digital revival of Novarese's typeface by that name), Enam (2002, influenced by Crouwel), Enigmatic Hand (2007), Dusty (2007, a Tuscan-eared Western font), YWFT Poplock (2007, experimental), YWFT Pakt (2004, geometric sans), Sudsy (2007), Black Sabbath (2008, ultra black slab serif, by Stefan Kjartansson), YWFT Belle (2008), YWFT Agostina (2008), YWFT Bitwood (2007-2017, pixelish Western typeface), YWFT Mullino (2009, letterpress emulation), Trithart (2008, grunge by Emma Trithart), YWFT Tapscott (2008-2017, informal and nostalgic all caps family, in the style of Rennie Mackintosh), Habano (2008, script), Amorinda (signage script), Retron (2008, connected script), MD01 (medical-themed dingbats), Adelaide (script), Centennial Script (calligraphic), Alexia (calligraphic), Ultramagnetic (experimental), Nash (1997, grunge), Amber (kitchen tile), Fab (3d), 6x7 Oct (1998, pixels and dots), Wool (2009, stencil), YWFT Matter (2009, a wide bold grotesque), YWFT Merriam (2009, a Clarendon-styled slab serif), Agostina Alternate (2011, with Michael Paul Young and Taechit Jiropaskosol), Ramsey (2012), YWFT Dessau (2013, schizograms and capitals like Bauhaus on drugs), YWFT League (2014, inspired by college football jerseys), YWFT Yoke (poster typeface done with Pintassilgo), YWFT Illuminati (2015, abstract capitals).
Blog. His lovely g poster (2010).
House fonts at YWFT by unknown designers: YWFT Knit (2010: knitting patterns), YWFT Motif (2015), Ramsey Condensed (2015), YWFT Roamer (2016), YWFT Whisky (alchemic), YWFT Psychosis, YWFT Processing (2001-2010: YWFT Processing was developed in 2001 for Casey Reas, the co-creator of the Processing programming language. We created this display face to be sharp, tall, unique and interesting...much like Mr. Reas himself. The font was derived from an original logo that already existed, and we continued the idea into a fully working six-weight font family. YWFT Processing was converted to Opentype format in 2010), YWFT Filbert (2012), YWFT Nim (2012, combining the hipster style with overlays for bevel and shadow effects), Dogma (2012, alchemic), Attic (spooky poster face, in EPS format), YWFT Yoke (textured all-caps), Riblah (2003, dot matrix), YWFT Fraktur (tattoo face), YWFT Burls (2013, fat poster typeface), YWFT Coltrane (2011, handdrawn poster typeface), YWFT Symplify (2013: haute couture snowflakes), YWFT Smoothie, YWFT Chance (2016), YWFT Skipper (2016), YWFT Wheatgrass (2016), YWFT Estee (2002-2017), YWFT Watermelon (2017), YWFT Ink (2017, originally designed in 2008), YWFT QUE, YWFT Burtonian (2017, named after Tim Burton), YWFT Crew (hand-crafted), YWFT Maudlin (2017), YWFT Liana (2017; perhaps plumbing dingbats, who knows?), YWFT Victoria (2010: a bonbonnerie type), YWFT Valley (2017: a Memphis movement type), YWFT Wellsworth (2017), YWFT Harmony (2008-2017, a curly calligraphic script), YWFT Edger (2017), YWFT Chateau, YWFT Gummy (2002-2018), YWFT Blender (2018), YWFT Fluctuant (2018: a variable font).
View Michael Cina's typefaces. Alternate URL. Behance link. Interview. [Google] [MyFonts] [More] ⦿