TypeSETit
[Robert E. Leuschke]



Rob Leuschke was born in and lives in St. Charles, MO. A former lettering artist at Hallmark Cards (1983-1987), Rob Leuschke now has his own design businesses, Alphabytes and the new TypeSETit. He earned a BFA in graphic design at the University of Missouri at Columbia. He started freelancing in 1987. Rob has created over 250 custom typefaces. In addition, he made tens of calligraphic and other script faces. Ambiance BT is Rob's first typeface. Also, early on, he created the free emoticon font AairChat (1995). He used to run Alphabytes (dead URL). He founded TYPEsetIT in 2004. MyFonts place. In 2008, he took his fonts and site to P22.
Fontsquirrel link. Fontspace link. FontShop link. Fontspace link. Interview. Pic. Another Fontspace link.
An incomplete list of his creations: AlexBrush, Cherish, Ephesis, Hurricane, Ingrid Darling, Inspiration, Jackie-O, Licorice, Kolker Brush (2004, Western version of Japanese calligraphy), Love, Neanderthaw, Ruge Boogie (2004), Saliere, Send Flowers, Updock, Whisper, TheNautiGal (2006, connected script), Water Brush, Love Light, Passions Conflict, Mea Culpa, Beau Rivage, Good Vibrations, Great Vibes, Lovers Quarrel, GrechenFuemen, Moon Dance, MsMadi, Lavishly Yours, Bonheur Royale (2005), Fuzzy Bubbles, LA Heat (2005), Qwigley ROB (2005), Vujah Day, he added Kings Honor (2006), Kings Quest (2006), Kings Dominion (2006), RUSerius (2007, curly handwriting), QwitcherBychen (2007, calligraphic), Arizonia (2007, calligraphic, based on lettering seen on a truck), Road Rage ROB (2008, grunge), GreyQo (2008, calligraphic), FleurDeLeah (2008, flowery calligraphic), MySoulOne (2008), MooLahLah (2008, cow-spotted letters), SassyFrassROB (2008, calligraphic).
MyFonts sells Alex Brush, Allison, Ambiance BT, ITC Arid, Arizonia, Babylonica (2008, a great connected brushy script), Beau Rivage, Bilbo, Bilbo Swash Caps (2011, Google Web Fonts), Bonheur Royale, Caramel (Crunch, Candy, Nuggets), Carattere, Cherish, ITC Chivalry, Corinthia (calligraphic but with slope errors on some connections such as between "o" and "r"), Ephesis, FleurDeLeah, Fuzzy Bubbles, Good Vibrations (2003), Grapenuts, Great Vibes (2012, Google Web Fonts), GrechenFuemen, GreyQo, Gwendolyn, Holiday Font, Hurricane, Imperial Script, Ingrid Darling, Inspiration, Jackie O, Kings, Kolker Brush, LA Heat, Lavishly Yours, Licorice, Love Light, Lovers Quarrel (since 2012 at Google Web Fonts), Mea Culpa, MooLahLah, Moon Dance, Ms Madi, MySoulOne, Neonderthaw, Oh Ley, Oooh Baby, Passions Conflict, Petemoss, Qwigley, QwitcherBychen, RoadRage, Roelandt BT (2002), RUSerius, Ruthie (2003), Saliere, SassyFrass ROB, Send Flowers, Shalimar, Square Peg, Tapestry, TheNautiGal, Twinkle Star, Updock, VujahDay, Water Brush, and Whisper.
Fonts made in 2009 at P22: Babylonica, RobsPickles, RoadRage, QwitcherBychen, the Caramel family (including Crunch, Candy, Nuggets). In 2009, he also published Italianno ROB.
Typefaces made in 2010: Allura (see Google Web Fonts), Estonia Nouveau (based on calligraphy by Villu Toots), Estonia Regular, Estonia Swash, Island Moments, Neon Derthaw (neon light face).
Typefaces from 2011: Robs Pickles, Waterfall, Monte Carlo (formal script), Genos (anthroposophic; includes Cherokee), Bilbo (free at Google Web Fonts), Playball (free connected signage or baseball script face at Google Web Fonts).
Designs from 2012: Fuggles, Explora (a delicate calligraphic script face).
Typefaces from 2013: Style Script.
Typefaces from 2014: Praise Pro (signage script), Ise Sport (flared font).
Typefaces from 2015: Alumni Sans (an organic sans family with large x-height; +Collegiate, +Inline).
Showcase of Rob Leuschke's typefaces at MyFonts. View Rob Leuschke's fonts. [Google] [MyFonts] [More] ⦿
TypOasis, 2002
[Manfred Klein]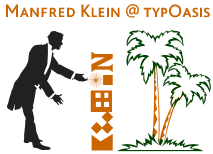 The fonts produced in 2002 by Manfred Klein: Bauhouse, ClassiCaps Xmas 2002, GGothique MK, Lombardic, Mouse Traces, Music Elements, DreiDreiDreiBlack, Griffo's Font, Noisy Buttons, Hamlet ToBeOrNot, Oszillo Caps, Cave Paintings, Rodgauer (a CODEX-like font), Prinz Eugen (medieval font), DreiDee Sketches, Typo Cubes, AustralBats, RoundMouseBats, Torynitialen, Wood Cutted, FlowerPower, Graf Typo (a CODEX-like family), Solitaire, Breeze, Eyes, Lead Types Heap, Petit Fleur, ABCari, Floralalpha, Karlas ABC-Start, OliJo Bold, Athena Handwritten, The BroadWay, MK Squares, Incunitials, Luc's Plants, Monte Petito, Before Alphabets 4, Threedimensional, Blind Reading, Zebral Caps, Before Alphabets 3, Braille Latin, Tangoasis, Katrins (handwriting of Katrin Dillmann, Manfred's daughter), Laurens Erste (handwriting of Laurens Dillmann, Manfred's grandson), Tangodoni, Typesetters TV, Unscreen, Caps MKS, Haunted, Mouse Scribbles, RunishMK, Fatsans, Rotten Script, Stormy, Strong Dots, Caro Mio, Reduce 2 Max, Pudels Kerning, Cheerio, Gersans, ArabDances (Arabic simulation font, with Cybapee), Slab Serif Written, Shalom (Hebrew simulation), Bloxx Serif, Kara Ben Nemsi (an Arabic simulation font), Remember Cassandre, Wieynk Caps Round, Fragment Caps, Golden Swing, Tango Macabre (a gorgeous font in which letters are made with skeletons), Eye Beings, Frax Handwritten, HotsBlots, Latin China (oriental lettering), Dinos Fragments, HotchPotch, SketchBats, AmorE, Chinawestern (oriental simulation), Valentine Flies, AmorEatPersia, AmorEmoticons, Artfacts, The Kiddies, ConstrAccident, Kochs Roots, AnimSilhous, Framed Frax Caps, K-Arrows, GridEx Gallery, K-Arrows B, Swinging Petidoni, Big Swinging SlabS, Relief Caps, Shapes 1-3, Petitscript, Shapes Four, Fullsize Sans, Petitscript Italic, Shapes A 1-3, Imperium Serif, Big Broken, Semaphore, MKalligFrax, Pix Caps, Slabsoft, Windy City, Slabsoft, Windy City, Timeless, Against Rules, Berolina, FabCreatures, CookinDada, FoodnDrinks One, HabSpass-HaveFun, Mighty, Klammeraffen Italic, Elefontitis Xtreme, Cairotiqua Freestyle, Eastereggs, Cave People, RandoMiKa, Big Ella, Hands Subversive 1+2, Build Your Own People, Antroposofia, EasterChicken, GridRiding, Irish Sketches, KidPicts, MatrixbuK, Dornspitz Grotesk, PeaceBats, Arte FS, Eagles Buttons, BlowinInWind, Cave Popart, Karla 1B, Crosses, SharkJockey, Toscanienne, SilhousTwo, Kleins Three Pixel, Religionen, Shapes One-Popart, Shapes Two, ShapesTwo, QuickBats, QuickWritten, KidsDrawings, QuickBats 1.1, Shapes Strokebrushes, SteepQuickHand, Steepiqua, Sleepklill, Steepodoni, New Aliens, SteepTypewriter, CarpetParts, Fourfeeters, Steepidien, Yumiya Arrows, HotHats FS, Eyes Gallery, Steeprump, Zebra Shapes, GrafFitty, KidsArt, Klones, Belly Sans Condensed, Tshirts Springtime, Landscapes, Pastfuturum, typOasis Uncial, ABC Thru, Parma Petit, SpaceLiving, FS Funkturm, TorysTools, Aero Sans, MouseToons, Parma Petit Outline, KL1 MonoCaseKrux, Remember Reiner, Frungtura FS, Perforation Strip, Weimar, Gothic Caps, HumanPartsPoetry, Archetypo Bricks, Human Parts, Big Dots, Spiders Club, MirrorBlack, Mirror Chicken, MonoMouse, MousefraKtur, AmericanNatives, DaVincy Cut, Mouse Liturgic Sketches, MKlunger FS, Waldoni New Torsi, Bradburys Shadow Paseo, Horses, Jessica Plus, Farm Animals, Fat Free Frax, BugsNFriends, Gut Joe Black, People Sketches, Human Parts, Cycling, MousePen, Unknown Heads, NowTheWeather, Qbicle MK, Strange Friends, AfroBats, AmNativeTwo, Bayreuth Fraktur, FingerSinging, Cuxhaven Times, Schwabach Duemille, Balloons, MathRosetts, Folks, Frankophile, Caslonish Fraxx, Has Bodoni Scribbled, Peace Damaged, Wrong Types Shadows, AnimaliaScissored, Bredda, Variations In Geo Dur, QuarrelerPlus, Montages Surrealistiques, Twinset Sans, The Muscle Fetish, Mammothisch, Animali Silhouetti, EleFontissimo, Neopan, Animals Two, Loopings, Logovals, Spiderish FS, Jugendstil FS, LucSan Faces, Crazy Written, Luc Plants Growin Again, Klein Hollywood, For Kids, Total Krass, Pesces Bizarri, Headbirthes Two FS, Stampede, Tribut to Warhol, DadaSchwitters, Van Doesburg, KleinScribere, MK Uncilae, FranKlein, Tschich (unitype suggested by Jan Tschichold in 1929), MK Logo Sketches, Something FS, Stencilia, Kritzel Three, Steep Oldstyle, Steepimbo, Cairotiqua Light, SteepSlab, Toms Beings (a great!!!! collection of critters), FraktSketch, MouseGrafitty, Luther Stencil, RudolfsBats, Blackberry Plants, Circus Klein, Klein Reunion, Squashed Random, Strokey, Uncial Buttons, WaComToon, JohannesButtons, BlackWhiteGrids, Johannes Buttons / Bricks+Traces, MAntiKwa, Vehicles, EyesNStrokes, Babelfish Children, Chaos, MKarolingish, Swiss Cheese, Archibeta, Frankly Spoken, Hardware, Neptunia, Rotunda Espagna, Hardware, Arabuttons, Bodoni Flying, Eggheads Crying, PopNonsens, ScrapTiqua, St Dinah, Confusica, Crazygrams, Human Redesign, Crazyness, MKorsair, Big Caesar, MoveU, MyMedieval, RodauButtons, RodauButtonsInverse, Owls&Friends, Obliqua Romana, Oggi Angular, JohG Diamonds, Ornamen, SlabStick, Morbus Parkinson Fraxx, FolksTypo, AidaSerifaCondensed, Big Cheese, Viecher, MKOCR, Decollagena, Concrete Poets, Swinging Sans, KlausBFraktur, Peitinho, Openbuttons, MCapitals, Cavebats 1-4, BonSans, Folks, Gotica Caps, SketchesForPainting, XmasSketches, FolksCircleNegative, FolksCirclePositive, FolksDecoon-Light, KarlasBats, KleinSlabSerif, KleinSlabSerifBold, CantaraGotica (Fraktur), Logomatique (experimental, minimalist), LogomatiqueShadow, LogomatiqueBold, WorkWithGrids1202, WorkWithGridsButtons, WorkWithGridsRandom, WorkWithGridsStageC, Living Yesterday, Xmas 2002, Schneesterne, CaveBats 1A+2B, Nautilus, LateBirds, SpiralusKrux, SpiralusFaces, Smokescreen (with Petra Heidorn). [Google] [MyFonts] [More] ⦿
TypOasis 2005
[Manfred Klein]



Fonts published in 2005: Mirobattz, MK-SchmalHands, OperaSemper, BarlosRandom, BarlosRandomRings, JuliusC2, LambordicCaps, MyElectronicSchwabach, QuickJuliusC, AsABird, Climbers-2005, FunnyCharacters, MasKs, Myths, OurPoliticians, PeaceOnEarth, StadtLandFont, RandomUnciale, BirdsNFishes, Circus, GreekMythes, MK-Doodles, SomeSketches, TypoOrnaments, Zettelkasten, Draculas, MonkeyUncialica (2005, based on AI-UnciTronica (1994)), VollkegelTypewriter, AfricanissimaInvers, AfroParts, BirdsCuts, Horoscopish, KarlasUndOpas, MArteFact, Occasiones, OutdoorSports, SomeSymbols, Stages, WildFaces, Bodidota, SaiGon, ForJeffTwo, SilhousForJeff, KochRootsRoundBold, Africanissima, DirtyVectors, EgyptianSilhouettes, Egypticons, FaceToolsbox, FromTheMoon, GangsMembers, Geobatz, Overheads, GaranitialRings, ZeitGeisterbahn (nice curly face), ZigZagDisplays, AfricQuattro, CyberDinxx, FlyingOne, KiddiesR, Polygonish, SecurityPeople, Services, Signals, SundriesBats, Surrealbats, ThingsAndSomethings, MKAbel, MKAbelRough, Anarchica, FragmentAZ, PiratiquaVertical, AbstractFragments, HeadToHead, Hispaniola, MarineBats, ModernArts, NewYork, Piratical, ShadowPlaying, SomeSilhous, TafelrundeKnights, Wonderlanders, Woodcuts5, CantzleyAD1600, ChildrensWorld, ForgottenArtOne, ForgottenArtTwo, Musicians, PiCaSolitaires, Risky, Women, Blackredis, CyberCaligraphic, Desastra, EtruskRough, KleinSchwabach, Beardfaces, Hanswurste, Heads+Hands2, HumanHeads, KinderUndEngel, PlayingChildren, PoliticiansOrArtists, BohrDonni, KleinSlabBlaxx, KleinSlabserif, BlaxBloxx, BradburysBoldShadow, GridConcrete, Easteria, EyesNoseMouth, Fabulous, Getier, GetierTwo, Lifestyle, Madhubania, TheHammerSlab, Cyrillatina, Diversitia, Letterbeings, Biblical, Casting, FaceLab, Mythologicals, ZooWoodcuts, BalloonDigits, BirthdayDigits, Florabetic, MovingLetters, Piratiqua, Clausewitz-Fraktur, ArtMonsters, Jokers, MansPartsPlaying, ShipsNBoats, DoradoHeadline, Nilland, Nilland-SmallCaps, EveryLetterTellsAStory, AncientBats, Apish, CaveNTribalArt, Drawings, FarmersLife, Kampfsport, WeInside, Carissima, HelpUsGiambattista, ManTiquaBlaXX, EyesAlphabet, ArtistsTraces, FitnessSilhouettes, MusiciansFriends, Offbeat, OldBirdsDesigns, Testroom, Vectortrials, Viechereien, WebTubbies, FrancophilSans, Winterthur Condensed, Biblicals, FineArts, Karlchens, LaughOrNot, RareAnimals, RenaissanceWoodcuts, ShoppingBats, DirtyHatchCaps, FrenzyWut, ManFont, StackCaps, Vampyrs, ArtesCocktail, Blackheads, Geoplays, KarlasInterpreted, KarlasSketches, SeeAndAct, DancingSuperserif, KleinsSansCondBold, CompositLetters, VaticanianInitials, BeautyMaking, FantasticCreations2, FantasticCreatures, HelmbuschCrest, HeraldryPartsOne, Insects, Musikantenstadel, OwlsAndMore, StrangersOnEarth, Surrealism, Winners, BlackIsBeauty, WeissGotnitials, AfterLastWar, CuteFaces, Fishing, NastyHorrorShow, RenaissancePeople, TypicalFaces, VikingDesigns, ZigzagZoo, ChristianInitials, EinsteinsWorlds, Relative, HumanABC, 5thCenturyCaps, BalletSketches, Denkmal, LadiesGentlemen, Maritime, MensBestFriends, NewAliens, OldArtGallery, Sportler, WetWorld, Anarchistica, Archeologicaps, MissalUncialeBricks, MissalUncialeMaster, SnowCupsCaps, AbstractFaces, AnimalShadows2, OnStage, OrnamFaces, VisitTheNil, WhoWasTheArtist, Petita, FlyingHollander, Goudament, GoudamentBricks, 20thCenturyArt01, 20thCenturyTwo, 20thCenturyThree, AnthropolTraces, ChiefCook, Prehistorish, TheIkeaUniform, WebWideWorld, NoArtOnlyChaos, MKantzley, BatsAntiques, CelticOrnamBats, ColumbusTraces, InLandBetween, MiszellMay, Phantabats, StrangersInTheDays, StrangersTwo, MediaevalItalique, LinoLeumInvers, MouseCuts, ExcuseMe, LookingMasreel, VasarelyWasHere, VirtualWoodcuts, Senats-Antiqua, BastardaMajuskel1300, Abstractions, AfriqueDrawings, DancingTraces, Floranimals, FlyWithMe, InsectsMK, InternationalSigns, YouAndMe, ZockersHomeland, Cuban AnimalsAnywhere, ArtistSketches, Circularium, GirlsGirls, It'sAllTheater, Monstrous, MythologicBats, PuzzleParts, SteubenHelpsPresident, TangramAnimals, ToonCharsOne, ToonCharsTwo, DolbyFraxCaps, BirdsEtcetera, DadaSays, MasereelThree, MasereelTwo, RoundMarks, TangramBam, TangramBumBirds, Punktum!, ArtEtcetera, BauhausFragments, CatsCo, CreaturesShadows, MagicMoments, MPictures, Professions, SwimmingHotelTitanic, ElectrUnciale, MKancellerescaCaps, Arrowy-Three, BeautyFaces, FantasyBeings, HundeDogsChiens, MoreClimbing, MWaKomia, CorrosClassicClimbers, MKapish, MKapsMixed, MünchnerFraktur, MKapishTwo, MouseToonsTwo, OpenParlament, SchauSchau, ScienceBats, Scurile, SansKleinCut, DadadaBats, FightersForFreedom, HumanFollowUp, IndustrialBats, ClownsAlphaBeta, InkAlphabet, FlyingHistory, HumanInside, KinderKinder, KinderAbsurdo, LeuteHeute, MKarla, PeaceAndNightmares, PosterFrames, SometimesDocCanHelp, Tourism, RoundSans, AnimalComedians, ArteStuff, AthletenEins, BirthdaySurprises, Heads4Ads, MagicBats, NightlifeRoaring Twenties, Woodcuts06, Clothes, Idols, KarlasZeichnungen, Mangalia, RomanticShadows, AugenWappen, BoatsShipsAhoi, Cherubians, DesignBasics, DesignersWeAll, ILikeBW, OldEyeCatchers, OldSignArts01, OurLeadersArms, SpeakingHands, TodayArms, WappenAltNeu, Zoology, AnimalShadowsDrei, DrawingTraces, Haringe, MeteoSat, OldArts, Peculiar, PointToPoint, PrestoWritten, ToolsInstrumentsGadgets, PlantsLetters, BatzBatz, Characters-A, ConstructionFreehand, Grandparents, HelloVienna2005, Hobbies, Horses, RefuelStation, StillLeben, BlaxSlabXXL, Magyarish, GotikaButtons, FantasyPix2, From KarlasIdeas, GrandfathersDesigns, Martial01, BusinessAsUsual, CalligrSketches, CharactersB, DramaAndCo, EarlySurrealismus, GraphicAnimals, Maskenball, OldTypoPieces, Sammelsuriart, Tanzbar, Trivialiartes, Bayreuther-BlaXXL, BubbleToBird, DesignElementsTwo, Floralia, MicroBeings, MicroBeingsTwo, Outside, SansSerifVarying-Black, XmasGinger2005, LettersAnimales. BlackStrokeBeings, Coincidences, HeadsConstructed, Maskenball04, OldFashionPeople, ProBeauty, Dyonisius, ArtDekoParts, Austranimals01, ConfusEyecons2005, DesignPartsSix, DueTresQuattro, EyeEye, EyeSee, GenesisSketches, Western, AntiKwa, OldTypefaces, BrokenLinoCut, EgyptianFreehand, Hurrikanish, LettersBats, AbstractFaces03, Botanicals, BrickToBrick, EyesAugenMouth, DiskJockeys, ToolsSymbols, Back2School, BeforeE-Mail, CircledHeads, CircleFaces, CircleMixes, EyeMen, GeometricGlyphs, IAmSailing, SchiessScheibe, SchnörkelCaps, MagicHelloWien, Mittelalter, PeaceFighters, StrokeToBirds, UpUpAndAway, XmasPromotions, ArteNero, ArtFound, EighteenMayanMonths, PeaceWeapons, PopIcons, Strokemen, TypologicalAccidents, VectorPaintings, WebFolks, WoodcutBats, Zoological, ArtistsOr, Characters-C, Characters-C, ChildrenAnimalsFriends, Christmas05, DramaticArts, FlightDreamsTwo, FlightsDreams, FlyBirdFly, GeometricFaces, HeadsVectorAttempt, IhrHunde, Letterly, NewDinos, NiceNeighbours02, OldFashionedClichees, OldstyleZoo, PatternsAnimals, PeopleSurreal, QuakeRoman, SpiralTraces, Vectories, XmasCaps, XmasCapsRound, BooksBats, CountryLife, MoreSilhousFrame, PhantasticSketches, Precassos, SilhouetteSituations, SilhouetteSquaresInvers, SomeSilhous2, SpaceStationHokus, TypoPieces, WoodcutsFound, AfricanSymbols, BauhausReminisce, CeltishParts, ClassicoAntiqua, Florenius, MotherAfricaArchetypo, NewTechnoFaces, Scherenschnitte, SomeSilhouBatsOne, VectorPaintingsOne, AllThatStress, Ancestors, HorosCopies, LittleFriendsTwo, LosAngelesBatzz, OurLittleFriends, Pabloesque2005, PopArtes, SomeNewSilhous, SomeSilhousPlus, Webmasters, XmasGsuffa. [Google] [MyFonts] [More] ⦿