Dick Pape
[Dick Pape]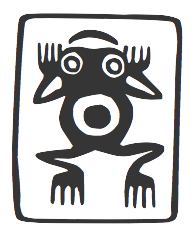 Dick Pape (Texas) has been digitizing images and alphabets for many years. His typefaces include many revivals, all very true to the original images. Early in 2013, we agreed to host his 1,600 fonts on our site. Storage alone ais initially of the order of 700 megabytes. Because of the sheer size of the collection, we have a download section, easily accessiblefor both individual or batch downloads. In addition, we have subpages with discussion, information and images. The typefaces have been partitioned into these groups: Aboriginal Art, Aesop, Aridi, Artville, Ben-Tour, Binny & Ronaldson, Briar Press, British Museum, Buddhist Images, Butterfly, Carbajo, Celtic Designs, DXS-Art Deco Display (alphabets), DXS-Celtic and Medieval, Daniels-Segura, Design Elements, Digital clipart, Dover Publications, FHA, Fonto Fonts, French Alphabets, Go Media, Graffiti Words, Hula Fonts, Hunt Bros 101, Incredible Pulps, Individual Artists, KCK, LFD, LHF Ornaments, Mada Alpha-a-day, Mayan Signs, Mindofone-Other, Misc Alphabets, Misc Silhouettes, Misc Symbols, Moderne-Solo, Music Song Covers, Myth & Fantasy, Neubau, Octopus, Paul Lacroix, Pepin Press, Rattlesnake Jack's Western, Schneidmeister, Sketch Type-HandDrawn, Sonja Steiner-Welz, Soviet Posters, Super Fonts, Traditional Turkish Designs, Trees-silhouettes, Tribal Tattoo, USF Decorative Fonts, ViaFaceDon, Viking Design, Virgin Vectors, Walden Font, Zelek.
Download here. [Google] [More] ⦿

bobistheowl (lower case b) is the Ontario-based designer of the dingbat fonts HaydenPanettiereBats (2007, about 30 headshots of Hayden Panettiere) and LaetitiaBats1 and 2 (2007, based on images of Corsican supermodel Laetitia Casta). He also digitized the Rider-Waite-Smith Tarot (copyright Pamela Colman Smith for The Rider Company, 1909) in 2007 as Gypsy-Tarot-Major-Arcana, Gypsy-Tarot-Minor-Arcana, Gypsy-Tarot-Minor-Arcana-Inverted. Other fonts: Through the Looking Glass (2007, based on images dating from 1871 by Sir John Tenniel for the first Edition of Lewis Carroll's Through the Looking Glass, and What Alice Found There), Alice in Wonderland (2007, based on Sir John Tenniel's 1865 illustrations of Lewis Carroll's Alice in Wonderland), Apoux (2007, a digitization of the naughty all-caps collection of letters by Joseph Apoux, ca. 1880, called Alphabet Pornographique), KleinKarpets (2007, a snake skin-based geometric pattern font dedicated to Manfred Klein), AmyBats 1 though 4 (2008, Amy Winehouse scanbats), JessicasSoftballFont (2008, softball scanbats), GrimNatwickBettyBoop (2008, a Betty Boop dingbat font), Obey (2009---a huge family of scanbats), SINSofBOBCO (2008, a one glyph font made for Bob Dobbs), Woodland Creatures (2008, forest animals), Princess Madeleine of Sweden (2008). In 2010, he added FixCystNeon, a typeface that emulates Terminal, the 1981 IBM systems font.
In 2012, he made MockingJay XL (a single glyph dingbat face), Outstanding (a Victorian caps set that looks like a rounded version of Ernst Voelker's Vineta (1973)), and Beauty Marks (an erotic silhouette scanbat font).
Link at Dafont. Fontspace link. Abstract Fonts link. [Google] [More] ⦿

Argentinian designer (b. 1976) located in Rosario. In 2010, he embarked upon an open source font project about a connected retro / signage script Lobster, which features carefully crafted opentype ligatures. In 2011, he added the upright script family Lobster Two. Alexei Vanyashin and Gayaneh Bagdasaryan added support for Russian, Ukrainian, Belarusian, Macedonian, Moldovan, and Serbian languages. Blog. Home page.
At the end of 2010, together with Edgar Tolentino (Mexico), he started a commercial font project about Terminal Dosis Light, a monoline basic and simple sans, now available at Google Web Fonts. Cabin (2010) is a free humanistic sans face in the style of Gill. It was followed by Cabin Sketch (+Bold) in 2011.
Dancing Script (2011) is an informal script in the spirit of Murray Hill or Mistral.
Quattrocento (2011) is a classic roman titling face. Quattrocento Sans (2011) is a monoline sans.
Miltonian and Miltonian Tattoo (2011) are fun hand-printed faces.
Creations from 2012: Poetsen One (signage face), Domine (Google Web Fonts; he says that It's is friendly in appearance because it combines the classic elements of familiar typefaces that have been in use from more than 100 years like Clarendon, Century, Cheltenham and Clearface), New Rocker (Google Web Fonts: blackletter tattoo font), Monda (Google Web Fonts and GitHub, a free sans family), Milonga (Google Web Fonts: a Victorian font inspired by the art of the tangueros), Ranchers (retro poster typeface at Google Web Fonts), Petit Formal Script (Google Web Fonts), Cantora (Google Web Fonts: a friendly semi formal, semi condensed, semi sans serif), Kaushan Script (a readable brush script that is free at Google Web Fonts), Racing Sans (a techno face that conjures up speed; free at Google Web Fonts), Life Savers (Google Web Fonts).
Libre Baskerville (2012, Google Web Fonts and CTAN) was developed together with Rodrigo Fenzalida. It is based on 1941 ATF specimens, but it has a taller x height, wider counters and minor contrast that allow it to work on small sizes in any screen.
Impallari extended McInerney's Raleway. Download here.
Libre Caslon (2012) in four styles. See also the TeX support files for this free typeface.
Typefaces from 2013: Clement Numbers (a commercial didone set of numbers from a 1838 specimen book by Fonderie Clément).
Typefaces from 2014: The 45-font typeface family Encode Sans, its 5x9 matrix ranging from Compressed to Wide, and Thin to Black.
Dafont link. Fontspace link. Google font directory link. Klingspor link. Abstract Fonts link. Fontsquirrel link. Google Plus link. On Snot and Fonts link. Another Google Plus link. Creative Market link [Google] [More] ⦿
QualiType
[John Colletti]

Southfield, MI-based company founded in 1991 by John Colletti. The 150-strong collection of their fonts was created in 1992, a few years after the Bitstream/Corel collection. Their web page stated: Founded in 1991 as a digital type foundry and developer of leading font management software tools for Windows, QualiType Software has been a pioneer in Windows font management technology with their FontHandler software and the patented QualiType Font Sentry system for Automatic Font Management. In 2000, the company entered into an agreement with Extensis Group at CreativePro.com, which grants Extensis the exclusive rights to market and develop future versions of QualiType FontHandler. This was a de facto takeover.
In 2009, Colletti agreed to let me host the collection for free download. The Qualitype font package from 1992 was rejuvenated in 2009 and repackaged with OpenType versions.
Downloads:
In addition, we have the same fonts as above with the original (shorter, Windows DOS 8.3) file names: truetype, opentype, type 1.
For those interested in lists and encyclopedic information: the font names are QTAbbie, QTAgateType-Bold, QTAgateType-Italic, QTAgateType, QTAncientOlive-Bold, QTAncientOlive, QTAntiquePost, QTArabian, QTArnieB, QTArtiston, QTAtchen, QTAvanti-Italic, QTAvanti, QTBasker-Bold, QTBasker-Italic, QTBasker, QTBeckman, QTBengal-Bold, QTBengal, QTBlackForest, QTBlimpo, QTBodini-Bold, QTBodini-Italic, QTBodini, QTBodiniPoster-Italic, QTBodiniPoster, QTBookmann-Bold, QTBookmann-BoldItalic, QTBookmann-Italic, QTBookmann, QTBoulevard, QTBrushStroke, QTCaligulatype, QTCanaithtype, QTCascadetype, QTCaslan-Bold, QTCaslan-BoldItalic, QTCaslan-Italic, QTCaslan, QTCaslanOpen, QTCasual, QTChanceryType-Bold, QTChanceryType-Italic, QTChanceryType, QTChicagoland, QTClaytablet, QTCloisteredMonk, QTCoronation, QTDeuce, QTDingBits, QTDoghaus, QTDoghausHeavy, QTDoghausLight, QTDublinIrish, QTEraType-Bold, QTEraType, QTEurotype-Bold, QTEurotype, QTFloraline-Bold, QTFloraline, QTFlorencia, QTFraktur, QTFrank, QTFrankHeavy, QTFrizQuad-Bold, QTFrizQuad, QTFuture-Italic, QTFuture, QTFuturePoster, QTGaromand-Bold, QTGaromand-BoldItalic, QTGaromand-Italic, QTGaromand, QTGhoulFace, QTGraphLite, QTGraveure-Bold, QTGraveure, QTGreece, QTHandwriting, QTHeidelbergType, QTHelvet-Black, QTHelvet-BoldOutline, QTHelvetCnd-Black, QTHelvetCnd-Light, QTHelvetCnd, QTHoboken, QTHowardType, QTHowardTypeFat, QTImpromptu, QTJupiter, QTKooper-Italic, QTKooper, QTKorrin-Italic, QTKorrin, QTKung-Fu, QTLautrecType, QTLetterGoth-Bold, QTLetterGoth-BoldItalic, QTLetterGoth-Italic, QTLetterGoth, QTLinoscroll, QTLinostroke, QTLondonScroll, QTMagicMarker, QTMerryScript, QTMilitary, QTOKCorral-Cnd, QTOKCorral-Ext, QTOKCorral, QTOldGoudy-Bold, QTOldGoudy-Italic, QTOldGoudy, QTOptimum-Bold, QTOptimum-BoldItalic, QTOptimum-Italic, QTOptimum, QTPalatine-Bold, QTPalatine-Italic, QTPalatine, QTPandora, QTParisFrance, QTPeignoir-Lite, QTPeignoir, QTPiltdown, QTPristine-Bold, QTPristine-BoldItalic, QTPristine-Italic, QTPristine, QTRobotic2000, QTSanDiego, QTSchoolCentury-Bold, QTSchoolCentury-BoldItalic, QTSchoolCentury-Italic, QTSchoolCentury, QTSlogantype, QTSnowCaps, QTStoryTimeCaps, QTTechtone-Bold, QTTechtone-BoldItalic, QTTechtone-Italic, QTTechtone, QTTheatre, QTTimeOutline, QTTumbleweed, QTUSA-Uncial, QTVagaRound-Bold, QTVagaRound, QTWeise-Bold, QTWeise-Italic, QTWeise, QTWestEnd. [Google] [More] ⦿